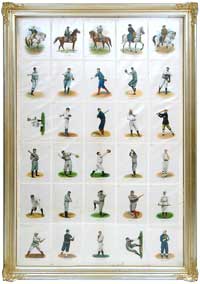 Baseball memorabilia collectors should be putting a big circle around April 30 on their calendars. That's the deadline for the highly anticipated auction by Robert Edward Auctions, with bidding by FAX, phone, and on the Internet via the Robert Edward's site and on eBay.
Robert Lifson, president of the Watchung, New Jersey, auction house, expects the total sales for the event to exceed $5-million, topping the $4.5-million figure for the record-setting 2004 sale. Robert Edward Auctions specializes in the most historic baseball treasures dating from the dawn of the game.
Coming to the block will be some 1500 lots including hundreds of rare historic and contemporary items (1822-1975). Among them will be a trophy ball commemorating the 1858 Fashion Race Course baseball series in Long Island, New York, the first games ever at which spectators paid admission, representing the birth of professional baseball (pre-sale price estimate, $50,000/100,000); the only uncut sheet of 1911 S81 Tobacco Silks in existence (reserve $100,000); a 1914 Babe Ruth Baltimore News rookie card (est. $40,000/60,000), and his sidewritten game-used bat dating from his earliest days with the Boston Red Sox (est. $50,000/75,000).
An extremely rare 1910 T210 Old Mill Tobacco card of Joe Jackson will be included, featuring the legendary star as a minor leaguer with New Orleans (est. $10,000/$20,000). Other items include the finest T206 portrait pose of Walter Johnson, from the legendary Harris Collection, graded MINT 9 by PSA (est. $20,000/$40,000); Ted Williams' 1940 Boston Red Sox home flannel jersey (est. $20,000/30,000); a quilt made from Joe DiMaggio's 1936 San Francisco Seals home and away uniforms (minimum bid $5,000, estimate open); and over 250 original paintings representing the personal art collection of Dick Perez, who for 25 years has been the official artist for the Baseball Hall of Fame in Cooperstown, New York, as well as being the official artist of Perez-Steele Galleries and Donruss (reserve $300 per painting).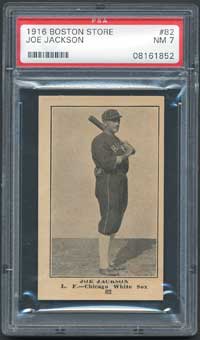 In addition, the sale will offer: the finest collection of baseball cigar boxes and tobacco tins ever assembled including the legendary Ty Cobb Tobacco tin (est. $10,000/$20,000) and one of only two known examples of the circa 1898 Honus Wagner Cigar box (est. $4000/$6,000); the finest collection of signed baseball cards to ever come to auction, including a virtually complete signed run of Topps and Bowman from 1948 to 1983; hundreds of significant pre-1900 baseball card rarities including Old Judges, Mayos, Kalamazoo Bats, Yum-Yum Tobacco, S. F. Hess, CDVs, and cabinet cards; Samuel Wood's Children's Amusements 1822 volume containing the very first published illustration of the game of baseball in America, the first example to ever appear at auction.
One of the most impressive offerings of game-used bats ever presented at auction, including bats from such stars as Babe Ruth, Ty Cobb, Lou Gehrig, Honus Wagner, Stan Musial, Eddie Collins, Roger Maris, and many others will be on the block. Included in the sale also is the finest collection of Bobbing Head Dolls to ever come to auction (over 500 different vintage dolls); many of the rarest and most highly-prized baseball advertising pieces including the complete set of all three 1910 Tuxedo Tobacco advertising posters featuring Christy Mathewson, Walter Johnson, and John McGraw, the first time all three have ever appeared in the same auction (est. $20,000/$40,000); the highest-ever graded 1886 N167 Old Judge of Hall of Famer Roger Connor graded NM 7 by PSA (est. $10,000/$20,000); and many nineteenth-century baseball prints, sheet music, and figural pieces.
A very important selection of material relating to Henry Chadwick, the "Father of Baseball," including his personal signed copy of his 1868 book The Game of Baseball (est. $8,000/$12,000) and the finest of the three Henry Chadwick single-signed baseballs known to exist (est. $20,000/$40,000); large selections or complete sets from virtually every important baseball card set from 1910 through the 1950s including 1933 Goudey, 1952 Topps, E145 Cracker Jacks, T206, T3 Turkey Reds, 1949 Bowman PCL, etc.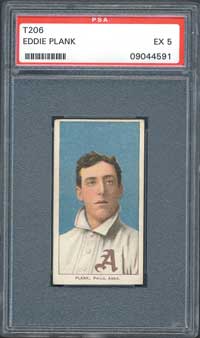 Important high-grade PSA low population cards from many sets will be offered including 1933 Goudey; an extremely rare T206 "Ty Cobb with Ty Cobb back" card in Good condition (est. $20,000/$30,000); one of the finest T206 Planks in existence graded EX 5 by PSA (est. $30,000/$50,000); the highest-ever graded 1916 Boston Store #82 Joe Jackson graded NM 7 by PSA (est. $8,000/$12,000); 1916 M101-4 Globe Clothing Store/Sporting News Babe Ruth graded EX-MT 6 by PSA (est. $10,000/$15,000); a virtually complete run of World Series programs dating back to 1912; one of the largest collections of World Series tickets to ever come to auction including 126 different 1910-1976 ($10,000/$20,000).
Also presented in the sale is one of the most important selections of non-sport cards, sheets, and artworks to ever come to auction, highlighted by the legendary Robert Lesser collection of non-sports cards; 1933 Goudey uncut sheets (two, each est. $8,000/$12,000), 1888 Joseph Hall team cabinet cards including Washington, featuring Connie Mack as a player (est. $10,000/$15,000); many rare baseball pins including the 1952 Mickey Mantle Fan Club pin, one of fewer than five examples known (est. $7,000/$10,000); the largest collection of signed government postcards to ever come to auction, over 1400 including Hall of Famers, assembled in the early 1950s (est. $20,000/$40,000); and autographed photos and baseballs from stars such as Babe Ruth, Ty Cobb, and Honus Wagner.
For over 30 years Robert Edward Auctions has specialized in all areas of historic baseball collectibles, as well other sport, non-sport, and Americana collectibles including political and campaign memorabilia, autographs and manuscripts, and original illustration art.
Robert Edward Auctions has been responsible for many of the most important baseball memorabilia sales including overseeing the sale of the $26-million Barry Halper baseball collection, universally recognized as the best and largest in the world; the legendary "Gretzky-McNall" T206 Honus Wagner card, $1.3-million; the uniform Yankee legend Lou Gehrig was wearing in 1939 when he gave his famous farewell speech, saying "Today, I consider myself to be the luckiest man on the face of the earth", $306,000; and the 1854 Knickerbockers Trophy baseball, now on permanent exhibit at the Baseball Hall of Fame, Cooperstown, New York, at a then-record $72,000.
To receive a complimentary copy of the catalog (shipping April 12), to review the catalog on-line, or to learn more about Robert Edward Auctions, visit www.robertedwardauctions.com.