An Ode to Max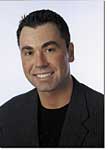 All of us can point to positive and negative experiences in our collecting lives. Of course, if you are reading this, I am sure you have been part of more positive experiences than negative ones. Otherwise, you would have left the hobby for good.
In any event, of those positive experiences, can you pinpoint the one experience or time that made you a collector for life?
I can and I would like to share it with you.
When I was growing up in California, my parents would drive down to the San Fernando Valley at least every other weekend. After a quick trip to Nathan's Famous Hot Dogs, where I gorged myself on fast food, my parents would go to the local mall for hours. Instead of joining my parents for the excruciating mall trip, my brothers and I would ask to be dropped at Valley Baseball Cards just down the street – right next to an old fashioned barber shop.
Once there, we were greeted by a man with a deep, booming voice. It was Max, the store's owner, a very big man with an even bigger heart. He would tolerate my brothers and me, who asked countless questions for hours on end. We would pepper Max with our crazy questions and he would answer them with a smile. When my parents would arrive to pick us up, my brothers and I would ask, "Just five more minutes?" Of course, those five minutes turned into an eternity for my parents as they waited in the car.
Then, after our verbal assault, we would buy a couple of 25-cent packs – which I am sure made Max a very rich man. I can even remember a specific day when I brought in an enormous box of change that I had been saving for years. I know what you are thinking – I didn't? Oh yes, unfortunately, I did... but let me finish the story.
I had my eyes on a 1960 Topps baseball set. Max had a designated area in his store where the best cards were kept and he would always bring them out to show me, even when I couldn't afford the box they were lying in. After putting together some trade bait, the ever-patient Max sat there and counted the gargantuan box of change I brought in – he didn't even flinch – it was enough to take home the prize! (which I, the genius, later traded for an unopened case of 1986 Sportsflics).
I will be the first to tell you, there is no way I could have been patient the way that Max was. The questions, the mountains of change, the three little kids milling around the store like crazy candy-eating mongrels, it just would have been too much to handle. While I am still amazed by his tolerance, I sure wish there were more dealers in the hobby like Max.
The ironic thing was, as I got older and had more money to spend, I found that some dealers were completely impatient. I could be asking about a $5,000 item and they would get upset if I asked them for a description over the phone. I am sure some of you know the type of treatment I am talking about.
For me, there is no question in my mind. While my parents got me started and helped me build a collection growing up, Max was the single most influential person in my collecting life. He kept me going as a collector. It wasn't just about the cards and memorabilia, it was about the entire experience.
Thanks Max,

Joe Orlando
Editor In Chief