It was a fabulous holiday season for fans of the Miami Heat. In fact, by the time the first of the year rolled in, it seemed that the Heat had actually forgotten how to do something -- lose games!
The big reason for the team's turnaround of course has much to do with the big guy they brought on board prior to the beginning of their 2004-05 season.
Back on November 3, 2004, the Miami Heat rallied to victory in their first game of the 2004-05 regular NBA season with a 100-77 win over the New Jersey Nets at the Continental Arena in East Rutherford, NJ.
That was the bottom line.
But the real story of the night was the debut appearance of the Heat's new center -- that big guy -- THE big guy -- Shaquille O'Neal.
Shaq shot 7-for-9 from the field and scored 16 points that night. Those aren't exactly stats that would have your name in the headlines the next morning. But stats weren't the story. The story was that Shaq was back in the Sunshine State.
It may not have been exactly a stellar debut performance by O'Neal, who was acquired by the Heat last summer from the Los Angeles Lakers in exchange for forwards Lamar Odom, Brian Grant, Caron Butler and a first-round draft pick. But he did have his moments, especially in the fourth quarter when he shook off Alonzo Mourning with a less than regulation shove and then headed down court for a short jump hook. Less than a minute later, Shaq hit a 10-foot baseline turnaround shot to secure the Heat's win.
"I was ordered to be 100 percent when I came back, but I haven't been 100 percent in about 10 years," Shaq, who was suffering a pulled hamstring, told reporters in the Heat's locker room after the game.
Over in the Nets' locker room, Alonzo Mourning just shook his head when asked to comment on Shaq's performance.
"It was one-on-one coverage, and I don't know anybody in this league that can guard him one-on-one," said Mourning. "I don't care if he has a pulled hamstring or he is slow, the man is big. He is a massive individual. If you don't have the same weight and size to match that and you're playing him one-on-one and get behind him, he is going to back you down, drop step and there's not too much you can do about it."
Following that season opening victory, the Heat, who played their inaugural season in 1988, went on to have the best start in the history of their franchise winning the next three games by 10 points or more. O'Neal seemed to fit in well with the team. He had only played 27 minutes per game in those first four contests, but he averaged 16.5 points, 7.8 rebounds and 2.5 blocks.
"This is a good start for us," O'Neal casually opined to the press following the team's fourth victory. "We are playing good team ball. We want to rely 30 percent on offense, and 70 percent on defense. Last few games we have been iffy, and our offense has been carrying us. We have players who are very unselfish, and players who are shooting the ball well. But we need to take it one game at a time, and get better every game."
And get better they did, finding themselves at the top of the Eastern Conference in January.
Much of the credit for the Heat's turnaround is directly a result of Shaq, who in January was averaging 21.8 points and 10.8 rebounds. He had hit an NBA-best 60 percent of his shots and was ranked fifth with 2.7 blocks per game for Miami. In a early January game against the New York Knicks, Shaq's 33-point, 18-rebound performance lifted the Heat to a 102-94 win over the Big Apple boys, giving Miami their 15th victory in its last 16 games.
"We're playing good," said O'Neal. "(We're) moving the ball, playing unselfish, having fun, doing things it takes to win."
O'Neal's teammate, forward Udonis Haslem has said that he believes many people thought the Heat wouldn't run the ball much now that Shaq is on board. "But we haven't changed our style," said Haslem. "If we can't get anything running then we'll slow it down and get it (to) the Big Fella".
The return of the 'Big Fella' has had opposing teams concentrating on keeping out of O'Neal's way on the defensive end, and doing all they can to shut him down when the Heat is in possession of the ball.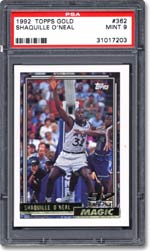 "When I get the ball, the other team is going to have to do one of two things," O'Neal said with a hint of a smile. "Either come double, or just watch and see what I do."
Shaquille Rashaun (which in Islam, means "little warrior") O'Neal was born on March 6, 1972. Always an athletic kid, the "little warrior" had sprouted up to 6' 6" by the time he hit his teens. His size and talent drew notice from the pro scouts while he was still in high school. That notice became an obsession by the time he matriculated to Louisiana State University. He was named college Player of the Year in 1991, was the first All-American in both 1991 and 1992, and was taken first overall in the 1992 draft by the Orlando Magic.
Shaq became the first rookie in NBA history to be named Player of the Week and went on to win the 1993 Rookie of the Year, averaging 23.4 points per game. The following year, he was chosen to play for the USA Olympic World Championship Team, where he won a gold medal, a feat he would repeat in the 1996 Games.
The mid-1990s saw Shaq's star rise. On the court he took the Magic to the NBA Finals, although, they lost the Championship to the Houston Rockets. Off the court he released what would be the first of many rap albums, titled Shaq Diesel. He also showed up on the big screen in Blue Chips and Kazaam. While neither film was much of a box office success, Shaq had transcended into the super stardom realm and at the conclusion of the 1995-'96 season, when he became a free agent, he began looking towards the land of swimming pools and movie stars.
Shaq's decision to don Laker gold was basically done for four reasons: The Magic was a far less then magical team, Los Angeles was a big time magical team, Los Angeles offered him a magical amount of money, and Los Angeles is the magical world where you need to be if you want to be a star on and off the court.
"Magic" also played another role in O'Neal's move to the Lakers. He had to relinquish his number 32, being as that it had been Magic Johnson's number and Los Angeles had retired it. That aside, Shaq and the Lakers played magical ball, dominating opponents throughout the regular season, only to fizzle in the post season.
Just prior to the 1999-2000 NBA season, the Lakers brought in Coach Phil Jackson from the Chicago Bulls. Jackson brought with him the triangle offense, a strategy that was based on getting the ball to O'Neal as much as possible. Jackson's strategy worked and the Lakers won NBA Championship rings and O'Neal was named MVP.
The following season saw another Laker emerge as a star -- Kobe Bryant. The rising of Kobe's star, while making for exciting play, hurt the Lakers. Bryant and O'Neal both felt they were where Jackson's offensive scheme ultimately meant for the ball to go. This started a Kobe-Shaq feud that the LA press loved, despite the fact that the team's overall play suffered due to the Shaq-Kobe squabble.
By late in the season, the Lakers had actually faltered to the point that questions were being raised as to if the reigning NBA Champs could repeat. They did, in what became classic Laker style -- a call for a ceasefire to the Shaq-Kobe infighting just long enough to win the big ones.
After chalking up a third NBA title, the Championship Lakers we all came to know ceased to exist. Jackson retired and wrote a book. Kobe fought his way though a nasty legal battle. And, Shaq was traded to Miami.
There is no doubting that Shaquille O'Neal is one of those people who is truly larger than life. Encountering him in person for the first time is an awe-inspiring experience. It's hard to accept just how big he is. That awe is of course also inspired as one watches what he does on the court, with his incredible repertoire of moves and shots, and a strength and intimidation that is unequalled.
In today's NBA, there is simply not one player that can guard him one-on-one, just ask Alonzo Mourning! His shooting skills have become refined over the years, and even at his advanced age he has spin moves that are done with aplomb. In fact, the only Achilles Heal that has ever surfaced with the Big Fella comes as he attempts the free throws he is notoriously known to miss.
With Shaq on board, one would have to believe that the Heat might just be a major contender for a championship. The Miami sportswriters are obviously thrilled to have a star to gather around after games for one of his outrageous sound bites or quotes.
Off the court, away from the Hollywood stage and the red carpet spotlight, Shaq is known to be an intelligent and analytical conversationalist. Described by some who know him well as one of the most soft-spoken, laid-back people one might ever come across, he is often mistaken for being cocky. It has been said that is just his sense of humor and that while he may come across as being arrogant or cocky, it is all just a part of his playfulness.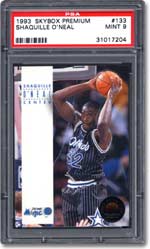 Still, perhaps, he can't be blamed if there is a bit of the genuine cockiness and arrogance in him. Remember, he has been an All-Star in every one of his NBA seasons; he received the highest voting percentage for MVP since the inception of the award and has been named as one of the NBA's 50 Greatest Players. He has proven to be a person of diverse interests by establishing a successful record label and creating a less-than successful clothing line. And, to prove that there is a genuine nice guy to be found in Shaq, he teamed up with corporate America to establish an annual showcase titled "Shaqtacular," which benefits underprivileged children. Those kids love him, and he is so popular with them that Nintendo made him the star of an action video game.
There's no doubting that the sun is shining on Shaq. The big question is will Shaq shine for the Sunshine State?
When it comes to Shaq's cards, hundreds of different offerings have been produced, but there is only one that is considered to be THE Shaquille O'Neal card -- the 1992 Upper Deck #1.
This is aesthetically a beautiful card with a time-lapse shot of Shaq looking -- jumping and then dunking. Because the card has a high gloss finish it is extremely sensitive to handling. As most collectors know, high gloss cards are great to look at but are sensitive to the touch. Even the most minor of surface wear easily shows on these cards.
The 1992 Upper Deck #1 is also known to have chipping problems along the card's black edges. Those black edges are also the culprit for the wear that clearly shows on the card's corners and tips. The majority of these cards have a natural rough-cut. That less-than-perfect slash makes chipping problems all the more prevalent. Finding this card in high grade is a challenge, and locating one in Gem Mint condition is extremely difficult.
As for the latest of the Shaq card offerings, Topps beat everyone to the punch. As soon as they got wind that the Miami Heat was closing in on a deal to bring Shaquille O'Neal back to Florida, they got busy in their graphics room making some big changes.
This season, Shaq's first card featuring him in his all-new black Miami Heat threads was released last summer as a part of The Topps 2004-2005 Basketball set. The best part about the Topps card featuring Shaq in a Heat uniform is that they are all personally autographed by the big man himself. These signed cards have been randomly inserted into packs. Shaq's non-autographed card in the 2004-'05 set features him as a Laker.