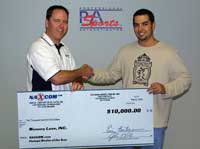 LOS ANGELES, CA. - FEB. 7, 2005 - What started as a battle between 32 of the country's top vintage sports memorabilia dealers concluded with an epic showdown between two of the industry's most respected hobby retailers. Thanks to the sale of a 1952 Mickey Mantle (GAI 7.5) rookie card for $26,000, Memory Lane Sports Cards (Tustin, CA) held off a late flurry of sales from McAvoy Sports Cards (Omaha, NE.), to capture the title Vintage Memorabilia Dealer of the Year and $10,000 in the first annual NAXCOM.COM Vintage Invitational presented by PSA.
Despite, falling short in the championships round (Jan 31-Feb 6), McAvoy Sports Cards earned $2500 as the runner-up.
The national competition for 32 sports memorabilia dealers was structured as a weekly single-elimination tournament similar to the NCAA Basketball Tournament. Memory Lane was able to advance through its bracket, which included National Vintage Dealers - Kevin Savage, Triple SsS, Mile High, All-Star Cards, Burbank and Sports Images. McAvoy Sports Cards bracket included Andy Madec, Polo Grounds, Kurtz Kardz, Goodwin & Co., BMW, Collector's Depot and The Ninth Inning.
"We commend both Memory Lane and McAvoy Sports cards for their outstanding performance in our inaugural competition," Eric Beckerman, CEO of NAXCOM.COM. "Everyone was a winner. Our customers were able to get some great prices on Vintage items because of the fact that the dealers had to sell product in order to advance. NAXCOM's vintage sales have gone up over 300% since the start of the Vintage Invitational. The response was so overwhelming that we have moved up the start date for the Vintage Invitational II with qualifying rounds on March 1 and the competition commencing on June 6."
In addition to the sale of the Mantle rookie, some of the other prominent transactions during the final weeks of the NAXCOM Vintage Invitational included: 1965 Topps Football Complete Set High Grade condition -- $25,000 1911 Framed Christy Mathewson Piece contains a T206 box and T206 Piedmont -- $4,500 1956 Topps Pinback Set -- $4,000 1953 Bowman Color #59 Mantle PSA 8 -- $3,675 1958 Bell Brand Sandy Koufax Trading Card NM - $2,500 1949 Bowman Duke Snyder Rookie #266 PSA 8 -- $2,310 1958 Topps Batting Foes (Aaron/Mantle #418) PSA 8 -- $1,313
Vintage memorabilia, defined as anything pre-1980 (cards, publications, autographs, equipment, figurines, etc.), has a large and growing audience among the nation's sports collecting community.
The NAXCOM.COM Vintage Invitational leverages the renewed interest in the memorabilia of yesterday's sports legends. While dealers rack up sales, it will be collectors that truly benefit as hundreds of items each week will be "priced to move" by the competing dealers looking to advance to the next round.
Memory Lane, the winner of the inaugural Vintage Invitational, has been in business since 2000 and has quickly become one of industry's leading brokers and dealers specializing in pre-1970 cards and other high-grade sports collectibles. They recently made headlines by selling a Sport Kings set for $360,000. "We are honored to be the winner of the inaugural NAXCOM Vintage Invitational," said JP Cohen of Memory Lane, Inc. "This promotion provided a great venue for us to showcase our extensive inventory of vintage collectibles to a wide audience of collectors. We look forward to defending our title."
McAvoy Sportscards has built a solid business over the past 32 years. What began as a table at weekend sports memorabilia card shows has expanded into a full-time family business for retired Army podiatrist William McAvoy with his wife Jane and daughter, Amy.
NAXCOM.com Marketplace launched in December 2001 as a response to collectors and dealers frustrations with On-line auction sites. In its three-year span, NAXCOM has achieved the fastest growing Sports Collectibles Web Site catching www.Beckett.com as the most visited Sports Collectibles site on the Internet (according to www.Alexa.com). NAXCOM's bid/ask marketplace, modeled after the stock market, boasts over 85,000 registered users and 3.3M User Listings (10X more than eBay's category). Thanks to NAXCOM's buyer protection guarantee and its No Listing Fees, collectors recently ranked NAXCOM "The most preferred Sports Collectibles Marketplace" on the Internet in a survey conducted by Landmark Communications Inc.
For more information about NAXCOM.com or NAXCOM Vintage Invitational II, go to www.naxcom.com or call 877.255.3162.