When it comes to representing the sale of some of baseball's most incredible and unique treasures, Robert Edward Auctions of Watchung, NJ has established a three-decade tradition of integrity, knowledge and professionalism. In April 2005, that tradition will continue when the company will offer what REA President Rob Lifson calls a "labor of love" – a "collecting miracle" – a collection of over twenty thousand signed cards that was assembled over a thirty-five year period, which includes complete 1948 through 1983 Topps and Bowman sets, plus many other issues, all completely autographed and authenticated by PSA/DNA.
REA, which specializes in top quality sports collectibles, as well as autographs, manuscripts, original illustration art and Americana, political and campaign memorabilia, prides itself on providing the industry with one of the ultimate auction services. With the largest circulation of any auction house, Lifson has handled many of the most desirable sportcards and sports collectibles that have ever entered the open market. When legendary collector Barry Halper sold his amassment, universally recognized as the largest and most significant baseball memorabilia collection ever compiled, he tapped Lifson to handle the sale that realized over $26 million dollars.
Lifson also oversaw the sale of the legendary "Gretzky-McNall" T206 Honus Wagner card, which sold for $1.265 million dollars and the sale of the uniform that Lou Gehrig wore when he made his famous "I am the luckiest man on the face of the earth" farewell speech in 1939, which brought the gavel down at $306,000. The company has also auctioned or arranged private sales of over twenty of the approximately 50 T206 Honus Wagner cards known to exist. They handled the $72,000 sale of the 1854 Knickerbocker Trophy, which is now a part of the permanent collection of the Major League Baseball Hall of Fame; and Lifson was solely responsible for the discovery, research, and authentication of the Rosa Parks' bus, purchased at auction by The Ford Foundation.
Lifson has also been retained by the Federal Bureau of Investigation as an expert consultant to provide extensive consultation and research services on a variety of cases regarding the value of baseball cards and memorabilia, the authenticity of baseball memorabilia, and the auction process. He has testified in court on behalf of the Department of Justice as an expert witness for the Federal Government and has served as the senior editor of The Sports Collectors Bible, as well as a special consultant to The Standard Catalog of Baseball Cards and for Sotheby's Auction House.
This April, Lifson will again add to his impressive resume as he oversees a collection which is so unexpected, and so improbable, due to the difficulty of its assembly, that collectors will be in awe by its very existence, let alone that it is being offered for sale.
"This collection represents thirty-five years worth of collecting," said Lifson. "We will never see anything like this again, because even if there had been someone else who had the time and was willing to devote the effort and energy it would take to put a collection like this together, they still would not have had the access that this collector had."
Lifson went on to explain that the collector, who wishes to remain anonymous, compiled this collection of signed cards simply for his love of baseball cards and autographs. "He did it out of his pure love of the game and the joy of collecting – long before collecting cards was popular and had any financial benefit."
Over the past decade, the collectible sportscard market has occasionally seen a complete autographed set, usually dating from the 1980s or 1990s, surface and become available. In those rare instances, collectors have been highly impressed at the work and determination required to assemble even one single fully signed set. But a complete run of autographed Topps and Bowman cards, starting from 1948 through the 1980s, plus various additional sets such as the 1959 Fleer Ted Williams, Nu-Card, Red Man and Post Cereal sets, is simply unprecedented.
"We (REA) have known of the collection, which has been a work-in-progress for decades, for the past twenty-five years," said Lifson. "But I had personally never seen the entire collection until a decision was made to sell it. When I did see it for the first time, it made a big impression on me."
That big impression came from seeing over twenty thousand different signed cards, most of which were obtained in person. "The collector of these sets enjoyed the unique benefit of having a professional association with Major League baseball in years past," Lifson explained. "He had close personal business associations, which spanned decades with many players, including literally dozens of Hall of Famers, and a life-long association with the organized hobby as well. This is not a collection that just anyone could assemble."
Lifson says it is a tremendous privilege for REA to have been chosen to present this extraordinary and unique autographed card collection to the world. "This is a collection which embodies so much of what collecting is about,' he said. "This was never a collection about value. This was a collection about the challenge it represented, a passionate love of the game of baseball, and a love of collecting. This is a collection that falls into the category of being a collecting miracle. We have never seen anything like it before, and do not anticipate ever seeing anything like it again."
While a few cards are missing from various sets that will be offered, Lifson pointed out that some may be possible to eventually fill in while others may never be found. "Unlike the collecting of unsigned cards, the most significant key rarities to an autographed set are often not the great stars such as Mickey Mantle or Willie Mays, but the most obscure players, whose early deaths make finding a signed card from a particular year extremely rare, or perhaps impossible."
Each of the sets that will be auctioned will include all or most of the key signed rarities and almost all of the sets will be offered as complete autographed sets. REA has made the decision to separate a few key cards among the early years in an attempt to highlight a few of the many special signed cards of great rarity or special universal appeal which are a part of each and every set in the collection. They have chosen a selection of cards from each set for PSA/DNA encapsulation, highlighting this relatively new and significant authenticating, grading and encapsulation service for signed cards. Every one of the signed cards in this collection have been authenticated by PSA/DNA.
Included in these autographed treasures will be a signed example of one of the most classic double-player cards ever issued – the 1957 Topps # 407 Yankees' Power Hitters card that features Mickey Mantle and Yogi Berra in their prime. "This is one of the most popular cards of the 1950s," said Lifson. "It needs no extra credentials. The fact that this is also the last card in the 1957 Topps set makes it considerably more difficult than most cards in the set to find in high grade, which gives the card all the more attention among collectors. We can't imagine there are many examples of this card that were ever signed by both Mantle and Berra."
Over their respective images, Yogi and "The Mick" signed virtually flawless blue ink ballpoint signatures earning an 8/9 grade. The card itself is a beautiful high-grade example, bright and crisp, both front and back, centered just a little high top to bottom, with flawless colors, sharp corners, and perfect focus (which can sometimes be a problem with this card). Graded in Near Mint condition with a Letter of Authenticity from PSA/DNA, the reserve price on the card will be only $400.
A 1953 Topps near-complete set comprised of 262 of the 274 cards, all autographed, will be another highlight of the offering. "Sixty-six percent of the cards are signed in ballpoint pen and thirty-four percent are signed in Sharpie marker or felt-tip pen," said Lifson. "The signatures are strong throughout, ranging in grade from a 7 to a 10, and averaging 8/9 overall.
Among the key cards in the '53 set are the # 10 Burgess SP (Vg-Ex), # 37 Mathews (Vg-Ex), # 41 Slaughter (Ex), # 54 Feller (Vg-Ex), # 61 Wynn SP (Vg-Ex), # 62 Irvin (Ex), # 76 Reese (Ex), # 77 Mize (Ex), # 78 Schoendienst (Vg-Ex), # 81 Black SP (Ex), # 86 Martin (Ex), # 87 Lopat (Vg), # 104 Berra (Gd-Vg), # 114 Rizzuto (Vg-Ex/Ex), # 119 Sain SP (Ex), # 138 Kell (Ex), # 147 Spahn (Ex), # 149 DiMaggio (Vg-Ex), # 151 Wilhelm (Vg-Ex), # 162 Kluszewski (Ex), # 191 Kiner (Vg-Ex), # 207 Ford (Ex), # 228 Newhouser (no left border, otherwise Ex), # 246 Face (Vg), # 254 Roe (Ex), # 258 Gilliam (Vg), # 263 Podres (Vg-Ex), # 265 Jensen (80/20 L/R, otherwise Ex), # 273 Haddix (Ex) and the # 280 Bolling (Vg).
A few of the many key signed cards of now deceased players in that set include: Thompson, Drews, Kinder, Hooper, W. Jones, St. Claire, Porterfield, S. Gordon, Courtney, B. Schultz, Podbielan, Bernier, Lowrey, Lollar, A. Reynolds, Wertz, Simpson, Scarborough, Runnels, and McMillan. The balance of the cards range in grades from Very Good to Excellent.
As serious collectors are well aware, the 1953 Topps set is one of the most attractive and popular card sets ever issued and this is a beautifully assembled and exceptionally attractive completely autographed near set that will be offered with a reserve price of $1,500.
One of the auctions most intriguing offerings will be a completely autographed 1959 Fleer Ted Williams set. All eighty cards have been hand signed by Ted Williams with a ballpoint pen. This is simply an incredible collection that may well be the only one in existence and comes with a unique and fascinating story and provenance.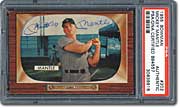 The 1959 Fleer Ted Williams set was signed by "The Splendid Splinter" in 1972, in the visiting clubhouse of Yankee Stadium for a Yankee batboy. At the time, Williams had been serving as the manager of the Washington Senators and had continued in that role when the franchise became the Texas Rangers in 1972. During the first day of the series between the Yankees and the Rangers, the batboy brought in a hardcover book written by Ted Williams to get signed.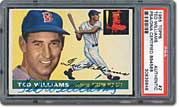 When the book was presented to Williams for his autograph he said he had not seen that book in years and asked the batboy if he would be willing to sell him the book to give to a friend. The batboy told Williams he could have it as a gift. Williams was taken back by the boy's willingness to give it to him and said that he would only accept if he could do something for him in return. It was finally decided that Williams would sign whatever the batboy brought to him the following day.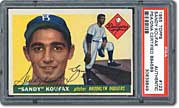 The next day came and Williams was sitting in the middle of the clubhouse signing some baseballs when the batboy mustered up the courage to approach him about signing his items. Ted motioned the boy over and in his commanding voice said, "Sure, bring them over here!" The batboy gave Ted Williams a nice blue ballpoint pen (being as that he knew Williams most often signed things with a Flair pen and very often on the back of the cards). He then went on to instruct Williams to sign the entire set of eighty cards on the front, not the back.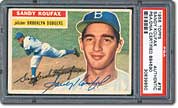 Most of the Rangers players and coaches had gotten wind of what the request would be and were eagerly anticipating William's reaction. The room fell so silent you could hear a pin drop as Ted sat dazed, looking at the stack of cards before him and then up at the batboy. Before Ted could say a word, the batboy thanked him for being so kind and generous for volunteering to sign whatever he brought in. Ted didn't know what to say or do except to begin signing the cards one by one. As he finished signing each card, he very deliberately put the autographed card on a pile with the others, and with great effort placed another card in front of himself to sign, all the while grumbling under his breath while the clubhouse roared with laughter.
When Williams finished signing all eighty cards he presented them to the batboy saying: "Don't bring me another copy of that book I wrote – I don't want to make any more promises."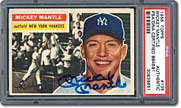 That promise in exchange for a book resulted in a full eighty-card set signed by Ted Williams with every one of the signatures grading a virtually unimprovable 10. Eighty-five percent of the cards in that set grade EX to EX-Mt and just fifteen percent grade Vg-Ex (due to slight surface wrinkles). Very close examination of the highly rare #68 card reveals that it was carefully hand cut from an uncut sheet. This highly unique set will be accompanied by a letter from the batboy detailing the story of when Ted Williams signed the set for him in 1972 and will have a reserve price of $2,500.
Although collectors have been getting players to sign cards for decades, the collecting, grading and pricing of autographed sportscards is relatively new and uncharted territory. "For card collectors, signed cards have usually not generated that much interest," said Lifson. "That is largely due to condition. Autographed cards are usually not found in high grades being as that they were moved around a lot – carried out to the stadiums and handled quite a bit."
What Lifson believes will make the signed offerings in their April auction so popular is the uniqueness of the collection. "What makes this exciting is that it is a collection that represents a man's dedication and passion. Even for someone who was an insider and had the connections to get these cards signed, this represents a tremendous amount of time and effort. This is the sort of thing that is put together not for money but solely for the love of baseball and the desire to try to complete a very special collection."
Lifson, who says he has no idea what the collection may bring in price-wise, believes the April auction will be extremely important to the sportscard hobby. "The offering of this collection, will to a large extent, set the values of signed cards and give us an indication of their desirability. Autographed cards are a facet of the hobby that has not seen its time come as of yet. This auction will be a big step in seeing that time come."
For further information and to order a catalogue for the April auction, you can contact Robert Edward Auctions by writing to them at PO Box 7256, Watchung, NJ 07069, calling (908)-226-9900 or visiting their Web site at www.RobertEdwardAuctions.com