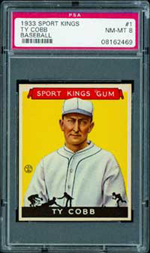 A huge success is the way to describe Memory Lane's Buried Treasures Card Auction held November 17th. The auction strategy was to present a select group of lots, which focused on high-grade examples and ones that are hard-to-find -- what collectors call "tough cards."
"Set Builders had a heyday! They found cards in our auction you just don't see everyday. And the prices were attractive. Our consignors are ecstatic. We designed the auction for them and the result is the auction realized great card values, many of which established new marks for these cards," stated Roger Cameron, Marketing Director for Memory Lane Inc.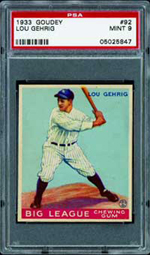 Look at these exciting results from the cards Memory Lane Inc. chose for this Auction: a 1933 Goudey Lou Gehrig #92 sold for $40,678. A 1915 Cracker Jack, William Carrigan #27 sold for $8,259. A 1952 Topps Ted Kluszewski #29 PSA Mint 9 sold for $13,752. A 1933 Goudey Sport King Ty Cobb # 1 PSA 8 NM-MT realized a great price of $19,693. The auction was full of lots like this, lots that had a SMR $7500+ book value. The power of a "tough card" was most visible with 1933 Goudey Sport King Nat Holman # 3 (a hard card to find in high-grade), which sold for $24,926.
More amazing results! And it's across all price points. For example, the Auction featured a complete 72 card 1941 Play Ball set in PSA NM-MT 8's sold for a realized price of $67,797! A 1957 Topps Duke Snider #170 PSA GEM MINT 10 sold for $8209! A 1915 Cracker Jack Chief Bender in a PSA NM-MT 8 sold for $6886. A 1952 Topps Bob Friend # 233 sold for $5700. A 1955 Red Man Tobacco #7 Willie Mays PSA MN-MT 8 sold in the Buried Treasures Auction for $2465.
This is just a sampling; the realized values. The other auction lots are just as impressive. For a full accounting of all the lots and to see their respective realized values go to www.memorylaneinc.com under the Archive Auction section.
Memory Lane Inc. is planning a Buried Treasures II Auction this spring and has invited collectors and others to share its success with special consignment offers. Call them for details toll free at 877-606-5263; or email them at [email protected].