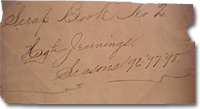 The State of Pennsylvania was a virtual breeding ground for baseball prospects, from the early years of the league's formation, through the Second World War. Choices were often limited to working in the coal mines or steel mills, or possessing the talent and drive it took to make the grade in the big leagues. The list of Keystone players who excelled to the degree of Hall of Fame immortality is impressive; John Montgomery Ward (Bellefonte), Honus Wagner (Carnegie), Christy Mathewson (Factoryville), Eddie Plank (Gettysburg), Rube Waddell (Bradford) Ed Walsh (Plains), Stan Coveleski (Shamokin), Herb Pennock (Kennett Square), Bill McKechnie (Wilkinsburg), Hack Wilson (Elwood City), Bucky Harris (Pittston via Port Jervis, NY) Joe McCarthy (Germantown), Stan Musial (Donora) and Umpire Nestor Chylak (Peckville) all originated within the State's borders.
Another nineteenth century pioneer should not be overlooked. Hugh Ambrose Jennings was born on April 2, 1870 in the Scranton suburb of Pittston, PA. He was born of Scottish-Irish parents and had three siblings. Growing up as a breaker boy in the Anthracite mines earning 90 cents a day, he received no formal education. When he realized the pay for catching Sunday baseball for a Leighton semipro team was $5 a game, his destiny was determined.
In 1890, the freckle-faced, red-headed Hugh increased his weight to 165 pounds within a 5'9" frame and played shortstop for the Allentown team of the Eastern Institute League. The following season, Jennings signed with the Louisville Colonels, of the National League (originally with the American Association) and had difficulty making the adjustment to better caliber pitching. Midway through the 1893 season, Louisville was delighted to trade him to Ned Hanlon's Baltimore Orioles, who were gearing up with young players, and which ultimately resulted in four consecutive pennants (1894-97).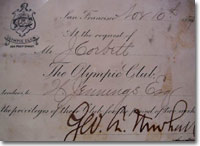 Hanlon was a stickler for teaching his youngsters the science of the game -- bunting, the hit-and-run and the stolen base. The team had a collection of future Hall of Famers including John McGraw, Wilbert Robinson, Joe Kelley and Willie Keeler. "Hughey's" hitting improved tremendously under the advice of McGraw and the two embarked on what was to become a lifetime friendship.
In 1894, the "sparkplug" was appointed team captain at the age of 24, proving to be a natural leader, playing "dirty style" baseball which included intentional spiking, intimidating arguments and vicious bench heckling. He and McGraw, fueled by their never-ending desire to win, were detested by their opponents. Umpires came under the fire of his screaming obscenities, tobacco spray (in their eyes) and stomping on (the arbiters') toes.
Jennings became a perennial .300 hitter and lived by the credo "Hit or get hit." His record of 49 hit-by-the-pitch balls, prompted by his crowding of the plate, stood for 75 years before Ron Hunt broke the record in 1971 with 50.

An Amos Rusie fastball fractured his skull in 1897, causing him to miss the last month of the season. Under the same ownership, the Baltimore franchise moved to Brooklyn where they won the National League pennants of 1899 and 1900. Jennings shifted to first base and became an officer in the Players' Protective Association, which led to the beginnings of the American League.
Without any previous classroom exposure, "Hughie" spent the winter months studying law at St. Bonaventure University (along with McGraw) and later at Cornell. He received his law degree at the Ivy League school and was admitted to the Pennsylvania bar. He also coached the baseball team at Cornell (circa 1904).
One night, he erroneously dove from a springboard into a dimly lit empty swimming pool and fractured his skull. In 1911, his car (a gift from admirers), overturned off a cliff near the Lehigh River in Goldsboro, PA. He endured yet another serious head injury including two broken legs and a broken arm.
The following season, he played as a utility first baseman and was named team captain for the Philadelphia Phillies. His batting average, throwing arm and playing time started to decline. He found himself back in Brooklyn in 1903, but only appeared in six games.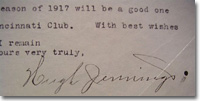 Hugh was hired in 1903, as player/manager of the Baltimore Orioles of the Eastern League, gaining valuable experience piloting the team over the next four seasons. The Detroit Tigers were impressed with his progress and made the popular and colorful skipper their own in 1907. His first three seasons, he responded with three straight pennants, though, unable to win a World Series.
He strategically managed, using ridicule and sarcasm. Only his young "phenom" Ty Cobb was immune to his harsh standards. Cobb brought his own brand of nastiness that needed little provocation. Although, Cobb continued to win batting titles, Jennings was unable to produce another pennant winner. At the end of the season in 1920, he was replaced by the veteran Cobb as manager. He had compiled a lifetime batting average of .312 with 1532 hits in 17 seasons, the last five with only cameo appearances.
Jennings and Jennings, Attorneys-At-Law at 530 Vine Street, Scranton, PA was a successfully ran practice that he and relative W.A. Jennings worked during the off-seasons. The unlikely barrister had an extensive clientele and even served as his own counsel for his involvement in a car accident.
Manager McGraw immediately sought his assistance for the third base coaching lines of the New York Giants. From 1921 to 1925, the Polo Grounds echoed his familiar cheer "Ee-yah" to motivate his batters. Like an animated cartoon character, he would perform a type of war dance in the coach's box while chewing grass, high pitched whistling (used prior in his Detroit days, but outlawed by Ban Johnson) and the shout of his patented shriek. The gyration and yell was an evolution of "That's the way!" to "Way-yah" despite theory that it was derived from a Hawaiian phrase of "Watch out".
Although, the team was successful in winning four consecutive pennants, the players were under the constant brow-beating and criticism of McGraw and coaches Jennings and Burkett. McGraw became ill in 1925 and Jennings managed with the stress of a tight pennant race for most of the season. Following the campaign, he suffered a nervous breakdown and was unable to report to spring training in Sarasota for the 1926 campaign.
During his convalescence in a sanitarium in Ashville, NC and later in the Pocono Mountains, the son of a coal miner showed signs of regaining his health for a short time. "Hughie", although in declining health and spirits, was a welcomed figure at the Polo Grounds and received cheers and chants of "Ee-yah" from adoring fans.
Jennings was a director for Trader's Bank during his final years, attending 36 consecutive meetings, right up until his demise. He was an active member of the Knights of Columbus, Elks Club, Kiwanis, Holy Name Society, St. Peter's Cathedral, Phi Delta Theta fraternity and the local Fox Hill Country Club. An automobile accident on March 28, 1927 in Stroudsburg, PA caused him to walk with a cane.
Surrounded by family members early in the morning of February 1, 1928, "Hughie" Jennings, age 59, died at his Scranton home after a week-long coma. Jennings was survived by his wife - Nora O'Boyle Jennings, daughter - Mrs. Thomas P. McWilliams, a sister - Mrs. Edward Walsh of Moosic, and two brothers - James of Scranton and Frank of Pittstown. St. Catherine's Cemetery is the site of his burial in nearby Moscow, PA.
Seventeen years later on April 25, 1945, the Permanent Committee voted Jennings (#35) into the Baseball Hall of Fame. The fiery player and stern manager had received promising yet inadequate recognition in the five prior elections.
Commonly and carefully signing "Hugh Jennings", his right-handed autograph was one of legibility and flourish. Spencerian writing was the mode of his era and his capitalization supports this style. He would experiment with his "H" throughout his life, using both a single or double line construction. It was consistently three times the size of the lower case characters. After the letter break, the initial stroke of the "u" intersected from the second shaft of the "H" or elevated directly from the baseline. The connector stroke then made a small slanted loop that led into a longer, lower loop creating the "g". The conventional "h" followed without a pen lift and tailed upward with its terminal stroke.
In earlier days, the final line could bisect the middle of the capital "J" which hugged closer to the baseline. This capital letter, the largest of all, maintained the 45 degree slant with the fine-lined initial stroke. The "e" in earlier times was conventional but was supplemented with a tilted, jagged or rounded "E". Then depending on the era in which it was written, the "nnin" were a series of indistinguishable characters in which a vertical dash hung over the third "n". An identical "g" to the prior, generally came attached and gave way to a slightly taller closed "s" with a wandering terminal stroke. A period, usually lower than the baseline, capped off his personal inscription.
The acquisition of any Hall of Fame autograph of a posthumously elected individual, puts a collector at a logical disadvantage. Now add into the mix that the subject died in 1928, years prior to his enshrinement; now the challenge is a formidable one, from a locating and financial sense. During his playing and managing career, there were few collectors; mainly just fans. We can imagine that he would have been a willing signer in any situation. As a well-liked coach in the 1920's, the chances get a little better.
Index cards and government postcards were not accepted mediums of signing at the time. Photographs ($5000 and up) were uncommon and expensive and not in the hands of enthusiasts. Single signed baseballs would be extremely rare (start the bidding at $8000), and it seemed that few would have thought about getting T-cards ($4000) autographed.
One would think that because of his law practice, reams of correspondence ($4000 minimum, more for handwritten) would exist. I often wonder if it all was tossed away or the right vein has yet to be excavated. Not a single cancelled check has ever appeared in the marketplace. Old hotel registration ledgers or scorecards ($2800) once in awhile prove to be an occasional source. The Barry Halper collection, sold through Sotheby's in 1999, had a few wonderful examples including an 1894 vintage team sheet. His personal scrapbook had three nice examples before it was dissected. The most common form of his signature appears to be on an uncommon item- an early 1920's team signed baseball. He tended to sign larger than the others.