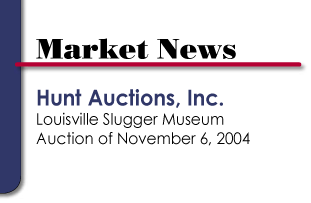 Hunt Auctions, Inc. conducted the Louisville Slugger Museum® Auction on behalf of Hillerich & Bradsby Co. in Louisville, Kentucky with record-breaking results. The 427 lot auction took place Saturday, November 9, 2004 to a standing room only crowd. With intense competition among bidders in the room and active participation by absentee and phone bidders, the sale took nearly eight hours to complete. With a sale rate of 97%, the auction was a monumental success, grossing just over $1.6 million and far exceeding the high pre-sale estimate.
The auction was the culmination of nearly one week's worth of events at the museum, including a preview party Friday evening, and an appraisal fair all day Thursday, which yielded several last minute late addition items.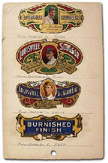 The driving force behind the auction had been to raise money for museum acquisitions, and by all accounts the sale certainly surpassed expectations. In addition to revenue generated from the sale of their own items, Louisville Slugger Museum will also receive a portion of the proceeds from third party consignments.
This unprecedented event will no doubt make auction history, as several world record prices were likely broken including the record Hunt Auctions, Inc. established in February 2004 for a Ty Cobb game used baseball bat. As one of the marquis pieces of the Hillerich & Bradsby offering, a superb Ty Cobb professional model bat with H&B factory side writing brought $132,000.00. Other items that may have achieved record results include a well documented Lefty Grove bat dating to the 1931 World Series ($55,000.00), Hank Aaron's 740th Home Run bat ($34,100.00), and a bat used by Willie Mays on his 2,999th hit ($37,400.00). Not surprisingly, the bats in this sale did exceptionally well, including some from obscure early players such as Ross Young ($12,100.00), Jake Daubert ($7,150.00), Earl Averill ($8,250.00), Gabby Hartnett ($10,175.00), Edd Roush ($2,420.00), and Hack Wilson ($5,940.00). Several modern era sluggers also commanded high prices, ending at or above the pre-sale high estimate including Mickey Mantle ($20,900.00), Pete Rose ($2,860.00), Sam Rice ($16,500.00), Pee Wee Reese ($7,150.00), Lloyd Waner ($5,500.00), Cal Ripken Jr. ($4,950.00), and Ted Williams ($15,400.00).
Despite the solid focus on game used bats, vintage signed baseballs proved to be some of the most sought after items in the sale. In particular, a baseball signed by Babe Ruth and Charlie Root of the famous 1932 called shot controversy closed to some of the heaviest phone and live bidding in the sale at $44,000.00. The presale estimate had been $10,000.00-$15,000.00. Both a superb single signed Babe Ruth baseball and a high grade Babe Ruth/Lou Gehrig signed ball each brought $31,900.00. Other single signed highlights include a Ty Cobb baseball for $9,350.00, a Jim Bottomley for $4,510.00 and an important 1909 World Series ball signed by HOF'er Fred Clarke that brought nearly twice the high estimate at $14,300.00.
Several baseball related artifacts, many straight from the H&B archives, also achieved exceptional prices including a wooden "A" frame bat rack c.1920's, and two original folio display sheets used to market decals to retailers c.1910-15. All three brought $10,450.00 each. Examples of Honus Wagner and Joe Jackson miniature decal bats realized $2,090.00 and $3,850.00 respectively.

Some of the most sought after items in the sale proved to be several pieces of correspondence that originated directly from H&B. The hallmark item, a July 19, 1918 Babe Ruth handwritten letter signed six times by Ruth brought $41,800.00. Other featured pieces include an Ed Roush autographed typed letter ($1,320.00), an original telegram sent to the Hillerich & Bradsby Co. by Mickey Mantle c.1957 ($5,060.00), and a Babe Ruth autographed article proof c.1930s-1940s ($9,350.00). Many of these types of items were culled from the H&B archives at the last minute and had been added to the sale after the catalogue printing. Some of the rarest examples of these include a William "Buck" Ewing autographed typed letter ($45,100.00), an Ed Hanlon autographed handwritten letter ($23,100.00), significant 1898 Boston Red Stockings team autographed correspondence ($25,300.00), and an 1898 Philadelphia BBC team autographed Baker Bowl inaugural game invitation ($28,600.00). Together these four lots more than quadrupled their combined high estimates.
The Negro Leagues Baseball Museum in Kansas City, MO also benefited handsomely from the auction, participating successfully as both a buyer and a seller. Several game-used "throwback" style jerseys that had been donated to the museum by the Kansas City Royals brought over $15,000.00. Highlights include a Mike Piazza New York Cubans jersey ($1,540.00), a Jim Edmonds St. Louis Stars ($1,250.00), a Carlos Beltran Kansas City Monarchs ($2,640.00), and an Albert Pujols St. Louis Stars ($5,500.00). In addition, the museum will also receive a portion of the $110,000.00 achieved by an extraordinary 1949 Cleveland Indians Satchel Paige home jersey. Following the outstanding results of these lots, the Museum successfully purchased Roy Campanella's 1941 East vs. West All-Star game MVP trophy for $20,900.00.

At the close of the sale, those who attended in person were given the opportunity to bid on several late addition consignments brought in from the appraisal fair held at the Louisville Slugger Museum on Thursday, November 4. Seven baseballs were offered, including (2) signed by Babe Ruth, the 1952 NY Yankees, and 1957 Hall of Fame inductees, as well as (14) autographed 1933 Goudey cards, and a Babe Ruth autographed barnstorming photograph. Two items in particular stood out – a 1994 Barry Bonds All-Star game worn and autographed jersey that sold for $8,800.00 and a superb Babe Ruth and Lou Gehrig autographed photograph c.1928 that brought $37,900.00.
Hunt Auctions, Inc. is currently accepting consignments for the February 2005 live catalogue auction; and for numerous internet/phone auctions. Contact Hunt Auctions, Inc. at 610-524-0822 for a personal consultation, or go to www.huntauctions.com for more information.
Mile High Card Company Smashes Records in Fall Auction
The 394 lots in the November 11th Mile High Card Company Auction created some fierce action and in the end established many new sales records. When the auction culminated MHCC had recorded a firm record of $873,854.00 in sales and many all-time record bids had been placed for some exceptional items in the auction. For Mile High Card Company this auction represented a 40% increase in gross revenue from their last auction which signifies a strong active market and MHCC's growing stature as the preeminent auctioneer of high grade sportscards.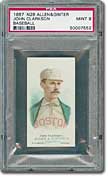 A tremendous selection of high-end singles garnered great attention and realized the following prices: 1887 N172 Old Judge John Irwin PSA 9 MINT $3,617.90, 1887 N28 Allen & Ginter John Clarkson PSA 9 MINT $12,640.80, 1909-11 E90-1 Mike Mitchell PSA 6 EX/MT $9,607.10, 1948 Leaf #3 Babe Ruth PSA 8 NM/MT $5,969.65, 1951 Bowman #2 Yogi Berra PSA 9 MINT $15,167.35, 1955 Topps #164 Roberto Clemente PSA 9 MINT $21,846.55, 1969 Topps Super #24 Mickey Mantle PSA 10 $7,216.25, 1933 Goudey George Connally PSA 8 NM/MT $7,588.85, 1952 Topps #200 Ralph Houk PSA 9 MINT $3,499.45, 1953 Bowman #117 Duke Snider PSA 8 NM/MT $4,773.65, and a 1953 Bowman Color #118 Billy Martin PSA 8 NM/MT found a new home at $4,418.30.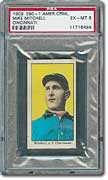 Performing to equally amazing levels were the following: 1954 Bowman #89 Willie Mays PSA 9 MINT $4,702.35, 1955 Topps #4 Al Kaline PSA 9 MINT $4,591.95, 1956 Topps #135 Mickey Mantle PSA 9 MINT $9,849.75, 1961 Topps #472 Yogi Berra PSA 10 GEM MINT $9,379.40, 1969 Topps Super #28 Reggie Jackson PSA 10 GEM MINT $2,618.55, 1974 Topps Deckled Edge #43 Carl Yastrzemski PSA 9 MINT $3,069.35 and a 1911 T205 George Rucker PSA 7 NM at $4,979.50.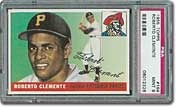 Also featured in the MHCC auction was an amazing collection of ultra high grade "low pop" commons that brought tremendous attention and astounding prices led by : 1952 Topps #20 Billy Loes PSA 8 NM/MT $2,880.75, 1953 Bowman Color #8 Al Rosen PSA 9 MINT $3,714.50, 1953 Bowman Color #28 Smoky Burgess PSA 9 MINT $4,114.70, 1953 Bowman Color #96 PSA 9 MINT Sal Maglie $4,052.60, 1953 Bowman Color #123 Johnny Lipon PSA 9 MINT $5618.90, 1953 Bowman Color #132 Fred Hutchinson PSA 9 MINT $4,359.65, 1953 Topps #276 Ken Raffensberger PSA 9 MINT $5,107.15, 1954 #77 Bob Rush PSA 10 GEM MINT $2,094.15, 1955 Topps #138 Ray Herbert PSA 9 MINT $2,765.75, and a 1957 Topps #185 Johnny Kucks PSA 9 MINT $2,285.05.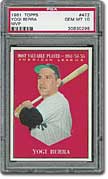 Some more amazing prices from this record setting auction were: 1969 Topps #25 Lew Alcindor PSA 9 MINT $6,270.95, 1986 Fleer Sticker #8 Michael Jordan PSA 10 GEM MINT $3,980.15, 1933 Tattoo Orbit Completely Graded Set for $22,431.25, 1958 Hires Root Beer High Grade Set w/ Tabs $5,768.40, 1961 Topps High Grade Complete Set $10,473.05, 1969 Topps Super High Grade Complete Set $11,641.45, 1963 Fleer Football High Grade Completely Graded Set $5,829.35, 1933 Chicago Bears World Champion Team Signed Panoramic Photo $5,969.65, and a 1965-68 Era Roberto Clemente H&B Game Used Bat for $10,568.50.
Mile High Card Company's VP of Operations Rob Sandberg summarized the auction by stating "as a firm we are extremely pleased with the results and we are committed to continuing to bring key items to our customers".
Mile High Card Company is planning a March, 2005 auction as a follow up to this tremendously successful sale. The company is actively seeking quality consignments for the spring auction. For more information regarding Mile High Card Company and their auctions visit the website at www.milehighcardco.com or call (303) 840-2784.
A Hobby Wonder to Hit the Auction Block
There are very few pieces in the hobby that are so noteworthy that the market braces itself for the impact. In recent times, collectors have salivated over some tremendous items such as the famed 1923 Babe Ruth game used home run bat auctioned off by Sotheby's and SportsCards Plus jointly last year. There have been, of course, other items that have stopped collectors in their tracks, wishing they had more money to bid with but the true hobby wonders are rare.
Our cover, this month, is graced by one of those rare treats – the type of item that simply speaks for itself when you lay eyes upon it. The following is an auction snapshot, coming soon in a Robert Edward Auctions catalogue, describing the piece which is sure to grab the attention of many. Here are some excerpts.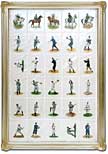 1911 S81 Silk Complete Set Uncut Sheet – PSA Authenticated
Presented is one of the hobby's greatest treasures, which without question qualifies as the single most extraordinary display piece Robert Edward Auctions has ever had the privilege of offering: The only uncut sheet of 1911 S81 Tobacco Silks in existence. This uncut sheet is a collecting miracle on many counts. It is unique. It features a complete set of one of collecting's most classic and desirable tobacco issues, a set which many consider to be the single most beautiful issue ever produced.
S81 silks were issued as special premiums by Helmar Turkish Trophy cigarettes in 1911. The set was part of the very same promotion which brought us the classic T3 Turkey Red cabinet card set and the famous L1 leathers tobacco premium issue. Together, these three sets represent the premier tobacco premium issues of the era. All three sets share the same designs. The S81 silks have long been recognized as the most beautiful of this most important and respected trio of 1911 baseball tobacco premium issues.
To collectors, these three sets represent the pinnacle of the art of manufacture, production quality, and craftsmanship of all 1910-era baseball issues and all tobacco premium issues. S81 silks are revered both for their beauty and rarity. Few were distributed. Only Helmar Tobacco's most loyal customers could even attempt to collect the set. One silk could be obtained, only by mail, in exchange for 25 Helmar coupons, which were packed one per package with Helmar Turkish Trophy Cigarettes.
Today, the total number of surviving S81s probably totals no more than several hundred, and to the best of our knowledge only three sets have ever been assembled in the history of collecting. Two of these sets have long been broken up; we are uncertain of the status of the third. All of the great players of the era are represented including Ty Cobb, Walter Johnson and Christy Mathewson.
An incredible sixteen Hall of Famers can be counted among the 25 baseball players in the set, with the remaining nine players also great stars of the day. The sheet also features all five of the S81 Generals, which were issued along with the ballplayers, giving the sheet both an additional dimension of interest to both non-sport and Americana collectors. The generals, each appearing on horseback along the top row, are George Washington, U.S. Grant, Robert E. Lee, Napoleon Bonaparte, and Colonel W. F. Cody.
The sheet was prominently displayed at the Hall of Fame in Cooperstown on loan by request for a special exhibition in 1990 and 1991. A small notation at the bottom of the sheet is a production approval note by the printer and reads simply "OK" followed by his signature. This is the printer's notation approving the set for production. Each S81 silk measures 7 x 9 inches. The complete sheet of thirty S81s measures an imposing 36 x 54 inches.
Grey Flannel Auctions' Fall Classic grosses $2.4 million
Mantle jersey leads legends, fetching impressive $78,446
GREAT NECK, N.Y. — Grey Flannel Auctions' Fall Classic auction grossed $2.4 million, boasting robust prices for historic jerseys worn by Mickey Mantle, Wilt Chamberlain, George Mikan, Michael Jordan and Maurice Richard, among others. A total of 93 percent of the 952 were hammered sold in the wee hours of the morning on Thursday, November 18.
Mickey Mantle's game-used road jersey from the 1954 season sold for $78,446. As anticipated, it was one of numerous legendary figures to fetch top dollar.

The most abundant wardrobe of high-dollar historic jerseys was in basketball. Wilt Chamberlain's circa 1970 road Lakers jersey sold for $48,042. Michael Jordan's road rookie Bulls jersey, signed, sold for $46,302; George Mikan's 1952 All-Star Game jersey, signed, sold for $46,302; Oscar Robertson's Cincinnati Royals gamer from the late 1960s, signed, sold for $37,288; an Elgin Baylor Lakers gamer sold for $36,094; a Lew Alcindor UCLA jersey sold for $34,500; A Bob Cousy road Celtics jersey from the 1950s sold for $26,098; and Bill Russell's All-Star Game jersey and shorts from 1962 sold for $22,138.

The list of legends and top prices continued in other sports like jaw-dropping slam dunk highlights. "This sale was nothing short of spectacular," said Howard Rosenkrantz, CEO of Grey Flannel Auctions. "We anticipated extraordinary performances by the extraordinary pieces, but the drama of furious bidding toward the end of the auction was more intense than we usually see."
A home Johnny Unitas Baltimore Colts jersey from the early 1970s sold for $44,389. Joe Namath's 1968 home Jets jersey sold for $32,200. Roger Staubach Cowboys gamer was won for $18,975; and Terry Bradshaw's 1980 home Steelers jersey sold for $24,059.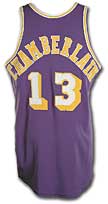 Pele's New York Cosmos No. 10 jersey started at $2,500 and ended the night at $16,837.
In hockey, Eddie Shore's Howie Morenz Memorial Game jersey sold for $27,830. At one point, the bidding on this item jumped from $9,000 to $22,000. A Maurice Richard Montreal Canadiens game-used sweater from the 1950s sold for $38,266; and Bobby Orr's Boston Bruins game-used road jersey from the 1980s sold for $34,440.
"The classic jerseys don't surface often and when quality pieces like these come to our auctions, a lot of people are going to pursue them," Rosenkrantz said. "It's not quite a once-in-a-lifetime experience, but it's close."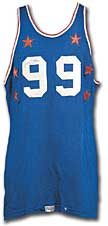 In addition to the Mantle jersey, baseball memorabilia made its normally strong showing. A 1956 Stan Musial Cardinals home jersey sold for $43,601. Jim Thorpe's New York Giants game-used New York Giants jersey, one of the most historic pieces in the auction, sold for $59,542. Dizzy Dean's rookie contract sold for $20,664.
Two magnificent Babe Ruth balls sold. A single-signed ball fetched $44,438; and a ball signed by Ruth and Lou Gehrig sold for $40,250. A 1932 team-signed baseball sold for $12,650. A Gil Hodges, Los Angeles Dodgers jersey sold for $15,918.
Rosenkrantz believes collectors are turning their attention to today's great players who are more than sure-fire Hall of Famers. They are players who dominated their position during their playing careers and earn comparisons with all-time greats. Based on prices paid for jerseys worn by players of a generation ago, collectors are realizing the value of jerseys worn by certain modern players. A Brett Favre Packers jersey sold for $6,780; John Elway's jersey brought $7,285 and bad boy linebacker Ray Lewis's jersey sold for $9,095. A 2002 Randy Johnson Diamondbacks jersey sold for $4,263; a Curt Schilling Red Sox jersey sold for $4,685; and a game-used bat from single-season hit king Ichiro Suzuki sold for $4,462.
Among other interesting results:
· A George Brett game-used jersey sold for $6,785;
· A 1972 home Cubs jersey worn by Billy Williams sold for $8,349;
· A 1965 single-signed baseball by Sandy Koufax sold for $2,711
· A Rollie Fingers game-used jersey sold for $8,404; and
· A replica jersey signed by the late Pat Tillman sold for $1,581.
The auction also had its share of stellar Americana items. A $10,000 bill sold for $63,250. Coca-Cola memorabilia sold for over $20,000; a vintage Dow-Jones stock ticker from the 1940s sold for $15,073; a 1937 poster of the movie "Snow White and the Seven Dwarfs" sold for $7,653; and a rifle used in the television classic "Bonanza" sold for $4,025.
Grey Flannel Auctions already is looking ahead to June for its next blockbuster auction. First, it will ring in the new year by moving in January from its current Great Neck, N.Y., location to a fabulous gallery space in West Hampton Beach, N.Y.