"Baseball's Sad Lexicon"

These are the saddest of words-
Tinker to Evers to Chance
Trio of Bear Cubs and fleeter than birds-
Tinker to Evers to Chance
Thoughtlessly pricking our gonfalon bubble,
Making a Giant hit into a double,
Words that are weighty with nothing but trouble-
Tinker to Evers to Chance.

Frank Pierce Adams
New York Evening Mail
1910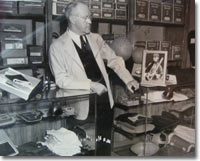 In Johnny Evers Sporting Goods Store (1935)
The one-time major league baseball city of Troy, NY, gave birth to an Irish-decent "Trojan" on July 21, 1881. Despite the city losing their franchise in 1882, the game left behind a history of great ballplayers which boasted Roger Connor, Tim Keefe, Mickey Welch and Buck Ewing. John Joseph Evers took advantage of this legacy and became a student of the game. He spent his entire career sharpening his knowledge and skills, making up for his diminutive size. As a player, he would go to bed each night with a copy of the rule book and the latest edition of the Sporting News in an attempt to gain any possible edge on his opponents.
The brainy 5' 9", 105- (later filling out to 125-) lb. second baseman signed his first pro contract in the new York State League in 1902, but was brought up to the big leagues by the Chicago Cubs late in the season when Bobby Lowe broke his leg and Manager Frank Selee needed a replacement.
His batting stance and crouched-over manner of play, initially dubbed him his new nickname "The Human Crab" which later gave way to his crusty disposition and fiery temper. Even his legendary double play cohorts wanted to avoid him on the field. First baseman Frank Chance would rather have him play an outfield position. Shortstop Joe Tinker stopped speaking with him in 1905, over a petty dispute of not sharing a taxi to an exhibition game, which later resulted in a fistfight on the field.
Tinker and Evers were involved in physical altercations in the clubhouse, remained bitter personal enemies off the field, but were able to play alongside each other in synchronized harmony. It wasn't until the two were secretly paired in a 1938 scheduled radio broadcast during the World Series that they reconciled and embraced each other. "Both of us could hardly keep from crying," Evers remembered.
His rotten disposition and nasty arguments were reserved for the umpires. He would challenge their knowledge and point out obscure rules that were rarely enforced. Johnny suffered numerous suspensions spurred on by his testy temperament. A verbal dispute with umpire Bill Klem resulted in a National League intervention. Hard-nosed and insistent, he bet Klem $5 that he would be an office no-show. Klem did not attend and Evers insisted relentlessly for his money until Klem finally paid off the debt weeks later. Klem immediately demanded a receipt which he promptly tore into little pieces in Evers's face.
Evers, calling for the ball and stepping on second base in the 1908 World Series, was the reason why New York's Fred Merkle would spend the rest of his life being called "Bonehead" for the rookie's baserunning oversight. The Crab's quarrelsome demeanor, a la Ty Cobb, transcended to his "spikes high" base running style.
He hit left-handed yet threw with his right and will always be remembered for his glove over his bat. Evers would pioneer the perfection of the double play pivot at second base. He could draw walks and stole 324 bases. In eighteen seasons, his lifetime batting average was .270 playing for five pennant winners.
The low points of his life piled up on Evers in 1910. Late in the season, his best friend was killed in a car accident while Johnny was behind the wheel. Within a couple of weeks, he lost his life savings, investing along with his business partner in two shoe stores that went bankrupt. An off-season nervous breakdown followed by pneumonia caused yet another setback. To make matters worse, his daughter Helen died at age three in 1914.
In the 1911 season, Evers saw limited play (46 games) and his batting average fell to .226. Amazingly, the next year was his finest offensive campaign. He compiled a league-leading .341 average and a .431 on-base percentage. The following season, he was named player/manager but the team finished in third place. The Cubs even held "Evers' Day" in his honor at West Side Grounds in Chicago. With all of his Windy City accolades behind him, Evers was traded to the "Miracle Braves" in February, 1914, after threatening to sign a more lucrative deal with the Federal League.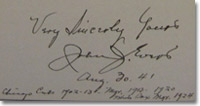 1941 signed index card
Johnny blossomed into the National League MVP (Chalmers Award), sweeping the Athletics in the World Series. He teamed up with budding star shortstop Rabbit Maranville and remained in Boston until early 1917 when he was traded to the Phillies. He virtually retired from playing after the season and tried to enlist in the Army during World War I. He was denied and sent overseas as director of physical activities for the Knights of Columbus. He later made two cameo game appearances for the White Sox in 1922 and the Braves in 1929 as a non-roster player.
Additionally, he coached the New York Giants in 1920 and managed the Cubs again in 1921. Illness forced the popular and anticipated manager Frank Chance to relinquish the reins of the White Sox in 1924. Evers accepted the position and led the team to a last place finish. Then, he dropped out of baseball to go into business in Albany from 1925-28. He was named the assistant manager of the Braves in 1929, and served in that capacity for four years. Johnny scouted for the club during 1933 and 1934.
In his post-major league career, Evers went home to New York where he owned and operated the Johnny Evers Company, a sporting goods and camera store in Albany. Another position made him superintendent of the city-owned Bleeker Stadium. He later served as vice-president of the Eastern League's Albany team in 1939.
He and his wife Helen lived within blocks of the ballpark. A paralytic stroke in 1942 left him somewhat confined; however, he was able to recover sufficiently to attend many Albany baseball games. Signature examples beyond that period do not detect any laborious adjustment.
His big day came on June 13, 1946 when he was honored at The Hall of Fame Induction Ceremony along with Joe Tinker, a posthumous Frank Chance (died 1924) and eight others. No formal ceremony was held that year. He was selected by the Old Timers Committee (#42) after failing to win enough support from the Baseball Writers Association for seven voting years. On March 28, 1947, Johnny Evers died at the age of 65 succumbing to a cerebral hemorrhage at St. Peter's Hospital in Albany, NY. He was laid to rest at St. Mary's Cemetery in his hometown of Troy, NY. He was survived by his wife Helen G. Fitzgibbons (died January 2, 1974), son Johnny, Jr., two sisters and three brothers, all of eastern upstate New York.
More often than not, he would sign his name with sweeping right-handed flow "John J. Evers" without lifting his fountain pen. His conventional "J" looped larger above the baseline, leading a connector stroke into the "o" that tear-dropped below an open loop. Keeping his lower case letters half the size or smaller than the capitalization, his high looped "h" and garland style "n" completed his first name unless he would insert the additional "ny". He employed a long connector stroke bridged directly into the middle "J" which was generally smaller than the initial "J" but formed very similar.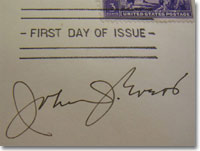 1939 Baseball Centennial First Day Cover
Not slowing down, the terminal upstroke of the "J" reached high to allow the "E" to angle down in a vertical saw-tooth fashion. Again, a connector stroke formed an acutely slanted "v" and then into an upwardly jagged "e". To complete the surname, Evers preferred a Spencerian lower case "r" and the terminal stroke of his "s" finished upward, arcing inward at varying lengths. In later years, signing his last name became rushed and the letters indiscernible resembling that of Kenesaw Landis. Dots were applied in the 1940s that didn't seem to be the case in earlier years of writing. The year is more likely to appear under his last name as well.
Johnny Evers was always an accommodating autograph signer whether it was in person or through the mail. Like most players from his day, he was honored to sign for the few fans that would remember him. His Hall of Fame inclusion came within the last year of his life and therefore, he did not enjoy the honor for long. It was not unusual for Evers to author a full page literate handwritten letter ($2000 plus) to a fan expressing his gratitude. Although he was alive for his Hall of Fame selection, it is my belief that his Albertype black and white plaque postcard was printed after his death. I only wish someone would relay this insight to the auction houses and companies that continue to offer them for sale.
Index cards ($900) are uncommon and postmarked U.S. Government postcards ($1100) are always an easy sell. I can't ever remember a signed baseball card and the few I've examined on T-cards have not passed authentication. Single signed balls are very, very rare and based on their subjective nature their price could range from $5000 to $10,000. Team signed album pages ($750) from his managing and coaching careers do surface on occasion.
The real prize is a cancelled personal check ($4000). I figure that less than five are in existence and are dated from 1915 to 1919. His co-written autobiography, Touching Second (1910) is a rarely found hardcover book of which he signed perhaps less than 100 copies. I expect it to have a value of $3000. Most collectors that attempt to put together the great double play combination have success in completing the up-the-middle two thirds and come to a financial or scarcity roadblock searching for first baseman Frank Chance. Evers has been the target of many a forger's hand. I am not aware of a single item autographed by the entire trio. Caveat emptor!