A Little Perspective Never Hurts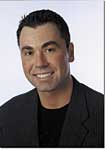 This past summer, I took a one week vacation. It was actually hard for me because PSA is so busy and, when you get into that workaholic mode, it's hard to change course. I am sure many of you can relate to the feeling.
What I was hoping to gain from it all, besides a few cocktails by the ocean, was a little perspective since I had become so driven in my PSA pursuits. As collectors, I think we are all sometimes victims of the same problem or at least a similar one. We sometimes burn ourselves out with our own collecting drive. It's funny because collecting is something that brings us joy yet I am sure some of you know what I talking about.
Can you actually suffer burnout from a hobby?
I think you can because it's happened to me. You become so driven to complete a set, upgrade your bat, acquire an autograph, win items at auction, and so on that it starts to become a problem. We turn desire into obsession although most will not admit it. Maybe it's because we get so focused on what we don't have that we don't realize what we do have.
If you are feeling a bit of collector burnout, here are a few tips from a fellow collector.
1) You cannot own it all so try to stop trying to. I know it's tempting when you get those auction catalogues and put checks my 157 different lots but, even if you have the money, you will drive yourself nutty trying to buy everything.
2) Stay focused during times of temptation. As mentioned above, there are so many great items to buy but try not to lose sight of what your collection is all about. If you are collecting a 1955 Topps baseball set, do not start buying random commons from 1956 and 1957 unless you are committed to completing those too. You will regret it.
3) Change it up when you are ready. More and more collectors are deciding to diversify their collections. It's fun and rewarding and the beauty of it is that you can keep your focus. If you are collecting Willie Mays cards, why not own a nice signed piece, a ticket from his 500th home run game or a game-used bat? By diversifying, you can really compliment your existing collection.
4) Take pride in what you have accomplished. Do yourself a favor and appreciate what you have. We all want more, it's human nature. You know that old saying that the grass is greener, yada-yada-yada – well, most of the time, it's not. Sit back and enjoy your collection, you deserve it!
5) Remember – it's just a hobby. This might be the hardest one to fully appreciate. I know that you have been there with me. Collecting is fun, exciting at times and rewarding but it is not healthy for a hobby to dominate your life. If it does, you will burn yourself out – guaranteed. If you are more balanced in your own life, you will enjoy collecting much more and for a long, long time.
Well, back to the beach and all those great auction lots running around in my head.
Doh!
Never get cheated,

Joe Orlando
Editor In Chief