"Baseball needs a Landis more than it does a Ruth."
Kenesaw Mountain Landis, 1922
The son of Union Army surgeon Dr. Abraham H. Landis and his wife Mary, Kenesaw Mountain Landis received his unusual birth name from the Georgian location where his father was disabled by the loss of a limb in the Civil War. One of the "n"s was dropped in Kennesaw by his nostalgic father for reasons unknown. He was born on November 20, 1866 in Millville, Ohio, the sixth of seven children. Two of his five brothers, Charles and Frederick, served in the U.S. House of Representatives.
"Ken" and his family moved to Delphi, Indiana, and shortly thereafter Logansport, Indiana, where he began delivering newspapers. His other jobs included working at county fairs, stock boy at a general store and a stint as an unsuccessful roller rink proprietor. For a short time he calculated payroll for the Vandalia and Southern Railroad who rejected his application to be a brakeman. In his leisure, he became a champion speed cyclist. Also, as an avid baseball fan and seventeen year old player/manager for a local team, he also took interest in the pitching career of Cubs star Mordecai Brown.
Although he attended Logansport High School, Landis opted to learn shorthand rather than graduate and secured a job as a South Bend, Indiana courthouse clerk. He then enrolled for two years in pre-law classes at the University of Cincinnati, and in 1891 obtained his degree at Union Law School, now part of Northwestern University. He remained in Chicago where he started his own modest practice.
Two years later, he moved to Washington, DC where he served as private secretary to Secretary of State Walter Quentin Gresham. Federal Judge Gresham had been his father's commander during the war and was appointed by President Grover Cleveland to serve in his cabinet. The position was considered prestigious for the twenty-seven year old attorney; however the death of Gresham in 1895 caused Landis to return to his Chicago law practice. The same year, he married Winifred Reed of Ottawa, IL. They resided at 333 Michigan Avenue in the Windy City. Their children were World War I aviator Colonel Reed Graham Landis and daughter Suzanne, wife of Chicago broker Richard W. Phillips.
In 1904, Landis conducted Frank O. Lowden's failed campaign for Governor of Illinois. Theodore Roosevelt appointed the undereducated Kenesaw Landis to United States District Judge for the Northern District of Illinois after Lowden declined the position in 1905. What lay ahead for the dynamic jurist was to be a brilliant, though at times controversial, career.
His first courageous rise to public prominence came in 1907 when he fined the Standard Oil Company $29 million in a case involving freight rebate. The U.S. Supreme Court overturned his decision but his handling of John D. Rockefeller -- forcing him to testify -- was superb. The serious, 5'6" 135-pound judge was described as colorful, unpredictable and inflexible. His unorthodox and dramatic grandstanding courtroom procedures became his trademark. Landis sentenced 94 Communist members of the International Workers of the World to prison. A few weeks later, his empty office was bombed.
As fate would have it, Landis was involved in the case that sought recognition from the American and National Leagues by the newly formed Federal League in 1915. In what proved to be a shrewd stalling technique on the part of Landis, he skillfully withheld his decision, which cleared the way for both leagues to absorb the unemployed Federal players amicably. As a frequent game attendee at both Wrigley Field and Comiskey Park he legitimized his tactics at the time by saying, "Both sides may understand that any blows at this thing called baseball would be regarded by this court as a blow to a national institution."
Newspapers ran glaring headlines in the closing weeks of the 1920 season exposing the notorious "Black Sox" scandal of 1919. The then-weakened, governing body of baseball, The National Commission, was comprised of the two league presidents and Reds president Garry Hermann, who had resigned from his position at this crucial time. Candidates for the vacant position included former president William Howard Taft and General John Pershing. Charles Comiskey's attorney, Albert D. Lasker, suggested the familiar Landis. Preceded by his reputation for unswerving integrity, he was almost unanimously (Phil Ball of the St. Louis Browns being the only detractor) offered a $50,000 per annum salary position by the club owners.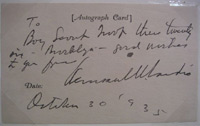 1935 signed index card
His acceptance came on his own terms, requiring that he would be given absolute power to his seven year contract starting January 12, 1921. In the years that followed, he made as much as $65,000 but accepted a pay cut to $40,000 during the Depression years. The owners, many of whom benefited from the Federal League case, agreed in Landis's Chicago courtroom but deducted a portion of his salary because he chose to continue on the bench while serving as baseball's first "Commissioner."
By 1922, he resigned from the bench to devote all of his time to baseball matters. The "Czar" title was unceremoniously expropriated from the longtime and inaugural American League President Ban Johnson, who was virtually demoted with little say in matters of any importance.
His first matter of big business was to ban eight players who were accused of throwing the 1919 World Series. Despite their acquittal in Federal Court, based on supportive evidence in the summer of 1921, he exercised his authority and overruled them with lifetime banishment. He was adamant about expelling any person who was even casually attached to gambling, inside or outside the lines. Landis went on to outlaw seven additional players during his twenty-three year reign and at one time made 53 players ineligible to play.
Even owners were prohibited from having any affiliation with betting as well as horse racing, which delayed the likes of well known personalities such as Bing Crosby from buying an interest in the Pittsburgh Pirates. He ostracized the respected head umpire Bill Klem from the World Series for several years because he admitted to placing wagers on the ponies.
Even baseball's powerful New York Yankees owner, Jacob Ruppert, was kept in check by the tough new white-haired sourpuss. Babe Ruth and Bob Meusel were suspended for forty games in 1922 for defiantly playing in exhibition games following the 1921 season. Dizzy Dean was forbidden to broadcast the 1944 World Series due to his poor grammar and incorrect use of the English language. Although Landis publicly announced that Negroes were not banned from baseball, he consciously maneuvered the assurance of the continuation of baseball's unwritten segregationist policies.
Ironically, the headstrong, autocratic czar often favored players in their grievances and was considered a "player's commissioner" and nicknamed himself "The Ballplayer's Friend." Ninety-one farmhands in the Cardinal system were liberated when he declared them free agents with much friction from St. Louis general manager Branch Rickey. Kenesaw supported the game's stars Ty Cobb and Tris Speaker in 1927 after an incriminating letter Cobb had written to Joe Wood fell into the hands of Ban Johnson. In a power move to display his omnipotence, Landis dismissed Johnson's plea to banish the two and permitted them to finish their playing careers and established a five year statute for anyone with past offenses.
During the 1934 World Series, Landis removed Joe Medwick of the Cardinals from the final game "for his own protection" after unruly Tiger fans pummeled him with debris. Other important decisions included awarding Bob Feller's contact to the Indians, releasing him from the Cardinal and Tiger organizations, and the banishment of Philadelphia Phillies owner William Cox for betting in favor of his own team's games.
Landis, despite his oversized ego and vindictive nature, had restored the fans' faith in the integrity of the game of baseball. In twenty-four years of dictatorial service, the strict disciplinarian was a recognizable figure (always with his hat removed for photographs) along the railings of the front row box seats at ballparks. His conspicuous presence was seen at every World Series from 1920 to 1943 and he supported the All-Star Game while referring to himself as the game's number one fan. The New York Chapter of the Baseball Writers Association awarded him the 1938 Meritorious Service Award for his contribution to the sport throughout the years. Although he lived most of his live in Chicago hotels, later in his life Landis enjoyed homes in Glencoe, Illinois and Belleair, Florida.
He was confined to Little Traverse Hospital in Petoskey, Michigan for several weeks in the autumn of 1941 from a bout with bronchial pneumonia. Recovering sufficiently, he was able to attend that December's major league meetings in Chicago. In his new home, he diligently tended to his victory garden, which may have overtaxed his heart. He was hospitalized again, this time at St. Luke's Hospital in Chicago on October 2, 1944, suffering from a severe cold and a heart attack one month later. Kenesaw occupied an adjoining infirmary room with his wife who had fractured her right wrist after falling the same day. Rhetoric to the end, Landis openly complained about his extended hospital stay which prompted a joint-league committee to re-elect him when his term expired on January 12, 1946.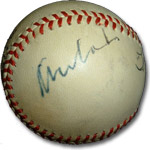 Poor health plagued him in his final nine years as commissioner; however, he was signed to a seven-term contract extension on November 17, 1944. His physician was scolded by Landis for stating that his condition was delicate, but a final setback required the operation of an oxygen tent. He expired just an hour later, due to coronary thrombosis, on the morning of November 25, 1944 -- just eight days after his contract extension was signed. He was 78. His family members were in attendance along with his secretary, attorney Leslie O'Connor, who then acted on his behalf until the baseball winter meetings were held on December 11 thru 13.
No funeral services were held in keeping with his wishes and subsequently he was cremated at Oakwoods Cemetery in his adopted mid-western city. The Permanent (Old-Timers) Committee held an impromptu meeting at his November memorial service and inducted Landis (#28) into the Hall of Fame, of which he had been an ardent supporter.
The jagged, angular scrawl of the right-handed Kenesaw M. Landis might be confused with the illegible autographs of modern players today if not for the utilization of the fountain pen. Typically, he would speed through his entire name darting upward only lifting his pen to apply the below the baseline period and dash punctuations. The best way to visualize the "K" is refer to the same letter formed by President "K"ennedy. At best, it could be mistaken for a thin capital "A". What followed in his birth name after the closed loop "e" was a series of evenly-spaced, pointed (almost wave-like) humps.
These diminutive characters were less than one-fifth the size of his initial capital letter. A downsized "M" with three even humps introduced the connected, larger, virtually printed capital "L". The lower case "a" would vary in formation between a small bump and an open topped "u" configuration. A long connector stroke was his idea of an "n" leading into a bottom open-loop "d" and a retraced upper-loop. The "i" can be distinguished due to the favored-to-the-right dash above just before completing the "s" that tailed inward with a straight or curled terminal stroke. In more legible examples, reserved for autograph requests, he made a more deliberate attempt to form conventional letters but the flow remained consistent. These versions are less terrifying to authenticate.
Judicial or baseball letterhead are the two mediums where his signature is most commonly found in the hobby. Starting at $500 for one of basic content, Landis's correspondence would reflect his outspoken arrogance and righteous facade. Many of these surviving drafts were artifacts that were uncovered from a Detroit Tiger organization house cleaning. The most desirable letters extant are those which mention Joe Jackson. Occasionally, a postmarked government postcard ($900) surfaces and he might date or inscribe these with a more legible version of his autograph. Only two personal canceled checks (name your price) have graced the collections of their proud owners. High quality studio photographs of his craggy-face bust are a real treasure and expect to part with a minimum of $2000. Signed gum cards and Albertype or Artvue Hall of Fame Plaque postcards (are you paying attention PA auction house?) are impossible to have been signed.
Once in a blue moon, a single signed baseball ($4000 for anything decent) sneaks into the marketplace, but beware of the black market forgeries that are omnipresent. I would stay clear of any 1939 Hall of Fame induction ball signed by Landis and all of the charter inductees. Also, run the other way (better yet sprint) from first day of issue commemorative covers signed by the same. Signed wire service photographs are a primary target for the counterfeiters. My personal best memory is the one offered on eBay that was penned over an image of Ford Frick... I guess they do share a resemblance.