Roger Phillip Bresnahan was born on July 11, 1879 in Toledo, Ohio, despite his telling fibs to people throughout his lifetime that he was a native of Tralee, Ireland. He went as far as saying that he learned to pitch by throwing square potatoes in the Emerald Island, but lost his curve when he migrated to the United States and discovered the oval-shaped spud. Thus, with the extension of his tall tale, he became known as "The Duke of Tralee." Actually, his parents were indigenous to County Kerry; his mother was a member of the O'Donahue clan.
He was adept to all the positions he tried during his amateur sandlot days; however, he considered pitching his forte. The Washington Senators of the National League concurred and signed the eighteen-year-old to a contract.
His debut exhibited excellent control, and he walked only one batter in a 3-0 victory on August 27, 1897. He finished the season with a 4-0 record but, unable to come to terms with the club financially, he secured his release and returned home. The next year, Roger pitched for the local Toledo team on the Inter-State League and then in 1899, briefly performed for Minneapolis in the Western League, where he also tried catching.
In 1900, he once again spent part of the summer playing in Toledo and then was called up by the Chicago Cubs for a "cup of coffee" appearing in two games. The following year, the birth of the American League gave many a young player the opportunity to play full-time in the major leagues.
Bresnahan was given his chance by the Baltimore Orioles under the tutelage of manager John McGraw. It didn't take long before Bresnahan was regarded as one of the better catchers is the league, after abandoning his pitching career. The 5' 8", 180-pound, fiercely competitive brawler handled pitcher "Iron Joe" McGinnity, and became good friends with the equally pugnacious and compact McGraw. In the middle of his sophomore season, he followed McGraw and McGinnity to New York in the National League and remained there for the next seven years.
With speed, matched with a daring style on the base paths, along with a fine defense, Bresnahan saw playing time in centerfield and was assigned to the leadoff position in the batting order. Although only a .279 lifetime batter, he proved to be considerably valuable as the "battery-mate" of Christy Mathewson.
The temperamental Irishman was frequently ejected, fined and suspended for taunting opponents and umpires alike. League officials and club owners were also not immune to his testy confrontations. During the off-seasons he worked as a hotel detective back home in Toledo.
For Roger Bresnahan, necessity was the mother of invention. In 1907, he wore a modified version of a cricket player's leg pads which was greeted with ridicule and protest, especially from Pirate Manager Fred Clarke. Catchers of the day did wear shin protection under their stockings but that was the first time they appeared on the outside. His customized innovation was adopted by the National League and is the norm today.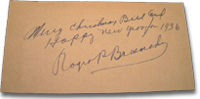 1936 cut received via mail
Two years earlier, after missing thirty days of the season lying in the hospital from a beaning, he developed, with assistance, the A.J. Reach Company -- a crude, leather, vertically-sliced football helmet over his cap that served as a batting helmet. The innovation was unpopular -- even with Roger at the time -- and it wasn't until the mid-1950s that his idea was accepted. In 1908, Bresnahan improved upon the flimsy wire catcher's mask by banding leather-bound rolls of padding which acted as an improved buffer to the shock of foul-tipped balls.
In 1909, Bresnahan was traded to the St. Louis Cardinals, which gave him the opportunity to act as player/manager. McGraw received three useful players in return, including eccentric pitcher "Bugs" Raymond, outfield standout "Red" Murray and backup catcher "Admiral" Schlei. Roger also failed miserably in four seasons and was fired at the helm, unable to achieve a .500 winning percentage except once in 1911.
Never finishing better than 5th place with a team of depleted talent, the Duke started to slow down at the age of 29 and cut his own playing time in half. Bresnahan's new boss was Helene Hathaway "Lady Bee" Robison Britton. She was the niece of deceased owner Stanley Robison who died in 1911. "Lady Bee" was an ardent supporter of Roger who had just received a $10,000 per annum five-year contract and a 10% share of the net earnings. But in 1912, she second-guessed him on a recent slide of her hapless ball club, and was promptly rebutted with Roger's customary crude and vulgar language. Appalled and insulted, she fired him at the end of the season after the team's sixth place finish. Bresnahan was forced to file a lawsuit against the Cardinals for his unfulfilled long-term contract, and finally won a $20,000 settlement in 1915.
From 1913 to 1915, the Chicago Cubs picked up his release and used him as a part-time catcher; the final year he also managed. Again, little success was generated, he was fired and his major league playing career came to a close. He was remembered by Bob O'Farrell, in Lawrence Ritter's The Glory of their Times, as being an uncommon veteran who took the time with a rookie in showing him the ropes and taught him how to catch.
The Toledo Mud Hens of the American Association would be his next stop when he purchased the ball club in 1915, played and managed the first two seasons, then continued to operate the franchise through the 1923 campaign. Jim Thorpe and Bresnahan were granted a National Football League franchise in 1921; however, the team never materialized. His old friend John McGraw appointed him coach of the Giants from 1925 to 1928. Bucky Harris of Detroit used him in the same capacity in 1930 and 1931.
Toledo remained his home where he became a salesman for a brewing company. Walter Johnson pitched as Roger donned the tools of ignorance for the last time in an exhibition game to raise money for the war bond effort. Also in November 1944, he unsuccessfully ran for County Commissioner on the Democratic ticket. Later that year, on December 4, Roger Bresnahan died in his home of a heart attack at the age of 64. He was buried at Calvary Cemetery in the town of his birth.
Bresnahan's versatility, speed, and leadership were considered when he was selected (#29) by the Permanent Committee for entry into the Hall of Fame on April 25, 1945. It was only the third election since the charter group was elected in1939 and their standards had already begun to show weakness and perhaps favoritism. Bresnahan was considered the best catcher of his era, but comparing him to his peers at the time may not be the proper benchmark.
Like others before and after him, the selection committee often pledged a sentimental vote for a recently fallen comrade, such as Bresnahan. He played for one World Championship Team, the 1905 Giants, only played in one hundred games seven out of seventeen seasons and was a disappointment as a manager. I suppose the equipment innovations pushed him over the top. Interestingly enough, it has been challenged that he was the first to use shin guards; a Negro League catcher, Chappie Johnson, was said to have worn a pair in 1902 and a player by the name of Jay Justin "Nig" Clarke (a white ballplayer despite the nickname) had worn a version briefly in 1905.
Without a lift from the pen he would sign his name "Roger P. Bresnahan". The right-handed fountain pen signature was initiated by a large "R" that had its own distinctive formation. The finishing stroke reached upward to create a single looped "o" and a diminutive "g" that would dip below the baseline. The loopless "e" was followed by a retraced "r" that often resembled an "o". In earlier years , his "P" spread a bit wider but tightened up in the final decades of his life.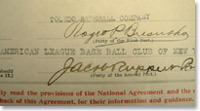 1919 Minor League Contract
The conventional capital "B" that refused to close in the middle of the character continued into the "re" that could be mistaken for a wide "u". He would likely lean acutely his fully closed "s" before forming a garland style "n" and a looping "a". The high shank of the "h" preceded the smaller, sometimes muffled "a" that could cock upward. The "n" is indiscernible but bends down and far to the left, almost to the "g" as a paraph. It tended to drag and hook down and right at the very end. If one would place an imaginary baseline underneath, the capital letters are generally the only characters that remain without slight elevation. His thin line quality was consistent throughout.
Autograph seekers during his career were few but never disappointed. Most of the hobby-generated examples, in person and through the mail, came from his association with the teams in which he coached in the 1920s and 1930s. An occasional album page ($1000) rises from vintage finds but I can't remember ever seeing a 3x5 index card. Government postcards ($1500) are a rare welcomed commodity; just make sure it has a proper postmark on the verso.
Forgers have gotten their hands on downsized (3" x 5") library postcards and have stamped bogus postmarks on the printed side. Make sure it is a vintage 1 cent card; 2 cent versions (often marked "Revalued 2c P.O. Dept." in teal) became available in 1952. What does surface are minor league player pre-printed contracts ($1500) from days when he owned the Toledo ball club from the old (pre-1974) Yankee Stadium files that are often signed by President Jacob Ruppert. Typewritten letters ($2000) or even handwritten ($3000) ones are far more uncommon. No personal checks have ever made their way into our system. Authentic single signed balls are never seen, only rumored. Signed trading cards would even come under great scrutiny.