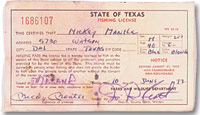 Hunt Auctions, Inc. conducted its annual summer auction of Important Sports Memorabilia and Cards on August 20th and 21st in Exton, PA. At just over 1,400 lots, the sale was the largest ever for the firm, producing outstanding results and record prices.
The Friday session began with a collection of Topps and Bowman cards, with the latter pulling in some record results, including a 1952 Bowman set - $19,250.00 (Est. $4,000.00-$5,000.00), and several individually graded 1951 Bowman cards including Whitey Ford NM 7 - $2,860.00, Ted Williams NM 7 - $2,200.00, Yogi Berra NM-MT 8 - $2,200.00, and Pee Wee Reese MT 9 - $3,190.00. In addition, a 1952 Topps Mickey Mantle rookie card EX-MT 6 brought $12,100.00.
Mantle's market popularity continued later in Friday's session with a grouping of autographed materials commanding solid results, including a Mickey Mantle signed baseball bat - $3,025.00 (Est. $750.00-$1,000.00), lot of (2) Mickey Mantle "The Mick" single signed baseballs - $1,485.00, lot of (2) Mickey Charles Mantle single signed baseballs - $1,540.00, and a 1961 Yankees "reunion" team ball with Mantle on the sweet spot - $3,850.00.
The various player collections in the Friday sale also drew strong interest, with several baseballs from the collection of Dr. Joseph Finegold of the Pittsburgh Pirates selling above estimate. A '51 Yankees ball from the family of Major League player and coach Jack Onslow brought $14,300.00, and Onslow's game worn catcher's mitt pulled in $1,430.00 (Est.-$400.00-$600.00). The Friday session closed with vigorous bidding on a collection of baseball-related documents and ephemera from the personal archive of Billy Sullivan, Jr., selling far above estimate at $14,300.00.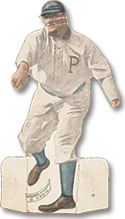 The Saturday session kept pace with the night before, opening with a superb grouping of vintage photographs, including a Babe Ruth photo attributed to Paul Thompson - $3,080.00, and a 1919 Christy Mathewson photo - $1,155.00. Several Ty Cobb photos proved to be particularly attractive to buyers, with those from 1921, 1922, and 1928 exceeding their high estimates with $1,760.00, $1,210.00, and $1,100.00 respectively. Two Honus Wagner photos from 1910-15 also outperformed their estimates at $1,100.00 and $4,950.00, and a Wagner cabinet photo by Carl Horner took in $15,400.00.
Vintage autographed baseballs continued the sale with single signed balls once again proving their desirability, including Willie Mays - $2,860.00, Yogi Berra - $1,375.00, Ted Williams - $3,960.00, Joe DiMaggio - $3,850.00, Connie Mack - $3,360.00, and Honus Wagner - $5,500.00. As usual, Yankees team signed baseballs pummeled the competition with a 1961, 1929, and 1923 with provenance from Lou Gehrig bringing $8,250.00, $20,900.00, and $35,200.00 respectively.
The much anticipated grouping of Philadelphia Flyers material was personally introduced by Dave Schultz who answered several questions from the floor before the bidding began. Schultz's game worn jersey from the championship '73-'74 season brought in $19,800.00. Bernie Parent's collection of championship trophies from the same season met or exceeded expectations with the Conn Smythe ending at $13,200.00, the Venzia at $12,650.00, and the Stanley Cup at $8,250.00. Parent's goalie mask from the '73-'74 Stanley Cup playoffs capped off the section at an impressive $23,100.00.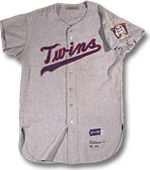 Not surprisingly, game used material provoked some of the most active bidding in the sale, with highlights including a 1972 Tim McCarver Philadelphia Phillies home jersey - $2,420.00 (Est.-$750.00-$1,000.00), 1965 Harmon Killebrew Minnesota Twins road jersey - $10,450.00, and an Elmer Steele Pittsburgh Pirates sweater c.1910-11 - $18,700.00. Among the several game used bats in the sale, the featured three all achieved healthy results with Warren Spahn c.1951 ending up at $9,900.00, Honus Wagner c.1923-25 at $17,050.00, and Rogers Hornsby c.1916-17 at $19,800.00. Two game used gloves also realized strong prices with Warren Spahn c. 1957 at $15,400.00, and Pee Wee Reese c.1955 at $28,600.00. The much awaited 1954 Roy Campanella Brooklyn Dodgers home jersey settled at $88,000.00 and the accompanying Don Drysdale pants brought $4,840.00.
One of the great surprises of the sale was a 1980 Mike Schmidt Philadelphia Phillies home uniform, which brought a whopping $19,800.00 (Est. $6,000.00-$8,000.00). Other astonishing prices include $4,840.00 for a white leather crescent padded Spalding fielder's glove (Est. $750.00-$1,250.00), and $14,300.00 for Ken Griffey Sr.'s 1975 Cincinnati Reds World Series trophy (Est. $4,000.00-$6,000.00).
The three player collections highlighted during Saturday's sale also attracted heavy interest, with Tim Keefe's historically significant ledger book regarding the formation of the first baseball player's union selling for $99,000.00 (Est. $30,000.00-$40,000.00), and Keefe's game worn 1880's New York Giants jersey finishing at $82,500.00. Material from Phillies and Reds player Bucky Walters immediately followed, with award pieces garnering some of the strongest prices including Bucky Walters's 1939 NL MVP presentational silver box - $3,520.00, 1939 Cincinnati Reds NL Champions ring - $8,250.00, 1939 Player of the Year Award - $9,350.00, 1940 Cincinnati Reds World Series ring - $13,200.00, and 1939 NL MVP presentational pocket watch - $19,250.00. Bucky Walters's Cincinnati Reds warm up jacket from 1939 also received plenty of attention, soaring to $10,450.00 (Est. $3,000.00-$4,000.00). The sale concluded with items from the estate of Major League pitcher Rube Walberg, with his personal autograph album achieving $4,950.00 (Est.-$1,500.00-$2,000.00), and his 1930 World Series presentational pocket watch and 1929 World Series Philadelphia Athletics ring finishing off the sale at $6,600.00 and $10,725.00.
Hunt Auctions, Inc. is currently accepting consignments for the Louisville Slugger Museum® auction, to be held live November 6 in Louisville, Kentucky; for the February 2005 live catalogue auction; and for numerous Internet/phone auctions. Contact Hunt Auctions, Inc. at 610-524-0822 for a personal consultation, or go to www.huntauctions.com for more information.