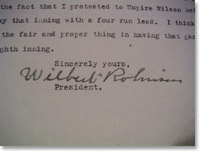 "Gimme good hitting and long hitting and let the rest of them managers get just as smart as they want." Wilbert Robinson
Wilbert Robinson was born in Hudson, MA, on June 2, 1863 (some accounts list June 29 or 1864), the son of a butcher and fish dealer. Spending his youth selling fish on the streets of Hudson and Bolton, his interest in baseball came in the form of catching.
In 1885, he played for the Haverhill club in the New England League where he batted .269. One of his battery mates was future Pennsylvania Governor and National League President, John K. Tener. His older brother Frederic Henry (b.1856- d.1933) played three games in the infield for the Cincinnati club in 1864. The next year, Wilbert performed the everyday backstop duties for the Philadelphia Athletics of the American Association. Through his humor and kindness, he endeared himself to the city's fans who refereed to him as "Billy Robinson" or Billy Fish," perceptive of his background.
An average hitter weighing 170 pounds at 5' 8 1/2", Robinson remained on a club that was unable to climb above a third place finish. Three quarters of the way into the 1890 season, Wilbert was traded to the Baltimore Orioles of the same league. Two years later, the Orioles became incorporated into the National League under the guidance of Hall of Fame manager Ned Hanlon. Though not known for his power, Robinson went 7-for-7 in a nine inning game on June 10, 1892 -- a major league record only duplicated by Rennie Stennett in 1975.
By 1894, key players were added to the roster which included John McGraw, Joe Kelley, Dan Brouthers, Willie Keeler and Hughey Jennings. Robinson's bat surged by hitting over .300 in four of the next five seasons. The Orioles won four straight invitations to the Temple Cup "World Series" championships in which they were victorious in two. In 1896, Robinson's finger had to be amputated after hitting .354 during the season.
A close friendship was formed between team captain Robinson and field leader McGraw. The two became business partners in Baltimore and opened a popular café known as The Diamond. They both enjoyed the financial proceeds, as well as frequently indulging in their spirited beverages.

Although McGraw assumed the managerial duties in 1899, the franchise was disbanded early the next season, and the two friends were transferred to the St. Louis Cardinals to play only one year for Patsy Tabeau. The American League formed in 1901, which attracted both to the new American League Oriole team in Baltimore. A broken finger relegated Robinson to back-up duties behind Roger Bresnahan, besides acting as a mediator between the fighting McGraw and umpires.
By July of 1902, the laid-back Robinson replaced the petulant "Little Napoleon" as the skipper of the club. The following season, the franchise was transferred to New York but Robinson remained in Baltimore to run the café and manage the new Eastern League team until part way through the 1904 season. Eventually, he purchased McGraw's share in the saloon, which now included a billiards parlor and bowling alley. He always seemed to drift back into his family trade of butchering at his Baltimore meat market in between managing stints. Concentrating more on his restaurant business, he coached sporadically for Jack Dunn up until 1909. McGraw sought out Robinson to serve as pitching coach for his New York Giants team, which included the talents of Rube Marquard and Jeff Tesreau. The move proved beneficial which turned the two careers around considerably.
By 1913, McGraw began to quarrel intensely with Robinson which seemed to stem from a missed a call in the 1913 World Series. Wilbert became disgusted and the long-associated pair never exchanged words again. Furthermore, Robinson deliberately joined their cross-town rivals in Brooklyn, where as manager, he won two pennants in his first seven years with teams that were not given a pre-season chance.
Attendance soared under the affable and comical (and now a rotund 250 lbs. plus) "Uncle Robbie," who now managed some of the most colorful players ever. His off-the-field, lax discipline manner contrasted differently with the fiery and often profane manner he displayed across the playing lines. Despite this, the younger players felt comfortable seeking his fatherly advice which was diplomatically administered in a patient, warm sagacity. Known for his absent-mindedness, his team made up of cast-offs and misfits tended to unconsciously mimic their liberal, bumbling leader, thus developing the legendary reputation of their recklessness. Robinson once attempted to fine his players for inattentiveness in the field.
The cardigan-clad Robinson had to abandon his "Bonehead Club" edict when he became the first offender by handing in a laundry receipt rather than the lineup card to the home plate umpire. At the age of 54, he tried to outdo a feat Gabby Street accomplished by catching a ball tossed from the Washington monument. He staged a stunt that commissioned his friend and famed aviatrix Ruth Law to drop a baseball from her plane during the 1915 spring training. A substitute grapefruit (via Casey Stengel) plunged instead and exploded upon the awaiting Robinson who thought he was mortally wounded. He only realized the hoax when he heard his team's hilarity.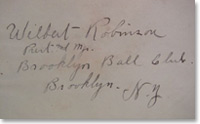 His wife "Ma" was adored as well in Brooklyn. The two enjoyed an affectionate celebrity, which was only enhanced by the pennant winnings of 1916 and 1920. His beloved fans now referred to their home team as the "Robins" or by some "the Flock." Even Colonel Huston of the Yankees tried to lure him to coach the team but the idea was vetoed by co-owner Jake Ruppert in 1918.
After almost winning a third pennant in 1924, he was promoted to president of the Dodgers after the deaths of owners Ebbets and McKeever. Zack Wheat was hired as acting manager but was replaced shortly thereafter by the well-liked Robinson to coach the "Daffiness Boys," led by notable flakes Babe Herman and "Dazzy" Vance. Through 1929, Robinson retained both titles but battled with director Steve McKeever as early as 1926. Eventually, they abandoned communication which led to his resignation in 1931. Robinson with eleven straight disappointing campaigns sans pennant was said to have been forced out by management. After seventeen years catching and nineteen years managing, Wilbert was finished in the major leagues.
In 1932, "Uncle Wilbert" and "Ma" retired to their winter home "Dover Hall" in Brunswick, GA. This gentleman's hunting and fishing lodge served as a peaceful refuge in which he regularly retreated in the off seasons. Unable to remove himself totally from the game, Robinson assumed ownership and managed the Atlanta Crackers (at Ponce de Leon Park) of the Southern Association. By 1934, he relinquished the managerial reigns but stayed on as president.
Appearing to be in good health, he returned to his hotel room when he felt faint. There, he broke his arm upon falling, joked amongst the doctors about the mishap despite their greater concerns, later fell unconscious and was sent to the hospital. A brain hemorrhage claimed his life at 10:30 p.m. on August 8, 1934 at the age of 71. Services were held at the Sacred Heart Cathedral and his body was laid to rest at The New Cathedral (originally Bonnie Brae) Cemetery in Baltimore. Commissioner Landis was among the dignitaries who paid their final respects. On April 25, 1945, he was elected (#38) posthumously to the Hall of Fame through the Permanent "Old Timers" Committee.
Early playing-career examples of Wilbert Robinson's signature are virtually unattainable. The few that exist are well entrenched in established collections. These specimens display a swifter, less deliberate movement although the letter construction shows little deviation. The high of the characters tend to be higher in earlier times. The 80-degree acute right handed slant of his autograph begins with an arced initial stroke midway up the height of the "W" and forms a retraced center that is completed by a wandering upward terminal stroke.
After the break, the well-spaced conventional lower case "i-l-b-e" stays connected to a diminutive, i-like "r" and a "t" that better resembles an "l" with a cross stroke that takes the form of a dash spaced off to the right. The base of the "t" returns vertically to the baseline and slightly bends weakly to the right. His surname leans more acutely right starting with the capital "R" which would be in printed form if not for the initial stroke that retraces its stem. At this point, the signature would drift slightly over the baseline, only to find its way back to norm by then end of the last letter. More often than not, a connector stroke reached northeast to construct a top open-looped "o" which conjoined with the tallest letter, the "b". An angular, or arcade, style "i-n" combination follows eliminating a hump along the way but remembering to punctuate lower than the tall "be" that precedes. He was apt to not close the "s" and at times it would be indiscernible when rushing through the balance of his name.

He treated the "o-n" in the same manner with thready lines which could be mistaken for a well-spaced "m". On occasion, the open-top "o" and larger "n" with arced terminal stroke can be appreciated. His overall handwriting was predominately legible, but without the florid penmanship that many of his contemporaries practiced.
Obtaining a Wilbert Robinson autograph can be a challenge. He is often forged due to his scarcity and perceived value. Album pages, often accompanied by other team members on the same sheet, generally sell for $1200. These are not common and a 3x5 card would be unique if found. Postmarked U.S. Government postcards are also a significant find and should command over $2000. Player contracts, as Brooklyn president, typewritten letters on Dodger letterhead and ball club stock certificates (fewer exist) can expect to bring $3000-3500. Handwritten letters deserve a premium. One can predict that virtually all of these letters contain baseball content often addressed to league executives usually contesting an umpire's decision or corresponding with one of his players.
Single signed baseballs are just about unthinkable, given the era in which he hailed and the few collectors that existed. A better chance is finding him on a team signed baseball; the prices are very subjective. Personal cancelled checks have never made their way into the hobby. Signed gloves, bats and other modern signed ephemera can often be dismissed as forgeries immediately. Although not a big name amongst autograph collectors today, "Uncle Robbie" should be a treasure for Hall of Fame and Brooklyn Dodger enthusiasts.