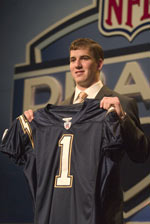 I can't say, prior to last April's National Football League Draft, that I recall any sportswriter or sportscaster prognosticating that the current college crop that was up for grabs would be rendering choice quarterback picks. I certainly don't remember anyone drawing comparisons to the great quarterback draft of 1983 that brought names such as Elway, Marino and Kelly into the NFL's ranks. Neither do I have any memory of anyone talking about the familiar surnames that would be surfacing during the 2004 draft.
What I do remember hearing was that the 2004 would be a draft rife with wide receivers. And, while a record seven ball catchers were in fact selected in the first round, it was the selection of ball throwers and a couple of players with famous last names that clearly garnered our attention on that spring day in New York.
By the time the draft dust had settled, four teams would have anted up a fortune in future picks to add a QB to their roster, even though it seems that only one, perhaps two, of those picks are in any way ready to take to the field as an NFL starter. But who knows, within the next year or two, we may just look back at the '04 draft as another '83 if the dividends of these heavy investments pay off.
The New York Giants perhaps put the biggest bet on the table in order to acquire Mississippi quarterback Eli Manning. They got him by trading away their minutes-old acquisition, quarterback Philip Rivers, to San Diego. Along with Rivers they also had to sweeten the deal by throwing in their first- and fifth-round picks in the 2005 draft. That's a hefty bet to place, even if Manning was the overall top choice.
The Chargers had originally drafted Manning, despite the fact he had made it more than clear that he had no intention of ever playing for San Diego and would sit out the season if they did select him. Being well aware of that fact, the Chargers grabbed him for the sole use as a bargaining chip to get a few nice fringes along with Rivers, who could very well prove to be further along in his development than Manning -- so far along in fact that the Chargers could conceivably call him up to unseat Drew Brees as their starting QB this season. With his unorthodox, sidearm throwing style, Rivers completed his last season at N.C. State by completing 72 percent of his passes with 34 of them for touchdowns. He also won MVP honors in the Senior Bowl where his South All-Star squad was coached by -- guess who? -- the San Diego Chargers coaching staff.
Manning angered many who were in attendance at the draft by pulling his little power play stunt of refusing to play for the Chargers and thus, manipulating the draft to place him on his team of choice. But New York fans will most likely forgive their new quarterback rather quickly -- especially if he becomes their starter. WHAT? A ROOKIE START WHEN THE GIANTS HAVE KERRY COLLINS? I know it seems odd and conventional wisdom would clearly say that Collins would most likely continue to start throughout the '04 season which would give Manning time to watch and learn how it's done in the NFL. However, keep in mind that the Giants are desperately trying to get Collins, who is due to receive a $7 million dollar base salary in '04, to accept a pay cut. Reportedly, Collins has no interest in taking the cut (duh!), thus making it possible that Manning may just have to be brought up to speed quickly for a starting position.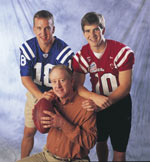 The Mannings (Photo Courtesy of Icon Sports Media, Inc.)
The selection of Manning saw him join his brother -- Peyton, the NFL's 2003 co-MVP -- and his father, Archie, in being picked in the first two spots of the NFL Draft. Peyton went first overall in 1998 to Indianapolis and Archie was New Orleans's number two pick in 1971. They are the first family in history to have three players selected in the first round of the draft.
Unfortunately, the historic moment was marred when the crowd at Madison Square Garden showed their displeasure by booing when Eli Manning's name was the first called by the commissioner. "It's nothing new," said Manning. "I've heard boos before. I've been in a lot of stadiums where they've booed."
Hoping there won't be too much booing at The Meadowlands this season, the Giants are thrilled to have secured the youngest son of a football legend and the younger brother of one of the league's best passers. And while it may be a case of front office spin, not a soul within the organization will give even the slightest hint that there is any buyer's remorse over paying so high a price for that thrill.
"When you go through this process and the number one player on the board is within striking distance for you, as a franchise, you exercise every option that you can to try to see whether that player could possibly be a New York Giant," said the Giants new coach Tom Coughlin. "[Manning] is a very special football player."
The Giants and Chargers were not the only ones making big news at the draft, the Buffalo Bills placed some huge hopes and concessions on the table in order to wrangle away the Dallas Cowboys' 22nd overall pick, which they in turn used to scarf up quarterback J.P. Losman out of Tulane. The Bills also gave the Cowboys their second-round choice this year for running back Julius Jones and had to throw in their first- and fifth-rounders in '05 to boot.
There may be some Buffalo fans who would like to see Drew Bledsoe escorted out the door, coming off the worst season of his 11-year career. Along with Bledsoe's less-than-stellar '03 performance, he is also due a $7 million bonus come November that would activate the final three years of his contract. The Bills are trying to negotiate a restructured deal with Bledsoe and with the acquisition of Losman they will most likely take a lot of wind out of his agent's bargaining sails when it comes down to brass tacks in the negotiations.
WHATS THAT? AM I ACTUALLY SUGGESTING THAT ANOTHER ROOKIE COULD BE A STARTING QUARTERBACK THIS YEAR? It could happen! And while the debate is wide open as to whether or not he is really ready to take charge of the Bills' backfield, he himself seemingly has no shortage of confidence in his ability. In fact, during his collegiate career, his cocky brashness was considered to be his biggest negative, especially for someone who was not universally rated as high as other quarterbacks in his class.
"That's just the confidence that I have," Losman has said. "If you would ask [Eli Manning, Philip Rivers and Ben Roethlisberger], they would say they're the best of the group. I've seen them, I've thrown against them many times and it's evident to me that there's nothing they can do that I can't do."
The Bills clearly had worries about things other than Losman's cocky brashness. He may think he's in the same class with Manning, Rivers and Roethlisberger, but many feel that his greatest shortcoming, in what to be fair was an impressive career at Tulane, is his bad throwing mechanics. The Bills, however, are confident they can fix those sorts of problems by putting pressure on Coach Sam Wyche and offensive coordinator Tom Clements to break bad habits picked up in high school and college.
By the way, speaking of Ben Roethlisberger -- while all that other controversial trading was kicking up dust in the room, the Pittsburgh Steelers sneaked right in and snagged Roethlisberger, who was considered by some to be the best of this year's quarterback crop, from Miami of Ohio. Steelers coach Bill Cowher said he was pleased that they were able to acquire Roethlisberger as the first quarterback they have selected in the first round since Mark Malone back in 1980. "We're not up here every year in the draft and a quality player like [Roethlisberger] is hard to pass up. He's right there with Eli and Philip. The thing that separates him is experience. Ben only played one year in high school and three in college."
Roethlisberger's lack of experience, coupled with the fact that he played at a mid-major school, makes it hard to gauge exactly how Roethlisberger might transcend into the NFL. But perhaps the same could be said for Manning, despite his sterling pedigree and the fact he starred at Mississippi.
Oh, and while we're back on the subject of Manning -- even before he takes his first practice snap he has already made a big mark on the NFL by elevating the Mannings into serious contention for the title of "Pro Football's First Family." It's a subjective title, of course, but it's hard to top what the family has achieved in the NFL. After Eli's father, Archie, was taken second overall in the '71 draft he went on to be a two-time Pro Bowl quarterback while his brother, Peyton, followed up his '98 selection by being named the NFL's co-MVP last season.
True, there have been many other impressive sibling combinations in the NFL, and even a few impressive father-son tandems, but you would be hard-pressed to match the Mannings' overall pedigree on the professional gridiron.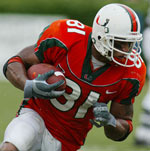 Photo Courtesy of Icon Sports Media, Inc.
That said, another 2004 first-round pick has also been given the chance to elevate his family name into NFL dynastyville -- Kellen Winslow Jr., who was taken sixth overall by the Browns, is the son of the legendary tight-end who was the 13th overall pick in the 1979 draft. Jr.'s NFL appearance will mark the seventh time a member of Pro Football's Hall of Fame will see his son play in a pro uniform.
The Winslows and Mannings are among only six families to have both fathers and sons drafted in the first round. The other three are Ed and Brad Budde, Billy Cannon and Billy Cannon Jr., Dub and Bert Jones and Steve and Keith DeLong. The Buddes are the only father-son combo to be first-round picks by the same team (Kansas City).
And if this year's draft does turn out to be remembered as the "Year of the Quarterback" it may also be remembered as having been a "Family Affair" being as that Manning and Winslow are just two of several family connections who are continuing a fine NFL family tradition (although the others would not register much of a blip on the name recognition chart).
Hey, while we're into all of this family fun, why don't we digress for a moment and take a little stroll down the NFL's lane of nepotism where we'll see that Eli and Peyton are the 11th set of brothers to both be first-round draft picks. There is only one other active combo -- Stockar and Jerome McDougle. And Eli and Peyton won't be the only active fraternal quarterbacks whose father played in the NFL either -- you may recall Matt and Tim Hasselbeck, whose dad played for the Patriots.
While the Mannings are the first brothers to both be first overall picks, a family by the name of Olsen came close. Hall of Famer Merlin was the third overall pick of the Rams in 1962, while Phil Olsen, a defensive tackle like his brother, was the second overall pick of the Boston Patriots in 1970. Ross and Joey Browner were also brotherly first-round picks, but they're only half of the story -- Keith Browner was a second-round pick and Jim Browner was a 12th-rounder. And then there was Clay Matthews, the 12th overall pick of the Browns in 1978, and Bruce Matthews, the ninth pick of the Oilers in 1983, who between them chalked up 18 Pro Bowl selections.
In the history of the NFL, only two father-son combinations can compare their Super Bowl rings, though the father played a much bigger role than the son in both cases. They are Brian and Bob Griese and Ronnie Lott and Ryan Nece. There are three brother combos who also sport Super Bowl bling-bling -- Jim and Keith Fahnhorst both played for the 1984 San Francisco 49ers. The other two are Chris and Matt Bahr and William and Michael Dean Perry.
Other notable brother combos from the past include Sam and Randall Cunningham, who combined for five Pro Bowls between them and Shannon and Sterling Sharpe, who have combined for 13 Pro Bowls. Brothers Mel and Miller Farr both made the Pro Bowl in 1968. Mel, a running back with Detroit, took the family heritage one step beyond seeing both of his sons, Mel Jr. and Mike, make it to the NFL. And Terry Metcalf and son Eric each made three Pro Bowl appearances.
The oldest family tree in the NFL is, of course the Pyne tree. George Pyne II played for the 1931 Providence Steamrollers and his son, George III, played for the 1965 Boston Patriots. Pyne's grandson, Jim, played from 1995-2001, with four different teams.
Finally, setting all of this quarterback and family talk aside, there were quiet a few other notable mentions from this year's draft:
Oakland's selection of Iowa tackle Robert Gallery was a great choice. Several teams, including the Giants and Browns were eager to get Gallery, who is widely considered to be the best offensive line prospect since Orlando Pace went number one overall to St. Louis in 1997.
No one was surprised when Arizona took wide receiver Larry Fitzgerald, who was eligible for pro play after his sophomore season because he attended prep school before going to Pitt. And while it's not quite family, Fitz did have a childhood relationship of sorts with his new coach -- as a youth he was ball boy for the Vikings back when current Cardinals coach Dennis Green coached in Minnesota.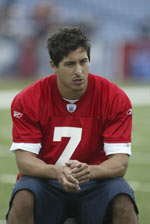 Photo Courtesy of Icon Sports Media, Inc.
The Lions went for Texas wide receiver Roy Williams, who they will team with Charles Rogers, who was taken second overall last year. Atlanta grabbed Virginia Tech cornerback DeAngelo Hall, who is a buddy of former college teammate Michael Vick, the Falcons' starting quarterback. Hall said he was thrilled to have been chosen by Atlanta being as that he will get to play with his ol' college bud and because his all-time idol, Deion Sanders, began his career with the Falcons.
Although the Jaguars are weak at wide-out, it was still a surprise when Jacksonville took Washington wide receiver Reggie Williams, who was projected to go in the middle of the round rather than in the top 10. The 10th pick was South Carolina cornerback Dunta Robinson, who was scooped up by the Oilers and who will most likely start him and move cornerback Marcus Coleman over to the safety slot.
The Jets, who were originally shopping for cornerbacks, ended up settling for Miami inside linebacker Jonathan Vilma, who might very well end up on the outside. Although it was overshadowed by the selection of Losman, the Bills also claimed Wisconsin receiver Lee Evans, who was one of the fastest players in the draft but who is prone to knee injuries. And Chicago, with a hole in their defensive line, hopes to fill the leak with the highest-rated tackle, Tommie Harris of Oklahoma.
Tampa Bay, perhaps on the lookout for a tall receiver to replace Keyshawn Johnson, chose Michael Clayton of LSU, who also was projected to go lower. Clayton was the fifth wideout in the first 15 selections. Philadelphia moved up from number 28, sending that pick and its second-rounder to San Francisco, before selecting a 366-pound offensive tackle named Shawn Andrews. Denver followed by taking Miami outside linebacker D.J. Williams with the 17th selection. Williams will most likely replace Ian Gold or John Mobley.
Will Smith of Ohio State was the first defensive end chosen, going 18th to New Orleans. The Dolphins moved up one spot to 19th, sending their fourth-rounder to Minnesota for the chance to pick Miami Hurricanes guard Vernon Carey. Southern Cal defensive end Kenechi Udeze went to Minnesota with the next pick. And when New England took tackle Vince Wilfork, that made for six Hurricanes in the first round, breaking the record for one school set by USC in 1968 and again by Miami in 2002.
St. Louis snagged Oregon State's Steven Jackson, which might just be an indicator that the Rams are concerned about Marshall Faulk's longevity. The Rams also sent a fourth-rounder and their first pick (26th overall) to Cincinnati.
So, will any of these NFL newbies become staggering superstars whose rookie cards will command big bucks with future collectors?
Well, if I knew the definitive answer to that question I wouldn't be taking any time off from the racetrack and buying lottery tickets to be writing for Sports Market Report. However, while predicting the future is not within my skill set, making somewhat educated recommendations to collectors is, and I would certainly recommend that you seriously think about tucking away an Eli Manning, Philip Rivers, J.P. Losman, Ben Roethlisberger and Kellen Winslow Jr. rookie card. There may not be such a thing as a sure bet, but there is such a thing as a good bet, and this year's rookie field could just prove to be as good as it gets -- for both their respective teams as well as for collectors.