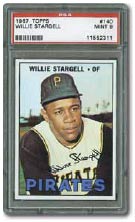 Securing vintage baseball cards (1952-1974 for the purpose of this article) in near mint to mint condition has driven my collecting goals for the past 15 years. Complete sets are my objective and I have managed to make continuous progress as my 1968-1974 sets are 95% to 100% complete and most of my earlier sets have at least 25%-75% completion. With the advent of card grading, it seemed only natural that the best of these cards would benefit from encasement in PSA holders. Hence, my journey began in pursuing two sets for each year, ungraded in near-mint to near-mint/mint condition and graded in PSA 9 mint condition.
Although I have been in the top ten listings on a few Set Registry categories, I have taken it slow and steady, enjoying this exciting pilgrimage to the utmost. My journey has provided great experiences and satisfaction, mostly from the little gems I have been able to secure that ended up in PSA 9 holders. These cards are still out there waiting to be found if you persevere in knowing what to look for, ask the right questions and extend a friendly demeanor to often unlikely sources.
Although not comparable to the great finds of Mr. Mint, here are some fascinating stories of how I was able to purchase beautiful, ungraded cards, at far less than book prices, which ended up in PSA 9 holders. Needless to say, their value increased immensely upon reaching "Mint 9" status and my family had to concede that this hobby of mine was of more value than just dad reliving his old childhood memories.
The year was 1994 and I was in Traverse City, Michigan, for the weekend. Like many of you, back in the 1990s, I would always check out the card shops when I visited a town and, on this day, I walked into a little shop -- Twin Bay Sports Cards -- that had the usual modern cards and packs on display for purchase. After looking around, I was welcomed by "Ric" the owner. When I told him I was really looking for older Detroit Tigers cards, he went to a back room and returned with two monster boxes of Detroit Tigers cards from 1951 to 1979. After a couple hours in cardboard heaven, I purchased about twenty cards from the 1950s in near-mint to near-mint/mint condition, all at well below book prices.
On my next trip, I discovered Ric had roughly 50,000 baseball cards from the 1940s to the 1970s, many in pack fresh condition and also many superstars of the eras. Through my friendship with Ric, I learned about print defects, registration, gloss, roller marks, print runs, and early sheet cutting techniques used by Topps. He was by far the most knowledgeable individual I have ever known in regard to vintage sports cards.
Every three months, I took a trip to Traverse City with about $300 cash in my pocket to work on my sets. We agreed on a 40% of book price for any card I purchased. I made these trips for about seven years, buying commons, stars and superstars. If only I had more money to spend, I would have bought some of the great 1950s Mantles, Mays, Sniders, Berras, etc. that were just sitting in plastic holders in those boxes.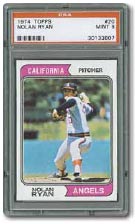 At one time Ric showed me 18 Stan Musial RC's from the 1948 Bowman set, but I just didn't have the resources to buy even one. There were three or four complete 1952 Topps sets in binders that I drooled over each trip. About four years ago, I called Ric to make arrangements for yet another visit and he told me that he sold everything he had to a large card company from down south just two days before. You can imagine my disappointment, but I will never forget the memories of sitting in a small room and perusing through thousands of vintage cards worth hundreds of thousands of dollars.
My favorites from those many purchases include some PSA 9 (after grading) 1961 Team cards, and 1960s stars such as Ernie Banks, Ron Santo, Tommy John, Tony LaRussa, Willie McCovey, and Willie Stargell. I also obtained a nice run of pack fresh 1968 All-Stars including Hank Aaron, Frank Robinson, Brooks Robinson, and Joe Morgan that all ended up grading Mint 9 by PSA. Although not graded yet, I secured hundreds of 1954-59 baseball cards in near mint to near mint-mint condition.
My first National Convention was in 1995 in St. Louis. I was in heaven at that show and felt overwhelmed by the vast amount of cards on display. In 1995, ungraded cards still represented the majority of dealers' stock. I purchased quite a few vintage HOFers and stars in great condition. I remember viewing the cases of a certain major dealer and was a little set back that he would want full book value for his cards. However, my eyes rested on a 1960 Topps Al Kaline All-Star card that looked simply gorgeous.
Kaline was my favorite player so I knew I had to have it. I looked it over and then asked the dealer if he thought it was in mint condition. He turned to the gentleman he was talking to and asked his opinion. His friend, Alan Rosen, took a look and said it looked like a beauty to him. The dealer wanted $60, I offered $50 and it now resides in a PSA 9 holder.
In Michigan, the biggest sports card shows take place at the two Gibraltar Trade Centers each month. About five years ago, I came across a dealer who had purchased and opened several vending boxes of 1974 Topps baseball. The stars were in plastic holders and priced at 50% book and commons were only 15 cents each. I paid $40 for a Nolan Ryan that -- you guessed it -- is now happily graded PSA 9. HOFers Luis Aparicio, Al Kaline, Reggie Jackson (Playoffs), Mike Schmidt, and Don Sutton have also joined Nolan from that purchase as they too are looking out from inside PSA 9 holders. I also purchased over 500 of the commons, of which over 125 are now graded PSA 9 and in my Set Registry set. At least eight of those 1974's came back PSA 10, all of which I sold on eBay.
Gibraltar has provided me with many hundreds of near-mint to near-mint/mint vintage cards for my sets over the years. It is important to realize that not all dealers are proponents of card grading and some don't like to be bothered with it. Many just buy collections and then turn them over at a profit as soon as possible. I have become friends with several dealers who know what I collect and save the best quality cards for me. I have a great collection of 1960's HOF player cards in PSA 8 holders and a few mint 9s from my Gibraltar visits.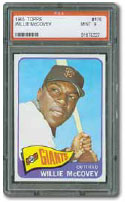 The National is still my favorite card searching challenge. A couple years ago at the Chicago show, I came across a wonderful elderly gentlemen who had been in the business for decades and shared many stories of the early Nationals with me. It seemed his long-time partner had recently passed away and his widow told him to sell off her share of the inventory. So, there on his table were twelve 1600-count boxes filled with cards from 1948 to 1975, all at 50% book. I spent two days going through those boxes and spent everything I had.
I remember running out of money and this kind man gave me the last stack of cards as a gift. From that purchase I now own over 50 PSA 9 graded baseball cards form the 1960's and 1970's, including HOFers Al Kaline, Jim Palmer, Frank Robinson, Brooks Robinson and Carl Yastrzemski. In addition, I sent in the sixteen 1956 Topps commons I bought at that table and received back 1 PSA 9, 14 PSA 8's, and 1 PSA 7.
My most recent thrill involves purchasing several thousand 1970 and 1974 vending baseball cards from a local collector friend, at about 15% book value. He made his profit by selling 100 count lots on eBay and I've already had about a hundred cards from my purchase join the PSA 9 population. I plan on sending more from this lot to PSA in the future, probably during the next Set Registry grading special for 1970 commons.
We all had stories of friends or relatives who casually share that they have a lot of cards from "way back." Most of the time, these cards turn out to be from the 1980s-1990s era in reality. However, I once was shown a box from a favorite uncle that included many 1950s stars and HOFers. I was asked to sell them at a large card show, which I did, but only after purchasing some great cards at reasonable prices. Although no PSA 9's surfaced from that lot, I did end up with quite a few great cards of stars such as Ernie Banks, Roberto Clemente, Mickey Mantle, and Hoyt Wilhelm. It pays to take all such "cards from the attic" conversations seriously even though most don't amount to anything significant.
There's an old saying that goes like this, "It's not the getting there but the going there that's good." That's the way I look at my card collecting adventure. Although I have purchased a good number of PSA 9 cards on eBay, it is the ones that I've picked up in ungraded condition, submitted to PSA, and which came back graded PSA Mint 9 that give me the most gratification and best memories. Those cards are still out there, resting in cardboard storage boxes, plastic sleeves, and screw-down plastic holders, and if you look carefully, they can be yours for a lot less than you think!