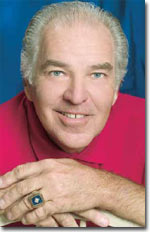 It was the summer that saw Massachusetts Senator Ted Kennedy's future presidential hopes swirl away in the choppy waters of Chappaquiddic; The Beatles sing their swansong, and Neil Armstrong and Buzz Aldrin step upon the lunar surface for the first time.
It was an era that saw America's uneasiness grow with the shock of brutal murders carried out by a Los Angeles cult that followed a madman named Manson. On the other side of the nation, a half a million people convened on the slopes of an alfalfa field on Max Yasgur's farm in a little hamlet called Woodstock on the outskirts of New York's Catskill Mountains. And, on the other side of the world, the Vietnam War had reached its peak of violence and futility causing the mood on college campuses back home to reach a rolling boil.
Perhaps no year of the 20th Century crammed in so many unforgettable flashpoints as 1969. It was a year of triumph and tragedy. The moon was in its seventh house, Jupiter had aligned with Mars, and through the psychedelic haze of mind-expanding hallucinogens, political division and social unrest, America witnessed a miracle -- a miracle performed by lowly plebeians with common names such as Gil, Jerry, Ed, Ken, Wayne, Bud, Tommie, Cleon, Art, Donn, Tom and Tug -- a ragtag team of laughable losers who would forever after be known as the Miracle Mets.
The story of the Miracle Mets is a tale of triumph -- a real-life legend of the quintessential athletic underdogs making an amazing journey from hapless basement dwellers to swashbuckling heroes.
The miracle actually unveiled itself in stages starting with a reversal of the Mets' on-field incompetence, followed by an unbelievable late-season surge and the infamous collapse of the Chicago Cubs. The miracle culminated with a World Series victory over a heavily favored opponent.
"It was unreal, like some Hollywood script," wrote sportswriter Jack Lang, who chronicled the 1969 Mets for the Long Island Press. "Those last two months of the season, everything that could possibly go right went right for that team. It was an amazing thing to be around. It was a magical thing."
That magic didn't surface until mid-August, when the Mets, who finished dead last in the National League the previous two seasons, were 13 games behind Chicago. But then, suddenly, and (as all good miracles go) inexplicably, they began beating everyone in sight. That might have been simple magic, but the fact that the Cubs started losing games at an alarming pace -- well, that was where the miracle came in.
It was a miracle that the Mets, who finished a total of 288 1/2 games out of first place during their first seven seasons, won 35 of their last 49 games in 1969.
It was a miracle that the Cubs, going on an eight-game losing streak in early September under combative manager Leo Durocher, paved the way for the Mets to get back into the race.
It was a miracle that the Mets, after overcoming that 13-game August deficit to win the National League East, faced the Atlanta Braves in the National League Championship Series and swept the best-of-five series, 3-0, behind the pitching of Tom Seaver, Jerry Koosman and a new kid on the block by the name of Nolan Ryan.
It was a miracle that, in the World Series against the Baltimore Orioles, the Mets' pitching staff completely shut down the Oriole hitters.
It was a miracle that an infielder named Al Weis would hit an out-of-nowhere homer to help the Mets come back from a 3-0 deficit to clinch the World Championship in Game 5.
The morning after the Mets' miracle win, a Baltimore sportswriter wrote that it had always been said that man would walk on the moon before the New York Mets would win the World Series. Noting that man's footprints on the lunar surface were less than three months old, he wrote: "Man barely beat them."
One of the men who helped make the Mets into the miracle team was a hometown favorite -- Ed Kranepool. Born in the Bronx on November 8, 1944, Kranepool attended James Monroe High School where he broke many of the school's baseball records originally set by Hall of Famer, Hank Greenberg.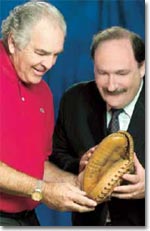 Ed Kranepool and Russell Friedman have joined forces to heighten the standard of the sports memorabilia business.
Ed signed with the Mets out of high school, debuted in the Major Leagues in 1962 at the age of seventeen, and would go on to play his entire career with the Mets, retiring after the 1979 season.
From 1965 through the miracle year of 1969, Ed was the regular first baseman for the Mets. He had one of his most productive offensive years in 1971, batting .280, with career highs in home runs, runs batted in and runs scored. During that time, he also led the league with a .998 fielding average.
In the latter part of his career, Kranepool became an outstanding pinch hitter, setting a major league record batting .486 in 1974, with a league-leading 17 pinch hits. During the period from 1974 through 1978, Kranepool hit .396 as a pinch hitter.
When he retired, after playing in each of the Mets' first 18 seasons, he was the club's all-time leader in eight offensive categories. After retiring, Ed made a bid to purchase the Mets but was turned down. Undeterred, he found success in various business ventures, including stock brokering and running a restaurant with his former teammate, Ron Swoboda.
Ed, who still lives in the New York area, recently took some time out of his hectic schedule and sat down to talk with Sports Market Report about some of the legends he has had the opportunity to play with, an exciting new business venture he has recently begun and, of course, his memories of the miracle year.
"The '69 Mets were a unique situation," said Ed. "Timing is everything in life and the timing was just perfect. The world was in turmoil and people were looking for relief and entertainment and here was this bad ballclub with a lot of young players that had finished in the basement for so many years. We were the laughingstock and doormat of baseball. But then we completely turned it around, from a last place team to a first place team -- winning by ten games. There were a lot of problems in the country back then and the country unified by watching baseball. Because of that we wound up with fans from all over the country, and now, all these years later, people are still talking about the Miracle Mets."
Kranepool went on to say that the players of the '69 Mets have gone on to become the darlings of New York. "I can't walk down a street without someone yelling out to me from a bus or a doorman stopping me," laughed Kranepool. "New York is the greatest sports town in the world. A lot of cities make that claim but New Yorkers really follow and love their teams and players, and because New Yorkers are transplanted all over the country, when New York teams play in Texas or California or Florida there are as many New York fans in the stadiums as there are fans of the local team."
Prodded to draw comparisons between the Miracle Mets team of '69 and the Mets NL Championship team of 1973, Ed says there was a world of difference.
"The '69 team was a group of very young players that had been formulated during spring training by Gil Hodges," Kranepool explained. "Gil was a very strict disciplinarian who built that team on pitching and defense. We were a team that had never won before. No one expected us to win. We never even anticipated on winning. We were just hoping to get to .500. Then we got to .500 and just kept on going and, in the second half of the season, we won around 70 games."
Transitioning to the '73 Mets, Kranepool was quick to point out that things were by then very different than they had been four seasons earlier.
"We had lost our leader when Gil Hodges had a heart attack," Kranepool said. "Yogi Berra, who was a very different leader, had taken over and we were a team of established players. We had great pitching in Seaver and Koosman -- in fact, we still had the nucleus of the '69 team. But we were different. We knew how to play, and how to win, and people expected us to win."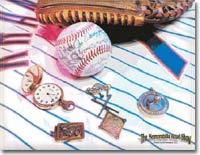 Along with game-used items, players' personal effects will also come up on "The Memorabilia Road Show's" auction block.
Recalling how the '73 team only really played well for two months out of that season, Kranepool put it into perspective by admitting that the NL East was a mediocre division at best. "I think we won the division by finishing a few games over .500 which is nothing too be proud of," said Kranepool. "In '69, we had won 100 ballgames. What can I say -- it was again just a case of timing. We should have never won the division that year, but it was a time when you didn't need to do much to win the NL East."
Timing was also on Kranepool's side when it came to having had the opportunity to call some of the game's greatest legends his teammates. He fondly reminisced on Hodges as a tough individual who was extremely introverted. "He had been a Marine sergeant so that's where he learned to be a fierce disciplinarian," said Kranepool. "He taught guys the finer points of the game -- how to really play the game. He believed that the team that made the fewest mistakes was the team that wins and he had the same set of rules for every one of his players. No one got away with anything. It was his way or the highway. His managing style might not be as effective today because to him there were no stars. There was no individual bigger than the team."
Conversely, Kranepool called Hodges's successor one of the most easygoing and fun-loving guys he has ever met. "I would go into business with Yogi at any time because he's the luckiest man alive," Kranepool said, laughing. "He brought a lot to the table by just being Yogi. He wouldn't hurt anybody. He has a big heart and his life has always been just about playing baseball and having fun. He's genuinely a nice guy who deserves every accolade he gets."
While Hodges and Berra are by all means legendary names, 1972 gave Kranepool the chance to play with a man who is considered to be one of the most legendary players to ever play the game -- Willie Mays.
"Simply put -- Willie was the greatest player I ever saw play," said Kranepool matter-of-factly. "He could do it all. He brought a lot of emotion to the Mets when he joined the club. We all knew he was just a shell of his former self by then but what he meant to New York and to the Mets players was a tremendous thing. He brought inspirational leadership, not only by playing on occasion but also just by being in the clubhouse. He meant so much by just being who he was and the things he offered to his teammates. Willie is a great friend. He's also a great guy and a great ambassador for baseball."
Although not in the same legendary league with Hodges, Berra and Mays, Kranepool also enjoyed having one of baseball's zaniest and most effervescent characters as his roommate -- a relief pitcher who coined the Mets' rallying cry: "You gotta believe!" and who passed away of brain cancer earlier this year.
"Tug McGraw was one of the most fun-loving guys I have ever known," Kranepool said quietly. "He lived life to the fullest. Happy-go-lucky, a prankster both on and off the field -- he got me in more trouble than I can talk about. I know the doctors did everything they could for him but he still went very quickly -- which was good because he didn't suffer as much as if he had lingered as long as he could have. We had a lot of fun and I will always miss him."
Although 2004 has been a sad year for Kranepool due to the loss of McGraw, it has also proven to be an exciting year as he kicks off his latest business venture -- The Memorabilia Road Show Hosted by Ed Kranepool.
His partner, New York attorney Russell Friedman, explained that he had an idea to establish a memorabilia company in which collectors could bid on authentic, one-of-a-kind items directly from players or their families.
"I was looking for someone in baseball who was well known, well respected, well liked and who had a good business background," said Friedman. "Eddie's name kept coming up. So we got together and he came up with a bunch of ideas I hadn't even thought of."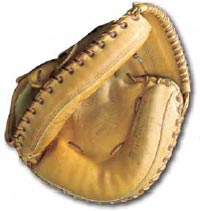 Game-used equipment will be among the items offered thorough "The Memorabilia Road Show."
According to Friedman, the ultimate goal of the company is to conduct two major memorabilia auctions every year offering items directly from the homes and personal collections of professional athletes.
"We want this to be a live auction because most serious collectors feel that Internet auctions are flawed," said Friedman. "And that is just one of the things that will make us different. While most auctions offer maybe 100 marquee items out of a lot of 1000 or 1500, we will have 500 lots of which 450 pieces will be marquee items. All of the items we will be offering will be unique. You're not going to find cards or signed photos and baseballs. The things that we will have are one-of-a-kind items such as player's contracts, their report cards, all sorts of personal items that you don't see on the market very often."
Along with the company's offering of unique items, Kranepool points out the added benefit of provenance that they will make available.
"Bidders can rest assured that they are buying the genuine article," said Kranepool. "Every piece will come directly from the source with a letter of authenticity and an affidavit signed by the player or family member. That removes the problem of fraudulent material."
While recognizing that there is a huge market for mass-produced sports collectibles, Friedman is quick to point out that they are not catering to that market.
"We're not catering to the fan who wants to buy a signed ball or an autographed photo," said Friedman. "What we are offering is not just a collectible. We are offering items with true historical significance that has a provenance that goes directly to the player or their estate. Along with the piece you will get the story behind the piece."
Friedman and Kranepool also point out that their new endeavor offers benefits to players, especially those from the 1950s and early '60s that never made the big bucks.
"This is an opportunity for them to realize the financial reward for an item," said Friedman. "That's the way it should be. They are the ones who made the piece valuable and a major part of our concept is to make sure the players themselves see the benefit of an item's sale."
Kranepool points to his longstanding relationships with players as to why they will be able to offer such premier items. "We have players coming from everywhere who want to be a part of this," said Kranepool. "With us, it is important that the players and the buyers both get a straight deal. We want everyone to benefit."
While most of the auctions will be scheduled in New York, Kranepool and Friedman are also considering doing auctions in Chicago, Los Angeles, Las Vegas and Puerto Rico. Participating players will be attending the events, and that, according to Kranepool, will make items even more valuable.
"This way a buyer can say buy Hank Bauer's 1952 glove and then have a picture taken of themselves at the auction with Hank holding the glove. Then they can get Hank to sign the picture of the glove in the catalogue. It really brings the collector and the player together. It's a win-win."
Offering both an on-line and hard copy catalogue, Ed believes their hard copy catalogues will themselves become treasured collectibles. "You will see photos of items in our catalogs that you will most likely never see again," said Kranepool.
Along with being a win-win for players, their surviving family members and collectors, The Memorabilia Road Show Hosted by Ed Kranepool will also benefit various charities such as MDA and ALS.
"We are definitely going to give back," said Kranepool. "It's not a one-way street."
Friedman agreed. "There are a lot of players who are now associated with us that have established charities and foundations that will see financial benefits from both the players as well as the company."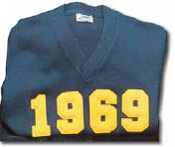 Personal clothing items will go directly from the players' closets to the auction block.
Kranepool also believes that this new offering will help charities that auction sports memorabilia. "There are a lot of items that are finding their way to charities that are not legitimate," said Kranepool. "So people are buying these things in good faith and walking away with something that is not what it was represented to be. That tarnishes the charity and the entire memorabilia business at large. And what's the poor buyer to do if he finds out the piece he bought is not genuine? Ask the charity for his money back? He'd look like a heel. So by us making items available it brings credibility to the charities."
Among the athletes who have already signed up with The Memorabilia Road Show Hosted by Ed Kranepool are Maury Wills, Goose Gossage, Ron Guidry, Sparky Lyle, Greg Nettles, Brooks Robinson, Roy White, Ron Bloomberg, Lou Brock, Rollie Fingers and the estates of Gil Hodges, Thurman Munson and Roger Maris.
Items that will be offered in the company's first auction will include a 1982 Mercedes Benz that was owned by Roger Maris, Thurman Munson's pilot's license, personal and game-used items from Bobby Richardson and Gil Hodges' travel bag complete with all of the personal items he left in it.
Other offerings will include an original LeRoy Neiman painting commemorating the 25th anniversary of the passing of Thurman Munson that will be signed by Neiman and many of Munson's teammates, a private batting lesson from Ed Kranepool, batting practice with Sparky Lyle, and rounds of golf with various players including Graig Nettles and Goose Gossage.
"Collecting baseball memorabilia has always been a lot of fun," said Friedman. "This makes it better because it personalizes it and heightens the standard to where it should be."
For further information or to obtain a catalogue for the inaugural auction of The Memorabilia Road Show Hosted by Ed Kranepool, visit their web site at www.memorabiliaroadshow.net or call (718) 459-3900 or (866) 748-1100.