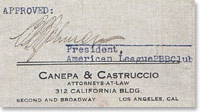 The life of Byron Bancroft Johnson began on January 6, 1864 in Norwalk, Ohio. Born into a family that descended from a long line of ministers and educators, "Ban" (shortened from his middle name) learned to play ball in Avondale, Ohio. He enrolled in Oberlin College but unhappy with the religious emphasis, later transferred to Marietta College (Ohio) Class of 1887, where he played baseball as a bare-handed right-handed catcher.
The husky backstop abandoned his law studies at the University of Cincinnati, briefly tried semi-pro ball, and then taught as a college professor. Johnson then turned to journalism and became a sportswriter for the Cincinnati Commercial-Gazette until 1893. There he developed a close friendship with Charlie Comiskey, manager of the Reds of the American Association. National League Cincinnati owner John Brush recommended Johnson to the faltering Western League in an attempt to stop Johnson from criticizing Brush in the press. Ban was elected president where he revived the league into the strongest and best-run minor league circuit of the era.
Along with Comiskey (now in Chicago) in 1899, they changed the name to the American League forging a challenge to the monopolized, well-established National League. The new league still operated as a junior circuit in 1900, but was run more efficiently under Johnson's "publicity hungry" reign. He shrewdly convinced millionaires to bankroll the franchises, and on April 14, 1910, he persuaded President William Howard Taft to throw out the Opening Day ball in Washington, D.C.
Johnson arranged schedules to equitably spread travel costs, interpreted rules, levied fines and suspensions, negotiated trades and issued statistics. Women were encouraged to attend, alcohol was banned from the parks and profanity was not tolerated. The ballparks were painted or remodeled and the umpires were empowered with total authority. This was a strong contrast to the senior league's reputation of rowdiness and ongoing disrespect to the men in blue. Ban refused to renew his application of the National Agreement which offered protection to the National League, regulating competition for players and territories and denounced its ability to draft from the American League.
Chicago, Detroit, Boston, Washington, Baltimore and Philadelphia were added to the existing teams of St. Louis and Cleveland. By 1901, dozens of managers and veteran players jumped over to the new league, enticed by higher salary offers and no salary cap.


1898 Signature
In 1902, the American League outdrew the National League by more than 500,000 fans. The Baltimore franchise was moved to New York and fighting John McGraw returned to the National League, impeded by the obligation to respect umpires, thus hampering his style of play. Establishing offices in the Fisher Building in Chicago, Ban Johnson was elected president of the league for a ten-year term. In time, Johnson's contract was extended by another twenty-five years, setting his term to expire in 1935.
By 1903, players were vacillating between leagues. The National League agreed to recognize the American League as an equal and in concert with Johnson, drafted the National Agreement of Professional Baseball, which brought an end to the raiding.
Ban Johnson's overriding personality muscled his executive influence onto the new three-man ruling body (with N. L. President John Heydler and Johnson's old friend, Cincinnati President August "Garry" Herrmann) called the National Commission.
During Johnson's tenure, the American League prospered and dominated with the more talented players like Young, Lajoie, Ruth, Cobb and Sisler, in addition to winning 14 of the first 24 World Series. His efforts and vision, however, did not come without resistance. Patriotic fans were not happy when he convinced politicians to ensure the completion of the World Series during World War I.
His old friend Charles Comiskey took umbrage when Johnson ruled in opposition to him regarding suspensions on White Sox players. Comiskey moved out of the office they shared and their alliance deteriorated until 1918, when they actually became bitter adversaries.
Running his league practically as an absolute dictator, the first "czar" of baseball favored the Yankees in a dispute, disallowing pitcher Jack Quinn to play for Chicago. All hell broke loose the following year when the Black Sox Scandal surfaced, which the hard-drinking Johnson envisioned as a way to drive Comiskey out of baseball. Instead, his arrogance backfired when his relentless investigation, accusing the eight men involved in throwing the World Series, became an attack on Comiskey's team and the other club owners viewed it as a personal vendetta.
In retaliation, they hired an independent baseball commissioner, Judge Kenesaw Mountain Landis, who had no prior connection to the game. They agreed to empower him with full authority and assure a recurring seven year contract, which weakened Johnson's once firm grip on the league.
Now virtually a figurehead, Johnson engaged in constant dispute with Landis, stemming from his frustrations over the circumvention of his power. The lack of support from the owners, with Comiskey leading the revolt, crushed his overconfident ego and his health began to decline as his spirits abandoned him. Broken by his demotion he complained, "I'm about as important around here as an office boy."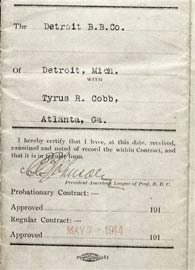 1914 Signature
Things really fell apart for him in 1920 when the "Carl Mays Incident" came about, requiring a decision as to which club owned the rights to the pitcher. This served as a catalyst to a forum of A.L. dignitaries that reached a settlement, siding with the New York Supreme Court, apart from Johnson's ruling. The club owners were often obliged to issue public apologies for his bitter criticisms and unbridled utterances. What reinforced his decline was that the American League, now exonerated from the looming shadows of the 1919 World Series, was experiencing its golden era and the romance it cultivated with the American public.
Johnson's final blow came in 1927 when he sought to terminate the careers of icons Ty Cobb and Tris Speaker over a game they allegedly fixed in 1919. The matter was dropped by the clashing new "Czar" Landis after retired pitcher Dutch Leonard refused to confront the matter. A damaging letter was produced, written to Joe Wood by Cobb.
Johnson's reaction was that of rage and the majority of the owners decided to strip him of all his authority while permitting him to retain his title. Disgusted after being sent on a forced vacation prior to the season opener, Ban scribbled his resignation on a piece of paper and tossed it on the desk of Jacob Ruppert in July, 1927. At the close of the season, October 17, the acceptance took effect, although earlier sources claimed his retirement was due to poor health.
The humiliated Johnson was entitled to $320,000 in unpaid salary for the remaining years of his contract but Ban proudly refused the money for work he was unable to render.
He and his wife retired very comfortably to Spencer, IN. His health steadily declined and he briefly convalesced in Hot Springs, AR (January, 1931), but had been a patient in St. Louis Hospitals since October, 1930. Battling diabetes, his illness progressed to cause the removal of his toe and bone in February.
After he refused to allow the amputation of his right leg, infection spread, and he suffered a relapse and was returned to St. John's (St. Louis) Hospital where he fell into a 24-hour coma. He died at the age of 67 on March 29, 1931, just sixteen hours after his successor, American League President Ernest S. Barnard, passed away suddenly in Rochester, MN. His widow Jennie Johnson held funeral services for him at the Marshall Undertaking establishment in St. Louis. Ban Johnson was interred in a $25,000 mausoleum that he had built several years prior at Riverside Cemetery in Spencer, IN.
Most of Johnson's successes and failures can be traced to his own character. Although devoted to his life's work with rigorous standards, the fearless autocrat was regarded as humorless, vindictive and uncompromising. He died an unhappy man, unaware that his lasting legacy proved to be beneficial for the reputation of baseball. In 1937, The Baseball Writers Association of America overlooked his imperious, often petty and hot-tempered personality, and recognized his driving force and excellence as an organizer to select him (#7) to the Hall of Fame, in only the second year of their nominations. He is credited in starting the World Series in 1903.
Fast and furious was the largely unreadable scrawl of "B. B. Johnson". Two similar, tall capital "B"s overlapped each other in a 70-degree acute slant. The initial stroke commenced from the baseline, creating an oval-like loop with no sign of a pen lift. The right arched loops in the middle of the characters would not close into the initial staff and often would prove indiscernible.
The "J" started as a result of the terminal stroke of the "B" that notched back with little hesitation to form an open top loop with the bottom oval loop falling normally below the baseline. The hastily configured "o" would vary in formation but had an elevating connector stroke that formed an "l"-like loop followed by three small garland peaks to create the "h" and "n". He took better care in shaping the conventional "s" that had a shaded upstroke reaching into an even larger, almost double circled "o". The "n" would often drop well below the baseline and generally feather with the terminal stroke. When diabetes had impaired his eyesight, it ultimately affected his signature.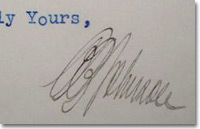 1912 Signature
In his later years, a much slower, deliberate and more legible version evolved with greater spacing between letters. He still remained true to form by not having any letter breaks and finishing downward. Punctuation in the form of periods would be placed after and below the two capital "B"s.
Using his right hand to pen the many documents and contracts it required to form and operate the American League, Ban Johnson's signature is available to collectors. It is highly unlikely to find any 3x5 index cards, government postcards, single-signed baseballs (although a legible facsimile appeared diagonally on the side of every game used A.L. ball), or other typical "autographed items."
A dated Uniform Players Contract ($500 for common players) from his era is often signed on the folded cover in black fountain pen. Typewritten letters ($650) to team owners are also in ample supply without having to go on safari to locate one. The content is what drives up the prices. "Black Sox" or marquee player name mentions will demand a premium over the mundane world of minor league prospects.
An inscribed photograph would be a real treasure noting that his popularity waned in later years. There is only one cancelled check (1930) drawn from the National Bank of Chicago (via 1997 Mastro Auction) that I am aware of, undoubtedly sunk deep into a collector's treasure chest. Forgers have not been known to violate his penmanship, primarily because of general access to valid examples and low demand.