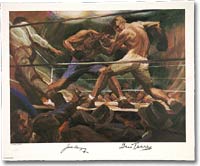 Well, here is the low down as far as I can tell…
We have three different interpretations of an original painting or rendition printed on poster size paper: a lithograph, an art print and a serigraph. Please keep in mind that the information provided in this article is the result of my own research and that the findings may vary with more research in time.
In my research, I learned that the only difference between an art print and a lithograph is the paper that it is printed on. Basically, both are really just posters of art work. A serigraph is something totally different. There is a special process in which a serigraph is printed. They are usually silk-screened with all colors being hand layered one at a time. The artist is usually present during the process and the prints are made in limited quantity. They usually make anywhere from 200 to 300 prints then the plates are destroyed.
Sometimes, they create artist proofs. These are serigraphs that are inspected by the artist and then signed and numbered by him. Usually, no more than 10 or 20 or these are done and then sold for a premium.
Now, most autographed lithographs are signed in limited editions. We will use the term lithograph from now on in this article. It makes our autographed posters sound much more valuable and important. Anyway, the signing of the lithographs might be in limited numbers, but there could thousands of the same print un-signed.
Usually, the number of autographed pieces has something to do with the athlete's career, like the number of wins that he accumulated, or a milestone that he or she has reached. There could also be a limited number of lithographs signed by the artist or a limited number of prints signed by both the athlete rendered and the artist. Naturally, all of these factors influence the value of the lithograph. Most importantly, the value centers on the athlete's and the artist's popularity.
In this article, we are going to focus on the 24-inch by 21-inch lithographs originally distributed by Sports Illustrated. These were sold in the 1970s through 1990. Printed in a limited edition of 1500 each, they were painted by award-winning artists: Gustav Rehberger, Harvey Dinnerstein, Bob Peak, Dan Schwartz and Bernie Focus.
Sports Illustrated produced two gorgeous boxing prints featuring Jack Dempsey vs. Gene Tunney and Joe Louis vs. Max Schmeling. Besides the two boxing prints, they did one other with two athletes depicted together: a basketball print of Wilt Chamberlain and John Havlicek. The rest were single-athlete signed lithographs. They produced golf prints of Jack Nicklaus and Arnold Palmer, tennis prints of Billie Jean King and Rod Laver, baseball prints of Joe DiMaggio and Stan Musial, football prints of Johnny Unitas and Red Grange and Eddie Arcaro of horse racing fame. All of these were made with the intent of depicting specific historical events of the athlete's career.
Depending on the sport and athlete, these lithographs sell today anywhere from $300 to $1500. With the recent deaths of Wilt Chamberlain, Joe DiMaggio and Johnny Unitas, these lithographs have taken a substantial increase in market value. In the early 1970s, each magazine subscriber was sent an impressive color package with the offer to purchase these lithographs. Sports Illustrated originally offered these gorgeous prints at $75 each plus $3.50 shipping and handling. They later sent out a brochure with a price of $100 each and a statement that the price would be $150 each after January 31, 1978. They came beautifully framed and matted with a brass plate.
These original framed lithographs are really tough to find today. Years later, Sports Illustrated produced a catalog, selling everything from sports videos to these lithographs. One of the catalogs features actual photos of all four legendary boxers signing the lithographs. The 1990 catalog had only four of the lithographs still available. The Dempsey/Tunney print was priced at $625, the Louis/Schmeling was priced at $575, Red Grange was $395 and Stan Musial at $475 -- each a substantial increase from its original issue price of $75.
Later on, Sports Illustrated sold off all of the remaining lithographs (unframed) to various sports memorabilia dealers. With the exception of the Joe DiMaggio print, the boxing lithographs have sold at the highest prices in most of the auctions during the past ten years. They have sold for $700 to $1500 each in recent auctions.
On another interesting note, I have seen the Chamberlain/Havlicek print with variations between pencil and ink autographs. With this exception, every print that I have personally seen has been autographed in pencil. I have also seen a few -- very few -- unsigned prints offered here and here but they are few and far between.
With that in mind, it is very important that you have these lithographs looked at by autograph experts. The good news is that the vast majority of these fine, signed pieces are authentic and that is part of the reason they are appealing to the collector today. With some of the featured athletes now deceased, these prints offer some tough autographs with a nice presentation overall.
After looking at some of these images -- what do you think?