hen the 2004 baseball season begins to wind down, it may prove to be one of anticipated excitement as the most coveted record in the game's history is being closed in on for the first time in over three decades.
It may, however, also be a season of anticipated controversy as the man who is chasing that record is himself being chased. As this issue of Sports Market Report goes to press federal agents are attempting to put together a case that will prove it has been more than natural ability that has put Hank Aaron's all-time home run record in jeopardy.
The man who finds himself as both the chaser and the chased is Barry Lamar Bonds.

The story of Barry Bonds' great chase began when, as the son of San Francisco Giants star outfielder Bobby Bonds, he showed great promise on the sandlots, in high school and college, where he set several collegiate hitting records at Arizona State. Following graduation, Barry then followed in his famous father's footsteps by stepping up and into the professional baseball ranks. It was apparent from the moment that he took that first step on major league turf that not only was Barry blessed with his father's speed and power, but that he had the ability to become an all-around better hitter than his father.
Originally drafted by the San Francisco Giants in 1982 out of high school, Bonds opted for college and was selected by the Pittsburgh Pirates upon graduation. He spent little time in the minors before debuting with the Bucs on May 30, 1986, settling in as the team's starting center fielder and playing in 113 games as a rookie. During his rookie year, he actually hit rather poorly hitting only .223, but he did show flashes of speed with his 36 steals, and he did show power by belting 16 home runs.
In 1987, Bonds again began the season in center field, but was soon moved to left field, where he has played ever since. Bonds continued to improve, scoring 99 runs with 35 doubles and 25 homers, while his average climbed to .261.
By 1990, Bonds was an All-Star and the Pirates were in the playoffs. Barry won his first MVP by slugging 33 homers and 114 RBI. He scored 104 runs, batted .301, and swiped 52 bases.
Two years later Bonds won his second MVP despite missing three weeks to injuries. He pushed his career-highs in total bases, slugging (NL best .624), average (.311), walks (NL leading 127), and runs (NL high 109). He also stole 39 bases and led the Pirates to their third straight NL East title.

In the off-season of 1992, Bonds was a free agent. Demanding a huge salary, he found that the Giants were willing to meet that demand in order to bring him to California, and to the franchise that both his godfather (Willie Mays) and his father, had played for.
In his first season with the Giants, Bonds was at the top of his game. He got off to a hot start and never let up. At the end of the campaign, he had set personal bests in every offensive category except triples and steals. He led in two of the three triple crown categories - homers (46), and RBIs (123). His slugging percentage of .677 was the highest since Mickey Mantle's in 1961. He led the Giants to a team record of 103 wins and easily won his third MVP award.
Unfortunately those 103 wins were not enough to overtake the Atlanta Braves, who nipped the Giants on the last day of the season. That disappointment was just one of what would become a long line of post-season failures for Bonds. His Pirate teams had reached the playoffs three times, only to lose the pennant each time. In 1990, they lost in six games to Cincinnati. The following season, they led the Braves 3-2 after five games but then lost the sixth game in the 9th inning and in game seven they were shut out. In 1992, they suffered their worst heartbreak. Trailing 3-1 after four games, the Bucs dominated Atlanta in games six and seven to tie the series. In game seven, they led 2-0 in the bottom of the 9th only to see the Braves rally for 3 runs and win the flag.
The 1993 near-miss helped solidify the long-held theory that Bonds was a choker in the playoffs. In the 1990 LCS, he batted just .167. In 1991, it was an anemic .148. In 1992, he hit his first post-season home run and batted .261.
The Giants got another chance in 1997, when they went from last place to first. Bonds helped make that rally a reality with his 40 homers, 101 RBIs, 123 runs, 37 steals, and league-leading 145 walks. In the playoffs against the wild-card Marlins, the Giants were upset in three straight games. Bonds managed just three hits in the series, but two of them were doubles in Game Two when he also drove in two runs. And while the loss belonged to the bullpen, it would be Bonds' reputation as a post-season flop that would receive the pointed finger of blame.
In 1998, the Giants finished in a deadlock with the Cubs for the wild-card spot and were forced to play a 163rd game. The Cubs beat them and Bonds' reputation continued. In 2000, the Giants rolled to the best record in the National League but were again de-railed when they lost to the Mets in the opening round of the playoffs.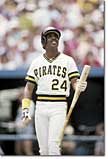 While world championship rings, and even the chance of getting them, continued to be elusive, Bonds continued to put up his amazing regular season numbers, surpassing 2,000 career hits, 1,400 RBIs, 1,500 runs, and 480 steals. Early in 2001, he passed the 500-homer mark, joining fellow Giants stars Mays and Willie McCovey. He set an NL record for most home runs in the month of May (17), and began to challenge the all-time single season home run mark when he homered in six straight games twice.
Bonds maintained the pace well into August, getting hot just prior to the events of September 11th. After baseball returned from a one-week hiatus due to the tragic events, Bonds took a while to get going again. In a late-season series against the Astros, Houston manager Larry Dierker came under fire when he insisted on walking Bonds instead of allowing him to break McGwire's record.
In the season's final weekend, Bonds pleased his hometown fans, breaking the 70-homer barrier and adding a few more to end up with 73. He also finished with an astounding .863 slugging percentage, the best in baseball history.
In 2002, the then-thirty-eight-year-old Bonds was back for more. He won his first batting title (.370) and reached the 600-homer mark, joining Mays, Babe Ruth and Hank Aaron. Still, despite the impressive milestone he had reached, sportswriters snubbed him in favor of Ken Griffey Jr., as the Player of the 1990s, but that had more to do with image than talent.
Carrying the Giants to the 2002 World Series, Bonds finally got the chance to prove that he could produce in the postseason as he batted .356 with eight homers in the playoffs. He had finally reached his first World Series and put on a show, hitting four homers (including joining Hank Bauer as the only players to homer in their first three Series games) and batting .471 with a record 13 walks. However, the Angels wouldn't allow him to exorcise his biggest demon. Bonds still ended the season as a loser as Anaheim beat the Giants in seven games in the first all-wildcard World Series.
In 2003, Bonds batted .341 with 148 walks. He hit 45 homers but had only 90 RBIs. Although the Giants ran away with the NL West, they lost in the NLDS to the Marlins, with Bonds batting just .222. He became the first player to win three consecutive MVPs as he was voted the award for the sixth time.
Which brings us to the 2004 season – this season of excitement that has seen Bonds surpass Mays and begin to close in on the home run totals of Babe Ruth and Hank Aaron – this season of controversy as Bonds plays under the cloud of alleged steroid use – this season that has many thinking back thirty-plus years...
It was in the summer of 1973 that Hank Aaron was closing in on Babe Ruth's 714-career home run record.
It was also a time of excitement as baseball fans from every corner of the world kept track of the ever shrinking margin that separated Hammerin' Hank from The Bambino.
It was a time of pressure as the media converged with an unyielding intensity on the man who never seemed comfortable in the spotlight's glare.

And it was also a time of controversy and disgrace as the racist letters and threats Aaron had been receiving began to increase.
In July, Aaron hit number 700 off Ken Brett of Philadelphia and by the end of the Atlanta Braves' '73 season, the thirty-nine-year-old slugger found himself only one homer away from tying Ruth.
When the 1974 season began, the excitement, pressure and media coverage hit a feverish pitch. Unfortunately, so did the threats, which got so bad the Atlanta police department assigned a full-time bodyguard to protect Aaron who later in life admitted that he has always kept those letters as a reminder of how hateful people can be.
In his first swing of the '74 campaign, Hank tied The Babe and on the cold evening of April 8th, before a standing-room-only crowd at Atlanta's Fulton County Stadium, Aaron made baseball history as Al Dowling of the Los Angeles Dodgers surrendered Aaron's 715th home run at 9:07 p.m. Eastern Standard Time.
Aaron went on to hit a total of 20 home runs over the course of that season to finish at 733. And despite the wild excitement, the intense pressure, the blinding media glare and the constant concern that he could be caught in the crosshairs of a deranged racist's revolver, Aaron was the picture of class, decorum and dignity.
Hank Aaron has always been a model of class, decorum and dignity, which made eyebrows rise all the more when he told a reporter in the early part of the 2004 baseball season that he had no intention of being in attendance if Barry Bonds came within a homer of tying his all-time home-run record.

"I wish him all the luck in the world", said Aaron. "But I have no intention of being there."
Now, before Sports Market Report's attorneys start getting nervous over this copy, let's be clear – Bond's alleged use of steroids is in fact alleged and will continue to be only alleged until there is proof to either document the alleger's circumstantial evidence or confirm Bond's claim of purity.
"In spite of all the allegations that are swirling around, I think that until all those things are proven, he is the man," Aaron said when finally pressured to acknowledge the controversy he so graciously ignored.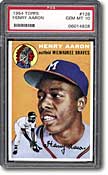 Ah, but let us not forget – all of this hype may be moot. Remember, although he is still playing well, Bonds is now forty-years-old. And more importantly – pitchers hardly ever throw to him. Still, when he is not intentionally walked, he hits, and while it's been three years since he set the single-season home run record, Bonds could become the first major leaguer in sixty-three years to hit .400. as he chases Ruth's 714 and Aaron's 755.
Back in early April, Bonds hit his 660th home run tying him with Willie Mays for third on baseball's all-time home run list. After launching that horsehide into San Francisco Bay, he clapped his hands once and chugged purposefully around the bases. As he stepped on home plate he was met by his seventy-two-year-old godfather, Willie Mays, who handed over an Olympic torch that he had dragged from Houston to San Diego, trudging into the Giants dugout each time Bonds came to the plate.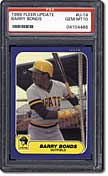 After the game, Mays, who had been asked to be Bond's godfather by Barry's father who died last year of cancer, put his arm around his godson in the Giants locker room.
"I just really can't believe it," said Bonds. "Being four-years-old when my dad came up in the major leagues and having an idol like Willie Mays take me under his wings and now sitting up here in front of all these people answering questions about what it's like to tie the man you've respected your entire life. It's just kind of a relief to now be able to stand next to my godfather and say, 'You know, I finally feel like I've accomplished something in the game of baseball.' Like I earned his approval."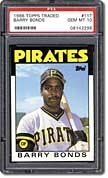 Mays smiled.
"First of all, Barry doesn't need any approval from me because I've been there since he was five-years-old," said Mays "Whatever he does, right or wrong, I'm going to be there for him. History has to keep going, and the next step is Ruth."
Still, Bonds continues to stun and amaze, even under a cloud. In his career, the most historic statistics have come in the last three years: a record 73 homers in 2001 at age thirty-seven, 46 more in 2002 and 45 last year, when he had just 390 at-bats and missed 32 games because of injuries and his father's illness.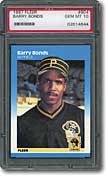 That period, with 164 home runs in 1,269 at-bats, an astonishing rate of one for every 7.74 at-bats, fuels the fire of skepticism being as that it coincides with Barry's introduction to his "nutritionist".
Aaron, by comparison, hit one homer every 16.38 at-bats for his career.
Ruth hit one every 11.76.
The bottom line is that Bonds is, without question, the best in the game today and his astonishing achievements separate him from just about every star in the modern era. The scary thing is... he isn't done yet.