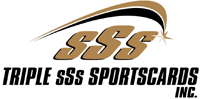 TRIPLE sSs SPORTSCARDS, INC. LAUNCHES NEW WEBSITE
With over 25 years of experience and an impeccable reputation for high end graded sportscards, Triple sSs Sportscards, Inc. opens their web site. Please visit their new web site at WWW.TRIPLESSSINC.COM to view their incredible inventory of high end sports cards.
Announcement: Memory Lane; one of the nation's leading PSA Authorized Dealers, announces it is now accepting consignments for its Fall 2004 Auction. The company announced it will pay top dollar for sports cards and memorabilia. If you are interested in selling or consigning your sports collectibles, call them at 877-606-5263. Memory Lane specializes in filling collectors' "want lists," especially the hard-to-find cards. Memory Lane is a leading buyer of cards and collections at top record-setting prices.

GEHRIG, RUTH HOMER FOR GREY FLANNEL AUCTION
GREAT NECK, N.Y. -- Lou Gehrig and Babe Ruth hit home runs for Grey Flannel Auctions at its just concluded Summer Games auction. All of the autographs and game-used bats were PSA/DNA certified. Gehrig's bat used in the 1932 World Series, in which he hit .529, sold for $169,050. He hit three homers in the four game sweep of the Cubs. Ruth's game-used Hillerich & Bradsby bat, used circa 1928-30, sold for $109,179.
GFA CEO Howard Rosenkrantz toasted the auction house's six-figure sales of both Louisville Sluggers. "We were very fortunate to have the opportunity to offer our bidders two of the most historically significant bats ever to come to the auction block, and we are extremely pleased with the results."
The two most prominent members of the Yankees "Murderer's Row" of the late 1920s and early '30s also were part of other highly successful auction lots. A circa 1931 Gehrig game-used flannel road jersey fetched a whopping $84,136. A signed photograph of the two Yankee immortals sold for $40,250, and the best of three single-signed Ruth baseballs offered in the auction fetched $41,673. A rare 1934 Demaree die-cut Lou Gehrig card reached $11,250; a 1934 Tour of Japan team ball with Gehrig's and Ruth's names sold for $10,187; and a 1920s mutoscope prominently featuring a rare image of the Sultan of Swat sold for $8,419.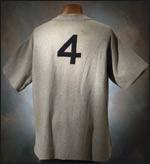 The Grey Flannel auction grossed $1.9 million and sold over 90 percent of its 1,061 lots. Among other noteworthy baseball items were:
A collection of 2003 All-Star Game workout jerseys sold for $28,972;
An Eddie Collins game-used bat sold for $18,521;
A Ted Williams game-worn cap sold for $10,534;
The last first base ever used in Ebbets Field sold for $12,650;
A pair of Mickey Mantle's game-worn pants sold for $10,441;
A pair of Elston Howard World Series rings from 1958 and 1962 sold for $18,113; and
The only golf scorecard in which Mantle scored his only hole-in-one sold for $16,816.
Other baseball highlights were jerseys worn by Barry Bonds ($9,488), Juan Marichal ($9,359), Maury Wills ($7,734), Nolan Ryan ($7,395) and a Greg Maddux Cubs rookie shirt ($6,429). Game bats sold, including those by Roberto Clemente ($9,045), Ernie Banks ($7,590), Stan Musial ($6,231) and Willie Mays $6,123).
A pair of Roger Maris-signed balls sold for $4,631 and $4,210; a Roger Clemens signed ball from his 300th career win sold for $4,870; and a ball signed "Merry Xmas" by Jackie Robinson sold for ($4,023). Game-worn jerseys in all sports are always prominent in Grey Flannel auctions, and the Summer Games 2004 was no exception. A rare jersey worn by Billy Mathis of the AFL's New York Titans brought $7,845; a Joe Namath mesh Jets jersey fetched $9,598; a shirt of the Jets current quarterback Chad Pennington reached $5,566; a Joe Montana rookie era jersey sold for $4,563; a Walter Payton jersey sold for $4,074; a Dan Marino jersey sold for $4,025; and a Larry Csonka gamer sold for $3,827.
Leading basketball items featured a "Pistol" Pete Maravich shooting shirt from LSU for $9,361; a Julius Erving 76ers jersey for $9,261; and a Michael Jordan gamer for $7,132. Hockey items featured a Wayne Gretzky Los Angeles Kings sweater for $5,358; a mini-Stanley Cup from the '85-'86 Montreal Canadiens for $3,738; and game-used jerseys of Mario Lemieux ($4,925) and Brett Hull ($2,410).
Muhammad Ali items dominated the sale's boxing section, led by a full ticket to the Ali vs. Frazier "Thrilla in Manilla," which sold for $3,058, and an ensemble of signed Ali items, including a robe, trunks, gloves and photo, for $2,646.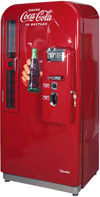 Grey Flannel continued to improve its presence in the Americana arena. An extremely rare and uncirculated $10,000 bill led the way with a winning bid of $69,575. A $1,000 bill brought $4,511; Bob Gibson's 1956 vintage Ford Thunderbird sold for $37,950. An autographed composer/artist book and a signed letter from Paul McCartney sold for $4,160 and $3,450, respectively. A free-franked envelope signed by President Abraham Lincoln sold for $4,313. A "Saturday Night Fever" record cover signed by the Bee Gees drew $4,265, and a quartet of vintage Coca-Cola vending machines sold for $18,478.
"We are happy with our position as a leader in the memorabilia auction business, due to the quality items we are able to offer our bidders and with the prices we realize for our consignors each and every auction," Rosenkrantz said. Grey Flannel Auctions currently is welcoming consignments and seeking purchases for its next auction, the "Fall Classic 2004" sale.