t the dawn of the 2003 baseball season, as the New York Yankees were unleashing what they hoped to be the monstrous power of Godzilla (aka: Hideki Matsui), Sports Market Report checked in with three diehard Yankees fans for their feelings on the Japanese import. Staten Islanders, Mickey D, his younger brother Angelo, and their longtime friend, Little Jimmy, have since become SMR's "go-to guys" when it comes to getting a read on what Yankee fans think of front office decisions and on-field demonstrations.
During the winter of 2004, the Yankees made big news by snagging Alex Rodriguez away from the Boston Red Sox, who came close to scooping up the American League's reigning MVP from the Texas Rangers.
We thought, in the wake of the Yankees acquisition of A-Rod, that it would be interesting to tag along with Mickey D, Angelo and Little Jimmy on April 8 as they made their way to "The House That Ruth Built" for the Yankees 2004 home opener against the Chicago White Sox.
We met up with the trio at Mickey D's house, where in his sport's den basement, they polished off a few pre-game "garbage pies" (pizzas topped with "the works") and washed them down with a case of beer. This is the same room, where for the past three decades, they have debated, argued, prognosticated, celebrated and licked their wounds over actions by the Yankees ownership, management and players. Obviously still reeling over being denied a World Championship by the Florida Marlins in last year's World Series, Mickey D, Angelo and Little Jimmy seemed to be in harmony with one another in regards to their feelings about Rodriguez.
"A-Rod is pure skill on the field," Mickey D opined, as we made our way out to the stadium. "And, he's got the power at the plate. So there ya have it, the magical combination that every player wants to possess – brilliance on the field and power at the plate."
"No doubt about it," Little Jimmy chimed in. "This guy has the ability to completely change the dynamic of a game, both offensively and defensively. It doesn't matter whether he's wearin' a fielder's glove or a hitting glove, he can make something dramatic happen by simply bein' in the game."
"Getting Rodriguez is one of those things that everyone agrees upon as being a great thing for the Yankees," Angelo added. "And of course grabbing him away from those Beantown Boys (the Red Sox) made it all the more beautiful."
It's rare that these three agree on more than their brand of beer, and that a pizza isn't worth eating if it's not covered with a few pounds of toppings. But, when it comes to a talent like Alex Rodriguez, it's hard to find a downside argument.
Although he spent his youth in the Dominican Republic and Miami, Alexander Emmanuel Rodriguez is in fact a native New Yorker. The third child of Lourdes and Victor Rodriguez, Alex was born in the Big Apple on July 27, 1975. Shortly after his birth, the family then packed up and returned to his parent's native land in the West Indies. Young Alex's life in the Dominican Republic was as short-lived as his time in New York, and before he was of an age where he was conscientiously aware of his surroundings, the family had made a third move to Miami.
Growing up in south Florida, Alex showed an early interest in sports, and as the years went by, he became especially attracted to basketball and baseball and found early heroes in Michael Jordan and Cal Ripken Jr. While basketball continued to be of great interest to him throughout his youth, by the time he reached high school, it was evident that his true passion and skill was to be found on the diamond rather than the court.
It was also early on in Alex's high school career that pro scouts began to take notice of him. That notice led to outright desire after his Westminster Christian Academy team was named National Champions by both Baseball America and the National High School Baseball Coaches Association. As Alex's high school graduation approached, the professional scouts also drew neigh. Ultimately, it would be the Seattle Mariners who scooped up Alex as the first overall choice in the '94 Draft.
Outfitted as a Mariner for the 1995 season, the 18 year-old Alex was one of the youngest players in the major league ranks. In the 48 games he played during his inaugural season, his .264 batting average and fielding prowess was so impressive that, the next year, he was awarded the starting shortstop position.
By 1996, Alex was primed for a breakout season and by batting .358 with 36 homers and 123 RBIs, there was no surprise when he was an MVP runner-up. The following season, with expectations riding high that his dazzling fieldwork and batting power would continue, Alex stumbled a bit. He was only able to hit 23 home runs and drive in 84 runs – a disappointing performance that culminated in a bit of redemption when he batted an impressive .358 during the Mariners 4 post-season game appearances.
The 1997 season was also one in which Alex ingratiated himself to the City of Seattle off the field by establishing a foundation known as Grand Slam for Kids that encouraged academic excellence, physical fitness programs and good citizenship.
The 1998 and 1999 campaigns saw Alex back in the groove as he hit 40 homers and over 100 RBIs in each season. That time also saw him garner the record for most home runs by a shortstop, two Silver Slugging awards, and the title of American League Player of the Year. What it did not see him garner was the opportunity to play in one post-season game.
By the turn of the century, A-Rod, as he was now known, had become a Seattle favorite with both fans and the media. Still, despite his popularity, another 40 homers, over 100 RBIs, and post-season play that left the Mariners one series short of a shot at the World Championship, 2000 would end with Rodriguez becoming a free agent when he and the Mariners were unable to come to terms and consummate a new contract.
During that off-season, A-Rod was heavily courted by several franchises. With big money the lure, he ultimately left the Evergreen State for the Lone Star State, as the Texas Rangers ponied up the richest contract ever offered in professional sports: A ten year deal that was worth over $252 million dollars.
Both Rangers owner Tom Hicks and A-Rod himself sparked a highly debated controversy when sportswriters throughout Texas weighed in on the huge payout. Rodriguez did his best to avoid the controversy, but Hicks took the press on saying that A-Rod was a "guarantee" that by the end of the 2001 season, the Rangers would be playing post-season ball.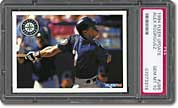 Hicks was both right and wrong in making such a guarantee. Although the contract controversy seemed to overshadow his performance, A-Rod's cold hard stats for the 2001 season were nothing less than stellar. But, despite sending 52 balls out of the park and chalking up 135 RBIs, at the end of the day (and the regular season), it became crystal clear that post-season play comes only to teams that are "teams" rather than ball clubs with just one outstanding player. At the end of the Rangers dismal 2001 showing, Hicks may have been somewhat exonerated by touting A-Rod's stats, but he was ridiculed for his guarantee due to his team's overall performance, which was nothing less than embarrassing.
During the off-season and into the 2003 campaign, A-Rod's paycheck continued to be a story that the press could not get beyond. Little or nothing appeared to be done to correct both the perception and the reality that the Rangers were a hapless team who had placed all of their chips on one star player. By mid-season, fans and even other Rangers players began getting edgy as the press continued to harp on Hicks' belief that, with A-Rod alone, a World Series trophy could be bought. Still, despite a less-than-impressive showing by the Rangers, mounting controversy, and a hoard of rumors that Hicks was shopping Rodriguez to other clubs, A-Rod stayed the course and was named the American League's MVP.
As the calendar rolled over to January of 2004, the rumors that Rodriguez trade talks were taking place with the Boston Red Sox, were ultimately squashed when it was reported that the deal points of a $252 million dollar deal had become too complex for anyone to figure out. In the wake of the failed deal with Boston, it was reported that the Rangers had moved on, attempting to strike a deal with other franchises. By the end of that January, A-Rod, who in a weird twist had been ceremoniously named the Rangers Team Captain, contacted Baseball Commissioner Bud Selig, to solicit his help in facilitating a trade that would get him out of Texas.
While the A-Rod controversy continued to brew, New York Yankees owner George Steinbrenner and Manager Joe Torre were contemplating how they would cover third base, following Aaron Boone's injury. When their thoughts turned to Rodriguez, Steinbrenner began working on a deal that would ultimately consist of second baseman Alfonso Soriano and another player for A-Rod – a true sweetheart of a deal for ol' George, who, on Valentine's Day, in an unprecedented move, also got the Rangers to part with $67 million dollars in up-front cash, to satisfy the existing contract they had with Rodriguez.
Arriving at Yankee Stadium, Mickey D, Angelo and Little Jimmy joined 55,290 other fans that wanted to be on hand for A-Rod's debut in pinstripes as the Bronx Bomber's kicked off their 2004 season.
A standing ovation accompanied A-Rod's first appearance on the field – an appearance that, by the end of the game, would delight Yankee fans as Rodriguez and another newcomer, pitcher Javier Vasquez, would help the home team chalk up their seventh straight home opener victory.
While he did score a run, Rodriguez's assistance in the 3-1 win over the White Sox wasn't exactly breathtaking. As he made his way to the plate for the first time, the theme song from the movie The Natural played. Before entering the batters box, he paused for a second, perhaps allowing himself the luxury of taking in the experience. Once in the box, he drew a walk from Scott Schoeneweis and then scored on catcher Jorge Posada's sacrifice fly.
Still, despite a less than memorable start, his presence alone stole the thunder of what was an impressive first outing for Vasquez. Vasquez would later comment that he had been suffering a case of the jitters, and was rather happy to be operating under the radar screen that was so attuned to A-Rod. Telling reporters that he had encountered problems getting to the stadium and had to show his identification card to get in, he went on to talk more about Rodriguez than himself. "He's the best player in the big leagues," Vasquez told the press. "Everybody should (be) talking about him."
As for A-Rod's first home game as a Yankee, he arrived early via a taxi service saying he doesn't like to drive and wasn't too sure if he could find Yankee Stadium on his own. He also said he had not slept well the night before. "This whole month, this last 45 days of my life has been pretty incredible," he told reporters following the game. "It's hard to describe. You just feel blessed and honored to be wearing this uniform and representing the whole city of New York. It was pretty emotional."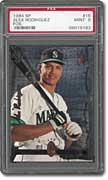 Back in the bleachers, Mickey D, Angelo and Little Jimmy were calling the home opener win the first of many to come.
"Everybody knows the Yankees are a better team than the Marlins," said Little Jimmy. "They just got lucky last year."
As for the trio's post-game weigh-in on A-Rod, they were in agreement that he will be a big part of the Yankees being crowned World Champs come October. "I'm thrilled that we got him," said Angelo. "But he won't be the standout star with the Yankees that he was with the Rangers. Here he's on a team filled with stars."
Mickey D agreed. "What do you think, with guys like Derek Jeter were going to get all crazy because we got another star player," said Mickey D. "Where used to stars here."
Along with his reputation as a guy who has honed his raw talent by adhering to a dedication to the work ethic, A-Rod is also known to be a nice guy who will spend time signing autographs for fans. He has always found favor with the media and it's rare that you see him being interviewed when he doesn't have a pleasant smile on his face.
He is also genuinely liked by other players, who admire him for his humbleness and for not taking himself too seriously, despite his staggering salary. He earned that reputation in the 2001 All-Star Game when he got the chance to play with his boyhood hero Cal Ripken Jr. He insisted that Ripken (in what would be his last All-Star Game appearance) play the shortstop position while he moved over to third base.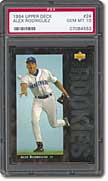 "It's that kind of a thing that makes him an idol to young kids," said Little Jimmy as we made our way to the Yankee Stadium parking lot. "New Yorkers will love this guy."
"Oh yeah. I agree with that," said Angelo as we piled into Mickey D's car. "He was born to be a Yankee."
Mickey D flipped on the radio to catch the post-game show and we all sat quietly listening till there was a commercial break. "It's going to be a great year," Little Jimmy proclaimed from the back seat to unanimous nods. "Hey," he quickly added before the nodding stopped. "Anybody up for a garbage pie?"
A fan favorite from the beginning, the chances are good that A-Rod is well on his way to a career that will end in Cooperstown. That said, now is the time to secure the A-Rod card that will promise to be the most desirable as the years go by. The 1994 Upper Deck SP #15 is A-Rod's most popular rookie offering. The card, which is very susceptible to chipping and corner wear, is actually quite tough to obtain in the PSA Gem Mint 10 grade. Currently available in a price range that is affordable to most collectors; this is a card that no serious collector should be without.