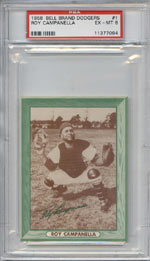 Depending on which coast you were from, the 1958 baseball season was filled with mixed emotions. Motivated by politics and fueled by a baseball-starved city, it marked the first year that the famed Brooklyn Dodgers set up residence in Los Angeles. In an effort to commemorate the move and increase excitement amongst the fans, some Southern California companies issued regional baseball card sets. One of the most popular sets with collectors from this era is the Dodgers Bell Brand collection.
Bell Brand baseball cards derived their name from the free card offered inside select Bell Brand potato chips and corn chips. Beginning in 1958 and ending in 1962, the plastic wrapped cards were loosely placed inside both 29-cent and 49-cent packages. During this period not only were baseball cards part of the giveaway, they also included football and non-sports cards.
From the beginning, these cards were plagued with oddities and problems, but these still do not deter eager collectors from trying to complete their sets. Don't be fooled by the small volume needed for completion; individual cards are hard to come by and quality sets can take several years to assemble.
The 1958 cards offer many challenges for the advanced collector. They are oversized, measuring approximately 3" by 4", have tough green borders, contain several short prints, and have a less than desirable paper stock. To add to the challenge, the cards did not prove to be very popular and, according to reports, were pulled from production and subsequently destroyed. The ten-card set is not without some of baseball's best; it is packed with stars and Hall of Fame members including Pee Wee Reese, Duke Snider, Roy Campanella, Gil Hodges, and early cards of both Don Drysdale and Sandy Koufax. Interestingly, Roy Campenella never officially played in a Los Angeles uniform.
The new Los Angeles team was not cursed with a sophomore jinx. The 1959 season brought a new allure to the Dodgers and the City of Angeles. Not only did they win the pennant but they also went on to capture the World Series title. Ironically, Bell Brand chips, with its seemingly unsuccessful campaign the previous year, did not issue any cards from that season. It remains to this day one of the great sets that simply was not meant to be.
Jumping on the popularity of the championship Dodger team, Bell Brand decided to reissue the cards with a fresh new look. They set out early in the 1960 season and took photographs of the players at the Vero Beach, FL, spring training facility. This gave the Bell Brand company an opportunity to offer the cards in their potato chip bags before it was too late in the season. The result was a 20-card set featuring popular Dodger players of the time with three of them being short prints. This new design was an obvious improvement that appealed to the fans. The cards were printed with a white border measuring approximately 2 1/2" by 3 1/2". The pictures were now in color as opposed to the 1958 black and white photos. With a little help from the star-studded lineup and a World Series title, Bell Brand cards became quite popular.
Once again in 1961, Bell Brand issued a 20-card set of Dodger players with photos taken during spring training. Not wanting to mess with success, the company kept the cards looking relatively the same, with only slight variations. Each card was printed on thinner paper stock than the previous year and was slightly smaller in size, measuring 2 7/16" by 3 ½". Instead of sequentially numbering each card, as was the common practice with most companies, Bell Brand numbered each card to coordinate with the player's uniform. This makes it very confusing when trying to complete a set, since several numbers appear to be missing.
The final year of production for the Bell Brand baseball cards came in 1962. Keeping with tradition, the cards looked similar to the years past. The exception was that the cards were printed on high quality glossy paper with seemingly higher resolution pictures. This paper quality was better at repelling stains and therefore made for a more attractive set. Collectors were again troubled by the odd numbering system that matched the card number with the player's uniform. The three years look so identical that one of the only ways to tell which year a card was issued is by looking at the team schedule on the reverse side.
As you can imagine, these cards are frequently seen with multiple stains. Heavy grease from the chips quickly soaked through the wrapper and onto the cardboard surface. It is a common occurrence to see cards that have sharp corners and perfect centering but that possess brown stains that lessen the appeal, especially when set against a white background. These problems certainly have an effect on the overall grading process. Today, even if a collector is lucky enough to have a card still sealed in the original clear wrapper, staining is still prevalent. This, coupled with the fact that there are centering issues and that many cards from this era were well played with and often discarded, makes it a very difficult venture to put together a high grade set.
Bell Brand cards in PSA 8 and above are very rare and are seldom seen or offered. Many of these cards are held in private collections by fans loyal to the Dodger team. As of this date, there have only been 9 cards in the entire four-year production that have been placed in a PSA 9 holder, with no card yet achieving the elite status of PSA Gem Mint 10. It is not surprising that of the four years, the highest graded complete set so far only has 7.39 grade points. You can pay little attention to the book value when trying to obtain one of these high-grade cards. If and when a quality cards come up for sale or auction, they almost always command a price significantly higher than the listed value based on their great rarity.
The Dodgers Bell Brand baseball cards have become very popular within the past few years. Investors and collectors have noticed the values steadily increasing and recognize their potential as quality investment pieces. With any luck, the trend will continue and these previously rather obscure cards will be placed alongside some of the great sets in the hobby.