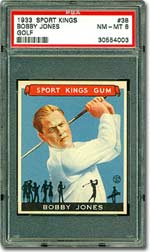 Laguna Niguel, CA - On the heels of its recent estate-fresh offerings from the likes of Honus Wagner, Tony Lazzeri, and Bob Cousy, SportsCards Plus continued its incredibly successful track record of bringing forth top-tier Hall of Fame player collections with their recent offering of "The Ralph Kiner Collection." The collection, offered on behalf of Kiner himself, accounted for 50 of the 459 lots in the recently concluded May 27th auction, which totaled more than $1.2 million in sales.
Among the collection were a variety of Awards, Autographed Items, Contracts, Original Photographs, Documents, and other Personal Effects representing Ralph Kiner's 60-plus years in baseball. Collectors were treated to Kiner's to a broad range of artifacts spanning from his minor league days, to his prolific seasons in Pittsburgh, to his decades of service as a broadcaster for the New York Mets. Some of the highlights from the collection include; Kiner's Retired #4 From The Original Forbes Field Scoreboard Presented to Him by The Pirates ($4,801), his New York Mets 2000 NL Championship Ring ($9,610), Ralph Kiner's Oversized Career Photo Album ($2,910), a Ty Cobb 2 Page Hand Written Letter to Kiner ($4,364), his 1975 Hall of Fame Induction Louisville Slugger Award ($1,988), Kiner's 1951 All-Star Game Program Signed by (27) NL Teammates ($4,260), and his 1950 Major League Home Run King Trophy ($2,240).
As usual, SportsCards Plus presented a power-packed selection of vintage cards, including graded singles and sets. The impressive array of cards drew heavy bidding, including the following high-grade gems: 1909-11 T206 Cy Young (Bare Hand) PSA 9 MINT ($26,482), 1915 Cracker Jack #57 Walter Johnson PSA 9 MINT ($34,703), 1915 Cracker Jack #103 Joe Jackson PSA 8 NM-MT ($34,402), 1933 Goudey #10 Glenn Myatt PSA 8 NM-MT ($6,633), 1933 Goudey #149 Babe Ruth PSA 8 NM-MT ($35,206), 1933 Sport Kings #38 Bobby Jones PSA 8 NM-MT ($15,990), 1953 Topps #25 Ray Boone PSA 9 MINT ($3,430), 1955 Topps #106 Frank Sullivan PSA 9 MINT ($4,413), 1955 Topps #123 Sandy Koufax PSA 9 MINT ($15,850), 1955 Topps #178 Bobby Adams PSA 9 MINT ($6,461), 1955 Topps #206 Pete Daley PSA 9 MINT ($6,461), 1957 Topps #20 Hank Aaron PSA 9 MINT ($4,365), 1957 Topps #24 Bill Mazeroski PSA 9 MINT ($2,557), 1957 Topps #328 Brooks Robinson RC PSA 9 MINT ($4,925), 1969 Topps #480 Tom Seaver PSA 9 MINT ($3,015), and a 1971 Topps #570 Jim Palmer PSA 10 GEM MINT ($2,492).
A fine assemblage of quality Pre & Post-War Sets and Card Lots saw heated competition including: The Finest PSA Graded 1904 Fan Craze A.L. Complete Set of 51 w/Gameboard ($15,882), 1911 T205 Complete Master Set - Minus Hoblitzell ($12,633), 1934-36 Diamond Star Complete Graded Set ($7,458), A steady run of Topps and Bowman Sets from the 1950s and 1960s performed quite well, highlighted by a 1952 Topps Completely Graded Near Set ($53,813), 1959 Topps Partial Set of (342) PSA Graded 8 NM-MT incl. HoFers ($13,558), 1968 Topps Complete Set Graded Entirely PSA 8 NM-MT ($13,126), and a 1986 Fleer Basketball Complete Set Graded Entirely PSA 9 MINT ($8,725).
Complimenting the card portion of the auction was a well-balanced offering of memorabilia covering a variety of categories and multiple sports. Collectors responded eagerly to the diverse selection which included: a scarce Lou Gehrig Single Signed Baseball ($7,941), a Rare Jackie Robinson & Roy Campanella Signed Barnstorming Scorecard ($4,801), a Scarce Mickey Mantle/Roger Maris Signed Limited Edition Bat - #65/115 ($7,210), and a NBA 50 Greatest Players Signed Lithograph ($50,007). Other rarities that performed exceptionally well included a 1888 Buchner Gold Coin Advertising Poster ($35,489), and the finest known Complete Run of PSA Graded Original Unused (Full) Super Bowl Tickets ever offered at auction ($56,504).
SportsCards Plus also teamed up with the Los Angeles Lakers to help raise money for The Lakers Youth Foundation. SCP lent their services to auction off a Team Set of Game Worn "Throwback" Uniforms and Warm-Up Suits used on April 11, 2002, when the Los Angeles Lakers paid homage to their predecessors, the Minneapolis Lakers. These custom-made Nike "retro" uniforms are designed similar to those of the Minneapolis team that won the NBA Finals in 1951-52. Each player's uniform and warm-up suit was sold individually, raising over $40,000 for the Foundation, headlined by those of Shaquille O'Neal ($13,702) and Kobe Bryant ($10,294).
The tremendous results of this auction give SportsCards Plus tremendous momentum as they gear up for their much anticipated October 4th, 2004 auction event set to be held live at New York City's Marriott Marquis. This celebration of America's National Pastime will include some of the most historically significant Baseball memorabilia items in the world with a specific emphasis on items related to the history of "Baseball in New York." At the forefront of this unprecedented Auction Event will be the offering of what has been dubbed the "Holy Grail" of sports memorabilia, Babe Ruth's Signed Bat that he used to hit the First Home Run in Yankee Stadium on its Grand Opening in 1923. The Auction will also feature the personal memorabilia collection of Legendary Brooklyn Dodger Hall of Famer Pee Wee Reese, as well as a phenomenal array of items from other greats of the game including game worn jerseys, bats, gloves, autographed pieces, rings, awards, photos, programs, documents, and more. SportsCards Plus is currently seeking additional high-end consignments for this once-in-a-lifetime event. For more information visit SportsCards Plus online at www.sportscardsplus.com or call 1-800-350-2273.