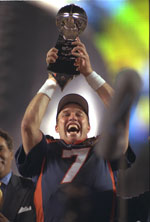 It's an annual ritual for the thirty-nine men who serve as the Pro Football's Hall of Fame Board of Selectors. Every year, right after the NFL season culminates, they are charged with the task of selecting new enshrinees. The Board consists of one media representative from each pro football city with two from New York, being as that the Big Apple has two teams in the National Football League (although, they both actually play in New Jersey). A 33rd member is a representative of the Pro Football Writers of America and there are six at-large delegates.
With the exception of the PFWA representative who is appointed for a two-year term, all appointments are of the open-end variety and can be terminated only by retirement or resignation, as long as the member continues to attend meetings regularly.
The Board of Selectors meets annually at the time of the Super Bowl to elect new members. There is no set number for any class of enshrinees but, the Board's current ground rules do stipulate that between three and six new members will be selected each year. The 1973 and 1976 classes of three were the smallest ever named.
Every candidate is carefully scrutinized and must receive at least 80 percent approval of the Board at the annual meeting before he can be elected. A scale of negative votes for elimination that vary depending on the number of Selectors in attendance is used.
When the Selectors met in Houston this past January to name the Class of 2004, they were provided with a roster of fifteen semi-final candidates, along with detailed biographies on each. To assure that older players will be considered along with the younger breed, the Seniors Committee, made up of nine veteran members of the overall Selection Committee, named two nominees from the pre-1979 era to be included on the final list.
The other finalists were survivors from a preliminary list of between sixty and seventy candidates that the Board had screened by mail ballot and had been provided by fans.
Any fan may nominate any qualified person who has been connected with pro football in any capacity, simply by writing to the Pro Football Hall of Fame. The only restriction is that a player must have been retired at least five years before he can be considered. For example, a candidate for the 2004 class must have concluded his career not later than the 1998 season.
For a non-player, there is no mandatory retirement period, but a coach must be retired before he may be considered. Every nomination received is processed and forwarded to the Board of Selectors.
It is important to emphasize that the Hall of Fame itself has no say whatsoever as to who is or is not elected to membership. The only function of the staff is to process the nominations as they arrive and to coordinate the annual meeting.
As always, this selection proves to be a difficult process. After many agonizing hours, the Selectors Board had whittled their choices down to six, having eliminated such luminaries as the Dallas Cowboys safety Cliff Harris; tackle Rayfield Wright; and receiver, the late Bob Hayes; Raiders cornerback Lester Hayes, Washington Redskins wide receiver Art Monk; Denver Broncos tackle Gary Zimmerman; New York Giants General Manager George Young; Miami Dolphins guard Bob Kuechenberg; Chicago Bears defensive end Richard Dent and New York Giants linebacker Harry Carson.
When it was all said and done, it was decided that four men would be granted entrance into the hallowed halls of Canton -- Los Angeles Ram tackle Bob Brown, Minnesota Vikings defensive end Carl Eller, Denver Broncos quarterback John Elway, and Detroit Lions running back Barry Sanders.
Brown, the first round pick of the Philadelphia Eagles in 1964, earned All-NFL honors in seven of his 10 seasons with the Eagles, Oakland Raiders, and Los Angeles Rams. The punishing lineman was also chosen to play in six Pro Bowls.
Eller, a key element of the Minnesota Vikings' "Purple People Eaters" defense, played all but one of his 16 seasons with Minnesota. In all, he played in 225 games and earned first- or second-team honors every year from 1967 to 1973. He also was named to six Pro Bowls.
Elway, the first overall pick of the 1983 NFL Draft, played 16 seasons with the Denver Broncos. He is one of two players in NFL history to pass for more than 50,000 yards in a career. A master of fourth-quarter comebacks, Elway capped his career by earning Most Valuable Player honors in Super Bowl XXXIII.
Sanders, one of the NFL's most electrifying runners, was the first player ever to rush for 1,000 yards in each of his first 10 seasons. Named first or second-team All-NFL in each of his 10 years with the Detroit Lions, he rushed for 15,269 yards and scored 99 touchdowns during his career.
The 2004 class will increase the number of all-time greats permanently honored in the Pro Football Hall of Fame to 225. Formal enshrinement ceremonies will be held in Canton, home of the Pro Football Hall of Fame, on Sunday, August 8, 2004.
With Hall of Fame contention heavily looming with Elway, Eller, Brown and Sanders, their rookie cards have already proven to be important. Now that enshrinement is a done deal, they will only continue to increase in desirability and value.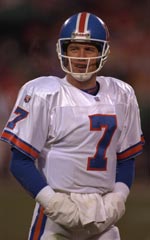 The 1984 Topps # 63 is Elway's most desirable card. While it is not an overly tough card to find in high grades, there are a glut of them that suffer major condition problems. The card is known to have serious print defects such as a "snowing" effect, that appears as white print spots that are sprinkled over the image. Centering has also been an issue with this card, and in some cases, has been the only thing that has prevented an otherwise perfect card from reaching a Gem Mint distinction. The card is also known to have a problem with staining. It's hard to believe that staining was still a problem as recently as the 1980s, but wax and gum have in fact both taken their toll on this card. It is for those reasons that this card, which can be found relatively easily in NM-MT, is elusive and desirable as a Gem Mint. Collectors should also be extremely cautious when considering the purchase of this card. It is one of the most widely counterfeited cards in the hobby, with some of the fakes passable enough to fool anyone other than a savvy expert.
While Pro and Topps both produced Barry Sanders rookie cards, it is the 1989 Score #257 Barry Sanders card that has become the key rookie offering for this man who largely dominated the running game during his career. The two major condition concerns with this card are poor centering and chipping. With its green borders that allow any little bit of wear to be noticeable, chipping is the biggest culprit in preventing this card from reaching Gem Mint status. The left-to-right centering is also a contributing factor that should be carefully looked at when considering this card.
The rookie offerings for both Eller and Brown are fairly common finds, even in high grades. And, while HOF inclusion was always a good bet for both of these men, desire for their cards has never been great.