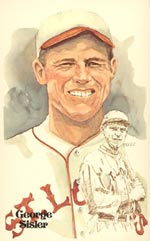 "George was a great first baseman and a great hitter, but he was too quiet and clean living to win headlines." - Hall of Fame Second Baseman Eddie Collins

"I'd say that he was the smartest player that ever lived." - Branch Rickey
From the small Ohio town of Nimislia, near Manchester, George Harold was born on March 24, 1893, to Mr. and Mrs. Cassius Sisler. Both parents, of Swiss and English descent, respectively, were alumni of Hiram College. His father supervised a coal mine and his uncle served as mayor of the city of Akron.
A fourteen-year-old child prodigy, George moved to Akron to play for their Central High School baseball team (Nimislia's program did not offer the team sport). His dominant pitching did not go without notice and by seventeen, he signed a professional contract to report upon graduation, with the local team of the Class C Ohio-Pennsylvania League. At his father's urging, he reneged on the agreement and enrolled at the University of Michigan to study engineering instead.
Branch Rickey, who doubled as a St. Louis Browns scout after abandoning a floundering law career, was Sisler's undergraduate college head coach. The two remained close throughout their lives.
Although no compensation changed hands, Akron considered George their property, who by now was considered the best college player in the land. Realizing the value of their commodity, Sisler's unfulfilled contract was sold to their major league affiliate, through Columbus, the Pittsburgh Pirates. Rickey, soon to manage the Browns with his own interests in mind, counseled the Sisler family to appeal to the major league's National Commission. After much deliberation, the governing body voted in favor of voiding the contract Sisler signed as a minor. Their unpopular four-year decision with team brass was the first chink in the armor that eventually led to the commission's demise. Sisler was now a graduate, with a mechanical engineering degree from the Ann Arbor collegiate institution. The Browns signed the heavily anticipated star to a $400 a month salary and a $5,000 bonus, despite overtures from the cash-waving Federal League.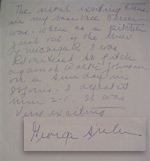 Handwritten Letter Signed (ALS)
Bypassing the minor leagues, the southpaw immediately found himself facing (and winning twice) his boyhood hero, Walter Johnson, in 1915. Their first outing proved to be Sisler's proudest moment, outdoing the "Big Train" 2-1. The 5'10 ½", slim framed, 170 lb. lefty also showed remarkable potential at bat, playing the outfield and first base on days off the mound. Rickey's lackluster squad needed an everyday punch, and Sisler was converted into what may have been the finest fielding first sacker in the history of the game. "In the field, he was a picture player, the acme of grace and fluency," said Branch Rickey. Sisler also responded by hitting .305 his first full season.
In fifteen years of major league service, his lifetime batting average of .340 was amazingly consistent, only dipping below the .300 mark twice! Sisler holds the major league single season hit record with 257, typically choking up and using a 42-ounce bat. On the base paths, his speed and judgment accounted for 375 stolen bases, leading the league four times. The squinty-eyed, square-jawed batsman struck out only 327 times in 8,267 official at bats!
On a couple of occasions, the gentleman was known to lose his otherwise even temper. He decked Browns pitcher Bob Groom for mercilessly criticizing him for failing to pull down a high throw and hit umpire George Hildebrand with his glove, resulting in a brief suspension.
His 2,812 hits were curtailed because of a career debilitating ocular disease. Blessed with an incredibly keen batting eye, "Sis" missed the entire 1923 campaign from a severe sinusitis, caused by an optical nerve infection that resulted in double vision. This all came at the heels of his finest season, in which he was awarded the MVP. A 41-game hitting streak was the league's record that remained intact until DiMaggio surpassed it in 1941 with 56. The year prior, he hit .420 (he also hit .407 in 1920) with 246 hits, and his squad just missed the American league pennant by a single game. The 1922 season was the closest Sisler ever came to playing in a World Series. "He single-handedly led us down to the wire in the pennant race that year," Rickey said.
After the 1921 season, he managed the Vernon team of the California Winter League. He remarked at the time, "It gave me an insight into baseball from a manager's point of view... however, I have no ambitions to be a manager." His vision never fully recovered to its former acuity and he was asked to manage in addition to his playing duties from 1924 to 1926. These were solid years for his personal statistics; however, the team remained non-contenders. "Gorgeous George," dubbed by sportswriters, gladly relinquished the managerial reigns to Dan Howley in 1927 and turned in a .327 batting performance with the Browns that year.
In a surprise move, the greatest player in Browns history was sold to Washington on December 14, 1927, for $25,000. After twenty games in 1928, he was sold for a measly $7,500 to the National League Boston Braves, where he hit .331, .326 and .309 respectively through 1930. The final year he also doubled as a player/coach.
For the first time in his career, he wandered into the minor leagues, joining the Rochester club of the International League in 1931. The 38-year old first baseman batted .303 in 159 games. Sisler returned to player/manager in 1932 with the Shreveport Oilers of the Texas league in 70 games and batted .287. A fire burned their park midseason, and the club had to relocate to Tyler, Texas.
For the next ten years, he distanced himself from the majors. A St. Louis printing company (he also worked there) and then the Sisler Sporting Goods Co., paid him royalties for the use of his name. Lighting was installed in softball parks that he operated before the major leagues accepted the innovation. He was also named commissioner of the National Baseball Congress, a countrywide semipro organization.
General Manager Rickey located his old friend and made him a scout from 1943 to 1950 for the Brooklyn Dodgers. Then, they moved together to Pittsburgh in 1951, functioning in their same capacities until 1956. Sisler continued on and became a special hitting instructor for the Bucs, retiring in 1972. In 1960, Sisler provided his skills as the batting coach for the World Champion Pirates at Forbes Field.
George married his college sweetheart, Kathleen Holznagle of Detroit, in 1916. They made their home at 6343 Pershing Avenue in St. Louis, MO. They had three sons and one daughter. All three boys played professional baseball, Dick and Dave at the major league level. George, Jr. played in the minors, later becoming president of the International League.
In 1939, the Baseball Writers Association of America cast 235 votes for Sisler (#25) to the Baseball Hall of Fame, in their fourth year of voting. He was in attendance on June 12 of that year, with the ten other living inductees in the Hall's inaugural induction ceremony. On other occasions, (1959, 1963 and 1964) he made the Cooperstown sojourn to honor the new enshrinees. Declining in health during his final years, he died of a heart attack on March 26, 1973, in Richmond Heights, Missouri. He was laid to rest at Des Peres Presbyterian Church Cemetery in Frontenac, MO.

1953 U.S. Government postcard
Commonly signing simply "George Sisler," his autograph basically evolved little over time. With the noticeable exceptions of the overall increase in size with age, and the capital "S" changing to a large lower case model sometime after his playing career ended. Nevertheless, the basically upright, almost squared legible formation remains distinctly dissimilar to others from his era. The "G" rises from the baseline to shape an ascender loop which bellies its arc upward, retraced, and downward to create an eyelet that may or not be closed. At times, he may retrace the terminal stroke, especially when not using it as a connector stroke. A filled-in loop, lower case "e" followed by an open top "o" and an "r" that resembled an unpunctuated "i".
In earlier years, the "r" was slightly more defined and might connect into the "g" but otherwise a break halted the movement. The closed-loop "g" isolated itself from the subsequent downsized "e" but would generally overlap with its adjacent letters, except towards the end of his life. A single vertical line dropped below the baseline that may on occasion kick back like a "q". Continuing with his manuscript of conviction is the oversized lower case "s" that would substitute the capital version of earlier times. Within the unbroken construction, a retraced terminal stroke may stray, falling downward, creating a slight eyelet.
Another break occurs with a conspicuous distance between the next letter "i". Here, he would start deep beneath the baseline to form an enlarged "i" with an unconscious dash favoring right. Smaller than the preceding lower case figure pursues the elevated "s" that tended to have an open eyelet prior but retraced the movement and hollows. A conventional "l" leans towards right but like the "e" becomes closed in with typical age characteristics.
Finally, the "r" evolved from a "y"-like shaping including slight flourish to a garland-style "i"-like formation or simply a puny pointed bump that fades right. On checks, he would employ his two-part middle initial "H" that would intertwine on the right side, spaced apart from the original single-hooked stroke to the left. When confined to a small signing target such as a baseball card, it was not uncommon for him to stack and slant his autograph.
George Sisler was a terrific signer through the mail and in person. He was not known to have a ghost signer and I have never seen the application of a rubber stamp. Items exist in various degrees of supply, ranging from the abundant versatile index card ($75) to the rarely seen single-signed baseball (starting at $3000 for a "7"grade).
There are several different autographed baseball cards that were commonly signed, especially the 1960 and 1961 Fleer "Baseball Immortals" issues ($175) or the TCMA reprint issues ($100) of the early 1970s. Postmarked U.S. Government postcards ($125) are gaining interest in the marketplace. Hall of Fame plaque postcards come in four different styles and prices. The original sepia tone made in 1939 is very unusual and even scarcer when signed ($500). Moving down the ladder, black and white Albertype ($350), b/w Artvue ($275) and gold Curteichcolor ($225) are all popular mediums. Rowe postcards ($200) and George Burke ($400) are becoming increasingly uncommon as collectors continue to embrace them.
Handwritten letters ($700 and up depending on content) are especially sought after items. As for canceled checks ($500), collectors have enjoyed an acceptable amount drawn from the Pittsburgh National Bank. One should not fall naïve that the Sisler signature is not free from the deceitful hands of forgers. He is a popular subject, due to his charter induction status and .400 batting marks. Single signed balls, induction multi-signed balls and index cards are all prime targets.