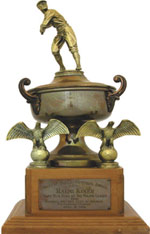 Laguna Niguel, CA - SportsCards Plus is locked and loaded with over 450 lots of top quality Sports Cards and Memorabilia to be offered in their first auction of 2004. On the heels of their recent estate-fresh offerings from the likes of Honus Wagner, Tony Lazzeri, and Bob Cousy, SCP will continue their string of Hall of Fame player collections by bringing forth that of legendary slugger Ralph Kiner. "The Kiner Collection" consists of more than 50 lots being offered on behalf of Kiner himself. Among the collection are a variety of Awards, Autographed Items, Contracts, Original Photographs, Documents, and other Personal Effects gathered throughout his 60 years in baseball. Some of the highlights include Kiner's 1950 Major League Home Run King Trophy, His Retired #4 From The Original Forbes Field Scoreboard Presented to Him by The Pirates, and his New York Mets 2000 NL Championship Ring. According to SportsCards Plus Auction Director Dan Imler, "Ralph Kiner's entire career is represented in this auction by artifacts that span from his minor league days, to his prolific seasons in Pittsburgh, to his decades of service as a broadcaster for the New York Mets."
As usual, SCP has assembled a power-packed selection of vintage cards, including graded singles and sets. The impressive list of single cards includes the following high-grade gems: 1909-11 T206 Cy Young (Bare Hand) PSA 9 MINT, 1911 M116 Sporting Life Christy Mathewson (Pastel) PSA 8 NM-MT, 1915 Cracker Jack #57 Walter Johnson PSA 9 MINT, 1915 Cracker Jack #103 Joe Jackson PSA 8 NM-MT, 1915 M101-5 Sporting News #86 Joe Jackson PSA 8 NM-MT, 1933 Goudey #149 Babe Ruth PSA 8 NM-MT, 1933 Sport Kings #38 Bobby Jones PSA 8 NM-MT, 1948 Leaf #3 Babe Ruth PSA 8 NM-MT, 1953 Topps #220 Satchell Paige PSA 9 MINT, 1955 Bowman #202 Mickey Mantle PSA 10 GEM MINT, 1955 Topps #123 Sandy Koufax PSA 9 MINT, 1957 Topps #20 Hank Aaron PSA 9 MINT, and a 1957 Topps #328 Brooks Robinson RC PSA 9 MINT. A substantial assemblage of quality Pre & Post-War Sets and Card Lots also headed to the block include: The Finest PSA Graded 1904 Fan Craze A.L. Complete Set of 51 w/Gameboard, 1911 T205 Complete Master Set (218 of 219 - Minus Hoblitzell), 1934-36 Diamond Star Complete Graded Set, Ultra-Rare 1936 World Wide Gum PSA Graded Set, and a steady run of Topps and Bowman Sets from the 1950s and 1960s highlighted by a 1952 Topps Completely Graded Near Set (340 of 407), 1953 Topps Complete Graded Set, 1959 Topps Partial Set of (342) PSA Graded 8 NM-MT incl. HoFers, and a 1968 Topps Complete Set Graded Entirely PSA 8 NM-MT.
Rounding out the auction is a well-balanced offering of memorabilia covering a variety of categories and multiple sports. There is something for virtually every collector, starting with some great autographed treasures including a Lou Gehrig Single Signed Baseball, a High Grade Babe Ruth/Lou Gehrig Baseball, a stunning Babe Ruth/Lou Gehrig Signed 10" X 13" Photograph "To Herb Pennock," a Rare Jackie Robinson & Roy Campanella Signed Barnstorming Scorecard, a Scarce Mickey Mantle/Roger Maris Signed Limited Edition Bat (#65/115), and a NBA 50 Greatest Players Signed Lithograph. Other rarities to look for include a phenomenal 1888 Buchner Gold Coin Advertising Poster, and the first Complete Run of PSA Graded Original Unused (Full) Super Bowl Tickets (I-XXXVII) ever offered at auction.
A portion of the auction, dubbed "Friends Of V.J." will include a special selection of memorabilia donated by friends and colleagues of Victor James "V.J." Lovero. Lovero, 44, staff photographer for Sports Illustrated, and team photographer for the Mighty Ducks of Anaheim and Anaheim Angels, died on January 12, 2004 in Newport Beach, CA, after a four-year battle with cancer. Among the dozens of memorabilia items donated to benefit V.J. Lovero's sons John and Jay are Game Used Items, Autographed Pieces, Original Art, and more. Many of the donations came directly from Players and Teams such as Mark McGwire, Eric Gagne, Jim Edmonds, the L.A. Kings, Dallas Mavericks, and San Francisco Giants, in addition to those from fellow photographers and friends. SportsCards Plus is proud to host this benefit auction with 100% of the final bid price for each lot going to The Lovero Children's Trust 2004.
SportsCards Plus has also teamed up with the Los Angeles Lakers to help raise money for The Lakers Youth Foundation. SCP has lent their services to auction off a Team Set of Game Worn "Throwback" Uniforms and Warm-Up Suits used on April 11, 2002, when the Los Angeles Lakers paid homage to their predecessors, the Minneapolis Lakers. These custom-made Nike "retro" uniforms are designed similar to those of the Minneapolis team that won the NBA Finals in 1951-52. Each players uniform and warm-up suit will be sold individually, including those of Shaq and Kobe. Many of the players have autographed these game worn pieces and each will include a letter of authenticity from the Lakers.
All of these items, along with hundreds of other lots of fine memorabilia and cards, will be featured in SportsCards Plus's full color catalog as well as on the company's web site at www.sportscardsplus.com. The auction will be open to registered bidders on May 6th and will culminate on May 27th, 2004. Bids will be accepted by phone or online through the company's real time Internet auction program. Call (800) 350-2273 for more information on how to participate in this extraordinary auction event.