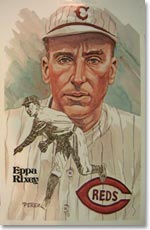 "Eppa was just great. He was great as a pitcher, fielder and competitor. I look on him as the most outstanding player I came in contact with in my entire career." Bubbles Hargrave, former Cincinnati catcher
Just try and find an article chronicling the career of Eppa Rixey without it mentioning the accomplishments of Hall of Fame pitcher Warren Spahn. You see, Spahn broke Rixey's record (266) for winning the most games by a left-handed pitcher (363), but Eppa remains the game's all-time losing southpaw (251). Rixey remarked in 1959, "I'm very glad Spahn broke it. If he hadn't broke it, no one would have known I'd set it." The 6'5", 210 pound Rixey spent his entire 21-year career in the National League, throwing for the Phillies and the Reds from 1912 to 1933.
Eppa Rixey, Jr. was born to a prominent family on May 3, 1891 in Culpepper, VA. He enrolled at the University of Virginia in 1909, where he starred in basketball and was encouraged by the Cavaliers' baseball coach and National League umpire Charles "Cy" Rigler to try pitching. Rigler, impressed with Rixey's competitive and crafty style, arranged for the big youngster to sign a contract with the Philadelphia club during his junior year. The league chastised the moonlighting Rigler who received a $2000 bonus (which was voided) setting a precedent that consequently prohibited umpires from serving in a scouting capacity thereafter. Without ever having to step foot in the minors, Rixey's major league debut was on June 21, 1912. The Phillies granted him permission to report late (May) in 1913 so that he could complete his four year degree in Chemistry.
He immediately was worked into the pitching rotation by manager Pat Moran, whose patience and expert handling guided his rookie season to a 10-10 record with a 2.50 ERA. Rixey contorted a pretzel windup and was a superb fielder with surprising agility and precision, compiling 1196 lifetime assists. One sportswriter of the time described Rixey's twisting, contorting delivery as "a boa constrictor twining around a mongoose."
Off the field, he was remembered for his amiable, boyish humor and charming demeanor; on the field, he wore his game face. His exploits were laced by a hot temper, often resulting in destruction of clubhouse furniture after a loss. His only post-season appearance was a disaster. His 1915 Phillies lost the World Series in five games to the Red Sox when in the final game he was tagged for two home runs by Harry Hooper. The following season, he rebounded with a 22-10 record and a miniscule .185 ERA. An eight-year, mediocre career in Philadelphia was interrupted in 1918 and part of 1919 by Rixey's serving as a lieutenant in an Army Chemical Warfare Division overseas during World War I.
Manager Moran had already piloted the 1919 World Champion Cincinnati Redlegs and was happy to reunite with the struggling and expendable Rixey. Just prior to the 1921 season, he was traded for pitcher Jimmy Ring and future Football Hall of Famer and outfielder Earle "Greasy" Neale. In thirteen seasons with Cincinnati, Rixey managed to win 20 games three more times with a good but not overpowering fastball, a swift curve, and a change of pace when behind in the count. Rixey seldom walked anyone (1082 in 4494 innings) and preferred to fool the batters with his finesse rather than striking them out. His offensive skills can be dismissed easily, recognizing his poor base speed complicated by batting (from the right side) only .191 lifetime. Eppa retired at the age of 42 when manager Donie Bush, supported by GM Larry MacPhail, relegated him to a part-time role, mostly pitching against the lowly Pirates in 1933.
Here comes the explanation for his unusual moniker. A Cincinnati sportswriter, William Phelon simply liked the resonance of the Biblical name "Jeptha" when conjoined with Eppa during a poem composition. Lacking a given middle name, Rixey gradually accepted it as his own musing, "It sounds like a cross between a Greek letter fraternity and a college yell." The easy-going Eppa Rixey was a fan favorite and was recognized by his Cincinnati admirers as the greatest lefty in their club's history. Upon leaving the game, Rixey abandoned his undergraduate chemist vocation and joined the (Charles A.) Meyers and Rixey Insurance Agency in suburban Mairemont. He operated the lucrative business from the Union Trust Building where there clients included Babe Herman, Rube Bressler, Larry Kopf and many other fellow teammates. He and his wife Dorothy Meyers (married 1924) resided in their Terrace Park (suburban Cincinnati) colonial home, in their adopted city for the rest of their lives. Rixey was considered a fine golfer, as a member of the Kenwood Country Club, and his brother Dr. William Rixey was a competitive amateur. Eppa was voted in to the Hall of Fame (#94) by the Committee on Baseball Veterans in January of 1963, along with John Clarkson (posthumously), Elmer Flick and Sam Rice. His modest reply when the announcement came, "Now they're really scraping the bottom of the barrel." Just one month later, on February 28th, Rixey died of a heart attack at the age of 71. He was buried in Greenlawn Cemetery in Milford, OH.
His autograph was basically an upright 90 degree with the baseline. It was very legible, evenly spaced, and slowly written. To me, it resembled a cursive writing exercise of a first grader. His double-looped capital "E" was a mirror-image number "3" that often stood alone throughout the 1930s, but eventually evolved into an abbreviated, loopless, jagged version by the 1950s, when he slowed down even more. His double "p"s were as tall and they were long, above and below the baseline with elongated closed loops stretching upward and open rounded loops along the baseline. The long lower extension stems just abruptly hung in the later years although, they were inverted versions of their upper counterparts in earlier days. The "a" may or may not be a continuance of the smaller second "p", which seemed to shrink as time went on. His surname began with a downstroke, retraced forming an arc that curled into a small loop and then reached downward to the right. After this pen lift, the lower case garland letters were uninterrupted, with the exception of the wave-like cross in the "x" that fish-hooked to the right initially, but turned into more of a shortened check mark. The dot wandered over the "x" after he crossed the "y" loop midway up from the stem. On checks he would employ "Jr." that was formed with a conventional double loop which crossed over to create an "r" that better resembled a "v". In the last few years of his life this became very small and shaky. Like many of his contemporaries of the teens, twenties and thirties he might even place a dot after completing his family name.
Examples of Rixey's autograph are found on an occasional government postcard ($350), cancelled checks ($225 - most of these were sent as autograph requests by mail through his wife after his death), typed and handwritten letters are out there ($300-$500), and if a rare single signed baseball was to surface it would start at $2500 in "7" condition or better. Photographs in the form of Burke ($700 plus), exhibit cards ($400), gum cards ($500), 8x10 black and white (very uncommon - should start at $1000) are sought-after mediums. Black and white Artvue plaque postcards with the aligned baseballs were printed the year of his induction. These were impossible for Rixey to have signed, since he was dead by the time his induction ceremony (Flick and Rice attended) rolled around on August 5, 1963. Forgers usually take aim at single signed baseballs and various forms of pictures. Rixey's deliberate style, especially later-in-life, make him a prime target for the counterfeiters. Collectors virtually had no time to acquire his autograph once the announcement of his Cooperstown enshrinement became known.