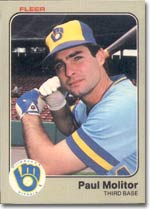 Since I tend to talk about this topic so much, I am going to apologize in advance. I just cannot seem to let this one go. In a future issue of SMR, I will break down the horror of the Hall in far more detail but, for now, this brief column will have to do.
Dennis Eckersley and Paul Molitor were both selected as 2004's newest HOF members. Both were very deserving. "Eck" was a solid starter who became the most dominating closer in the game late in his career and Molitor was an outstanding hitter and baserunner. I have no problem with these fine players but I do, once again, have a huge problem with the lack of respect shown to others.
To me, this is a really big issue because it's a slap in the face to the players and it causes an interesting problem in the hobby. Having the HOF next to one's name gives that player automatic respect -- it's an exclusive club that fans and collectors acknowledge. Many collectors form entire collections around this theme.
"Bobby Wallace?" Well, most collectors might not recognize the name but, as soon as you point to the fact that he is a Hall of Famer, they assume he was a great player and deserves to be a member. Most of them do not even bother to look at his numbers or lack thereof.
What's the big deal?
I will tell you what the big deal is. It's a travesty that the current writers, the ones who have the privilege of selecting the new members, do not uniformly recognize the hypocrisy being displayed. It is seemingly going to become harder and harder to get in but all the writers have to do is look at the existing HOF members to realize that you do not have to be Willie Mays or Babe Ruth to get in.
Please, grab a HOF book and look over the numbers of several members and you will be astonished. Now, of course, you do have to look at the numbers with perspective since the game has changed and the numbers are relative to the era. That being said, you will still be left confused. Look at some of these selections:
Roger Bresnahan, Elmer Flick, Joe Tinker, Johnny Evers, Frank Chance (that's right! Tinker-Evers-Chance), Harry Hooper, Ray Schalk, Rabbit Maranville, Dave Bancroft, George Kelly, Chick Hafey, Freddy Lindstrom, Rick Ferrell, I could go on and on and on. Even Hack Wilson, a very popular player, only had a few really productive years and, if we are going to use that type of criteria, we might as well throw Roger Maris in the Hall (and I do not believe Maris should be in the Hall).
This is not meant to be an attack on the players mentioned above or the other players already in the Hall that fit the "borderline" description. Many of these players had great careers but my ultimate point is... so did Andre Dawson, Dale Murphy, etc., etc., etc.
We know the Hall isn't for just the Babe's, Willie's and Joe D's. If the precedent has already been set decades ago, you cannot tighten it up now to make up for poor past judgment. Two wrongs don't make a right. That may not quite be a Yogi-ism but it's true.