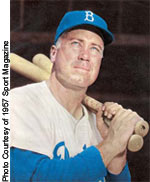 Although my brother and I knew him as "Pop-Pop," my Great Uncle Smitty always referred to my grandfather as "Freddie." He did that because he was a rascal, who knew all too well, that it irked my grandfather all to hell to be called by that cutesy bastardization of his given name of Fredrick. A former captain in the United States Navy, who had gone on to serve as an executive with a prominent shipping company, "Pop-Pop" wasn't just irked when he was called "Freddie," he downright hated it. Uncle Smitty, a devil-may-care chap, who was always up for a good time and a laugh, loved identifying ways to get under "Pop-Pop's" skin. And while they were seemingly always arguing with each other about one thing or another, "Pop-Pop" and Uncle Smitty spent untold hours together taking in sporting events at Madison Square Garden, Ebbets Field, Yankee Stadium and the Polo Grounds.
If they weren't at one of those venues, they would most likely be navigating their 38-foot cabin cruiser, the Bobkit, out into the Atlantic in search of sharks. Between sporting events and deep-sea fishing, they were also constantly working together on the dry-docked tugboat they transformed into a summer house on the shores of Staten Island's Lemon Creek, or tossing back highballs at a dingy little bar on the Island that Uncle Smitty dubbed "The Smokin' Dog Lounge" (due to that fact that the proprietor of the watering hole had a wire-haired terrier that he trained to smoke a cigar).
Now, let's get back to the part of my story in which I mentioned that "Pop-Pop" and Uncle Smitty were always arguing with one another. They argued about everything from which brands of whisky and beer were best to fishing techniques. But nothing, not even Smitty's unrelenting use of the nickname that "Pop-Pop" hated, caused more arguing between the two as sports did. And when it came to that athletic-inspired arguing, few fights were as passionately waged as the one they constantly duked out with one another, as to who was the greatest centerfielder in New York during the 1950s and '60s -- Mickey Mantle, Willie Mays or Duke Snider.
Smitty, was a firm believer that, while Mickey Mantle was a formidable threat to the crown, it was Mays who was the greatest outfielder, not just in New York, or of the era, but of all time. "Pop-Pop" on the other hand was equally firm in his belief that, while The Mick and the Say Hey Kid were great players, the greatest of the three was the man who patrolled the centerfield of Ebbets Field, wearing a Brooklyn Dodgers jersey emblazoned with the number four -- "The Silver Fox" -- "The Duke of Flatbush" -- Duke Snider.
Edwin Donald Snider was born on September 19, 1926 and began to show promise of exceptional athletic prowess within the first few years of his life. By the time he finished high school, he had become a three-sport star and shortly after his seventeenth birthday, Dodger scout Tom Downey showed up at the Sniders' Compton, California home with an offer to sign the young prospect.
The ink was barely dry on that contract when Duke found himself on the way to the Dodgers' training camp, where he rapidly established himself as a problem child. He made no qualms about his dislike of the rigid discipline and concerted training program that was the edict of Branch Rickey. That strict regimen, his subsequent service in the military and some seasoning in the minors did little to tame Duke, who was called up to play with the big boys in 1949 with a reputation for being petulant and bull-headed. That might have rubbed some of his teammates the wrong way, but fans seemed to like his cockiness and he immediately became a Brooklyn favorite.
With good looks, a graceful demeanor and poetic play that was punctuated with power, Duke may have quickly won over fans, including "Pop-Pop," but by the end of his first season he also fueled intense debate over his rivalry with Mantle and Mays.
While talk amongst New York fans may have revolved around whom of that terrific trio was the king of the centerfield, other talks were going on that would ultimately change the nature of that New York debate.
The mayor of Los Angeles, Norris Poulson, and an L.A. city councilmember by the name of Roz Wyman had been harboring a dream, and cooking up an idea -- to lure the Dodgers away from Brooklyn with the promise of a gleaming new stadium in La La Land. The path to making that promise into a reality came when a young California senator by the name of Richard Nixon politically assisted the mayor and city council in clearing a housing project out of a ravine overlooking downtown Los Angeles, thus green-lighting Chavez Ravine as the future sight of Dodger Stadium. "I was born in Los Angeles," the Duke said when the deal to move the Dodgers across the country was finally consummated. "But I was born and raised baseball-wise in Brooklyn."
No matter what coast the Dodgers played on, Dodger Blue ran in Snider's veins and he spent all but his last two seasons in a Dodger uniform. During his eighteen-year career, "The Duke" racked up some impressive stats and could always be counted on in an important game. During the 1950s, he hit forty or more homers in five straight seasons, a feat that had only been accomplished by Babe Ruth and Ralph Kiner. Snider was in the top ten in numerous offensive categories year after year and he earned an All-Star berth every season from 1950 through 1956 and then again in 1963.
During his career as a Los Angeles Dodger, Angelinos were not as receptive as Brooklynites when it came to calling Snider "The Duke of Flatbush" and he was dubbed with a new nickname -- The Silver Fox. Whatever he was called, there was one title that eluded him -- although he came close to wining it six times (most closely in 1955), he was never named Most Valuable Player.
His career batting average was .295, and would have been over .300 had he retired with the Dodgers and not gone on to finish his career with disappointing seasons as a Met and a Giant. He was best known for the long ball and for driving in runs. He belted 407 balls out of the park and chalked up 1,333 lifetime RBIs. And, while those numbers are awesome, it is even more unbelievable that in his six World Series appearances, The Duke set a National League record by hitting eleven World Series home runs and twenty-six World Series RBIs.
Although Snider was considered to be an "all-around" player, he did have his weaknesses. He never mastered hitting off southpaws, which luckily, meant very little to a team whose roster was rife with those who had, including Pee Wee Reese, Roy Campanella and Gil Hodges. Snider also was less than politically correct, always stating that, while he was a devoted Dodger, he played the game first and foremost for the money. Along with his weaknesses, Snider was also known to be a bit irresponsible at times.
In the late 1950s, off-field accidents took their toll on the Dodgers when Campanella, Jim Gilliam and Snider were all involved in automobile mishaps. Snider's accident occurred when he and fellow teammates, Johnny Podres and Don Zimmer, were trying to make curfew after an evening out on the town. All three suffered minor injuries in the crash and only missed play for a short time. Snider also suffered an arm injury the same year as his auto crash. Again, it had nothing to do with play, but rather with a wager he had made with a teammate that he could throw a ball out of the Los Angeles Coliseum. In an attempt to make good on that bet, Snider damaged his throwing arm -- a stunt that had the Dodger's front office so angry they docked him a day's pay.
Being docked a day's pay was a far bigger deal back in the 1940s, '50s and 60's than it is today. The players of that era did not make the multi-millions of dollars that are common in today's MLB contracts and many actually worked other jobs in the offseason. The Duke, whose career high salary consisted of forty-six thousand dollars and a Cadillac, once said that if he had ever made a big salary he would have been willing to do a lot more than just play baseball. "Man, if I made one million dollars," The Duke said, " I would come in at six in the morning, sweep the stands, wash the uniforms, clean out the office, manage the team and play the games."
It was obviously a very different time -- a time when teams were more of a family. When teammates looked out for one another and, where between family disputes and practical jokes, players harbored a sense of allegiance to both their teams and their fans. "Today's players are walking conglomerates," Snider has said. "They have fantastic salaries, and multiple investments. But we had one thing they don't have today -- the train ride. We didn't always like it, but those (fifteen hour) rides kept us close as a team and as friends. Something you can't get on a two hour plane ride."
Despite his oft-repeated remark that he played for his love of money more than for his love of the game, Snider was solidly one of those players who always proved his dedication to his owners, his teammates and to fans. That dedication was, unfortunately, not reciprocated by the Dodgers, who in 1963 gave up on The Duke, sending him back to New York to play with the then hapless Mets.
While fans welcomed him home to the Big Apple with open arms, transitioning back to New York was not easy for Snider. He felt off kilter playing in the Polo Grounds, which was the home stadium of his old rivals, the New York Giants, and he was obviously aware that his best playing days had already been played. Still, he conjured up both the heart and soul for the fans, even if he never warmed up to the Mets, who lost 111 games that season. A bit of the icy feeling he had towards the Mets did melt away during the waning days of the 1963 season, when the team staged a day in his honor. The mayor of New York and all of The Duke's old teammates showed up, which did seem to warm him up with a slight taste of the good ol' days. But, the real taste that Snider hungered for was to return to the days of playing with a winning team. Realizing the Mets were in no way positioned to do much better in 1964 than they had in the previous season, he once again headed west and donned a San Francisco Giants uniform.
Sadly, the Giants also came up short in helping Snider clinch a career-ending grab of glory. He unceremoniously retired from the playing field and, with far less finesse than the way he played, tried his hand at scouting and managing in the minors.
In the years following his scouting and managing days, he seemed to find a certain level of contentment in the broadcast booth, serving as an analyst for the Montreal Expos. But, it was clearly evident that he harbored a chip on his shoulder and felt that baseball had overlooked him while honoring many of his contemporaries. Dodger greats from Duke's playing days were being named to the Hall of Fame on a regular basis while he was constantly passed over. Those close to him said that he had become obsessed with being snubbed for inclusion into the hallowed halls of Cooperstown.
The ease of that obsessive pain came in 1980 when the invitation to be immortalized in bronze finally arrived. Snider's inclusion in the Hall of Fame seemingly did far more than simply carve out his niche in baseball history, it helped him bury the hatchet and come to terms with the game. "The sport to which I owe so much has undergone profound changes," The Duke opined. "But, it's still baseball. Kids still imitate their heroes on playgrounds. Fans still ruin expensive suits going after foul balls that cost five dollars. Hitting streaks still make the network news and hot dogs still taste better at the ballpark than at home."
I think that if my grandfather and Uncle Smitty were alive today, they would be in agreement with Duke's sentiments about the game of baseball. It would, however, be one of the few agreements they would have -- an agreement that would undoubtedly be totally lost somewhere between their ongoing arguments and agitations with one another.
Today, many years after Duke hung up his cleats and Uncle Smitty and "Pop-Pop" have been long gone, Snider is still a beloved figure with baseball fans, and a must have for any serious card collector. There is only one recognized rookie card for Snider -- the 1949 Bowman # 226. The Snider card is key in the 1949 Bowman set. Many collectors are apt to argue that, following his rookie card, Bowman and Topps both offered far better looking Snider cards. That is hard to dispute being as that card companies began upgrading the quality of their offerings by the early 1950s. Still, there is little dispute that the '49 Bowman #226 is THE most sought after Duke Snider card.
It is a well-known fact that the 1949 Bowmans had their trouble with centering. That problem had much to do with the card's design that had narrow borders and was smaller than that of most other post-war cards. Reverse staining is also an inherent problem with this set. Sports Market Report's Joe Orlando suggests that if one is in search of a high quality sample of the Snider Bowman rookie, one should look for a bold-colored background. "For Duke, you want to look for a nicely colored backdrop behind his face," said Orlando. "Sometimes, the (background) color on these cards can be faint and unattractive." Orlando goes on to say that while this card may never be as popular as the Mickey Mantle offering, it is a still vitally important card. "This card should enjoy solid demand in the future," Orlando said. "The Duke is a mainstay."
Duke's game used bats are also very desirable. "Snider had a very unique way of prepping his handles for grip," said Orlando. "Snider would apply a very distinct criss-cross pattern of tape on many of his bats and this characteristic, if present, adds a big premium to his game-used bats today. He did use bats without the special taping method but the tape makes his bats special."