Every NBA season brings with it a new promise, and this year's new promise is a big one by the name of Carmelo Anthony.
Born in Brooklyn, New York, Carmelo grew up in Baltimore where his mother, two brothers and sister became diehard fans of the Baltimore Ravens and Orioles. His given name, Carmelo, came from his father, who was born in Puerto Rico, and who passed away due to liver failure before Carmelo's third birthday.
Always a strong and athletic child, Carmelo played basketball at suburban Towson Catholic High School, where he excelled as a point guard. Once he attained the growth he needed, he moved into the small forward role and patterned his game after one of his heroes, Tracy McGrady. In his junior season at Towson Catholic, Carmelo averaged over 23 points and 10 rebounds, was named Player of the Year in Baltimore and the All-Metro Player of the Year by the Baltimore Sun.
From Towson, he went on to the prestigious Oak Hill Academy in Wilson, Virginia. There, in his senior year, he led Oak Hill Academy to a 32-1 record and a #3 national ranking in USA Today's final poll. Steve Smith, Anthony's coach at Oak Hill said of him, "He's similar to a Grant Hill and a Tracy McGrady. He's long, athletic and he's got the same kind of abilities at the same stage. If anything, he's more under control." Named First Team All-America by both USA Today and PARADE, Carmelo also earned a spot on the McDonald's All-American Team where he scored 19 points to help the East secure a victory.
As his high school days dwindled down, there was no doubting that Anthony could jump straight to the NBA. But, since he had achieved the required SAT scores he instead accepted a scholarship to the University of Syracuse, where he would get the opportunity to play under coach Jim Boeheim.
In his single season as an Orangeman, Carmelo led Syracuse to a 30-5 record and the school's first ever NCAA National Championship in men's basketball under Boeheim. Anthony led the team in scoring, rebounding, minutes played, field goals made and attempted and free throws made and attempted. He was second on the team to his fellow freshman Gerry McNamara in assists, steals, and also in three-pointers made and attempted and he scored at least 20 points in 25 of 35 games that season.
Anthony ended up as the unanimous choice for Big East Conference Freshman of the Year and made the All-Big East First team. His average of 22.2 points per game ranked 16th in the nation, and his 10 rebounds per game put him in the 19th national slot in this category. He was the consensus national Freshman of the Year, and the accolades never slowed as he took his Syracuse team on to the NCAA tournament. He was named as Most Outstanding Player of the Eastern Regional Final and in the Final Four win over the University of Texas, Anthony exploded with a season-high 33 points and 14 rebounds. In the victory over Kansas, which brought the Syracuse Orangemen their NCAA National Championship crown, Anthony posted 20 points and 10 rebounds while often getting his teammates involved by virtue of his seven assists.
In his six NCAA Tournament games, he overall averaged 20.2 points and 9.8 rebounds. And, in addition to the championship ring he earned, Carmelo was voted as Most Outstanding Player of the 2003 NCAA Final Four, which marked the first time in seventeen years that a freshman had earned such an honor.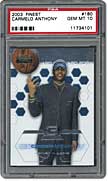 Coach Boeheim has always been swift to praise Anthony. "Carmelo Anthonys only come around once in your lifetime," Boeheim has said. "He's a team player. He doesn't care about his own stats. He'll give the ball up. He'll rebound if you have to have a rebound. I don't think there's anybody, or any two guys, who can guard him if he's shooting the ball well."
Although the chant of "One more year, One more Year," echoed through the Syracuse campus, Anthony had perhaps mastered the college game in a single season and was ready to move on. Still, his year at Syracuse was something he is very proud of. He credits the time spent there as the best move he could have made, saying it helped him both on and off the court. "I enjoyed every moment at Syracuse," Anthony has said. "I don't regret coming to college."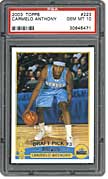 Still just nineteen years old when the 2003 NBA draft came along, Denver saw in Anthony a fluid athlete with a quick first step – a slasher who has incredible body control and is a great finisher in the transition game. He was clearly a force on the offensive side, and Nuggets Head Coach Jeff Bzdelik is sure to bring his defensive game up to the same level. As scout's carefully watched and wrote their reports, Anthony was finding himself compared to established NBA players like Antoine Walker and Glenn Robinson. But, as every NBA owner, scout, coach and fan knows, the draft is always somewhat of a crapshoot. Sometimes, there are huge regrets over the number one pick, while other times, it brings thrills over the gems that were hidden in the later rounds. Denver, however, made no qualms over their excitement when Detroit passed on Anthony.
"I really didn't know what to expect when we drafted him," Denver Nuggets General Manager Kiki Vandeweghe said just before the All-Star break. "I must admit that I didn't expect him to do quite this well. I knew he was a great player at Syracuse and I knew he was going to be great, but you can never tell. Even the best rookies such as Kevin Garnett, Tracy McGrady, Kobe Bryant and Dirk Nowitzki struggled during their rookie years, and Carmelo and I talked about that. But, so far he's really been up to the challenge and I think he's only going to get better and better. I think Carmelo is a unique player, kind of a throw back. He's a small forward who can give you 20 or 25 points and eight or nine rebounds on a consistent basis. He's got a lot of charisma – he's a great scorer – but he's also a great passer. The players like playing with him and the fans love him. He's had a real impact with us."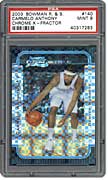 Impact is perhaps the right word. Nearing the All-Star break, he was averaging almost 19 points and over six rebounds per game with nearly three assists per outing. He was 11th in the NBA in free throws, 13th in total points scored and 15th in field goals – numbers that make his three-year, ten and a half million dollar price seem like a good investment.
Carmelo Anthony is a player who has used the toughness he learned growing up in a rough neighborhood to harden his approach to the game. He never holds back on the court, and the Nuggets court is the perfect place to showcase his talents. There's a huge turnaround taking place with the Nuggets, what with the additions of Andre Miller, Earl Boykins, Voshon Lenard, and Jon Barry and the return of Marcus Camby, coupled with the acquisition of Anthony may just be the pieces of the puzzle they needed most.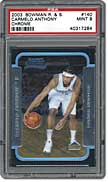 Perhaps, the biggest news surrounding Carmelo Anthony has been what appears to be a two-man race for the coveted title of NBA Rookie of the Year. Anthony and his childhood pal LeBron James of the Cleveland Cavaliers are the only two whose names ever seem to come up when the prize is mentioned. Their match-ups have been compared to that of Magic Johnson and Larry Bird, and Anthony says that's fine "If their going to pump it up and call it the Bird-Magic rivalry, why not. That was a great rivalry right there." For whatever it's worth, in their only two head-to-head meetings this season, Denver won each time. But maybe more importantly, at least as far as bragging rights go, Anthony outscored LeBron both times. But again, whether that will cause any more votes for him is a matter of conjecture.
If there is one thing that has been noticeable from the start of his professional career, it is that Carmelo Anthony is a team player. Shortly after the Denver Nuggets acquired him, he made it a point to steer away from talking about his personal goals and place the focus on what he wants the team to accomplish. "I just want (the Nuggets) to get more wins then they had last year and to keep building," he told a Denver reporter during a pre-season workout.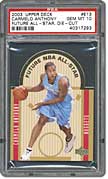 NBA fans have rapidly learned that you don't have to watch Anthony long to understand that he is a special player. He has already proven that, along with his speed, shooting ability and court vision, he possesses an overall savvy that is unheard of in nineteen-year old rookies. But hey, let's not forget that this is the same Carmelo Anthony who was named Outstanding Player of the NCAA Tournament,when he greatly assisted his fellow Orangeman to slam-dunking the National Championship.
It has been said that he has a great understanding of the game – a natural feel for it. "I've been watching him all through his high school career," said former All-Star forward Adrian Dantley. "He is one of those special players. When he gets the ball on the break, the secondary break or in the open, something good is going to happen. And he's learning every day. He's going to be a great player."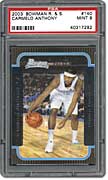 While team play is the foundation on which Anthony wants to establish himself, he is still wise enough to know that the Mile High City's franchise is banking on him to be the standout man. "Yes, I do want to establish myself as "The Man" for the Nuggets," he has said. "I'm trying to do that by playing my game, and so far I'm doing a pretty good job. They've been pushing me, pushing me hard. I'm just out here to work and just trying to be the best I can be."
Playing "his game" is what Anthony did at Syracuse, and a part of his game was to make sure his teammates were a part of it. "He tries to bring the best out in (his teammates)," said Bzdelik. "That's a real rare thing. He's out there encouraging other players and working with the team. Those are great leadership qualities and they seem to come naturally to him."
The other thing that comes naturally to Anthony is his desire to reach out to young people and families who are struggling in the urban and inner-city areas of Colorado. In October of 2003, he announced that he had chosen to work with Centers, a Colorado-based organization dedicated to family and children's services. "I came from an area where I saw poverty and hardship," said Anthony. "If I can make a difference to help people who are struggling, then in the long run, my career in basketball will be more fulfilling. I'm very blessed to be paid to do what I love to do – play basketball. And now I have the opportunity to help those who are less fortunate than me."