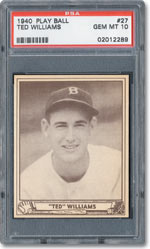 The results from Goodwin & Co.'s March 12th auction reaffirmed the need for a moderate sized high caliber auction. "With only a hundred lots, nothing gets overshadowed in our thirty-six page full-color catalog. Nothing gets lost in the shuffle, so to speak," says Bill Goodwin. Goodwin & Co.'s attendance at major shows across the country allows them to display all of the lots for collectors to view in person, giving them a much better hands-on representation, rather than just a picture in a book. The cards were on display at San Francisco, Los Angeles, and Philadelphia collectors' shows prior to the auction. Many of the collectors register and place bids at these shows. Seeing the lots in person helps build confidence in the bids that the collector is placing. "We were also able to give maximum exposure to target bidders by inserting our catalog with the Sports Market Report along with full page ads and covers purchased in other hobby publications."
This type of marketing has to be a direct result of some of the record setting prices that Goodwin & Co. was able to obtain, such as a 1959 Fleer Three Stooges Set graded by PSA that sold for $11,490 or a 1940 Play Ball PSA 10 Ted Williams card, where the final bidding price ended at $79,410. Other record prices include a 1960 Carl Yastrzemski rookie card, graded PSA 9, selling for $5,244, and a 1934 Hank Greenberg card, graded PSA 8, which brought $6,385 at the final gavel.
Another highlight of the auctions is the ability to bid and register online. Most collectors are used to bidding on eBay and the format of Goodwin & Co.'s auction web site is very similar, making it user friendly for potential buyers. "We have some of the same features, such as instant e-mail alerts, when collectors' bids are topped. We have received a lot of compliments from collectors about how relatively easy it was to bid and follow the auctions from the comfort of their homes."
Goodwin & Co. is currently taking consignments for a late June auction. The auction will be in the same format as the March auction, featuring only one hundred lots. Goodwin & Co. has been in business for over twenty years and has a sterling reputation in the industry. Goodwin & Co. is fully insured, both on premises and travel to collectors' events.
Other auction highlights include a 1935 Goudy-Cuyler-Klein card -- $1,497, a T205 Collins PSA 7 card -- $1,630, a 1955 Topps Preston Ward PSA 9 card -- $1,677, two Three Stooges graded PSA 8's -- $1,995 each. The complete auction results and photos are available at Goodwin and Co.'s web site: goodwinandco.com.