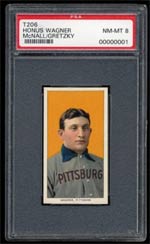 Based on the book, "Honus and Me," the movie (and book) is about a 12-year-old boy who finds a mint condition T206 Honus Wagner card and is transported in time back to 1909 where he gets to meet and learn some life lessons from the legendary Honus Wagner during the 1909 World Series between Pittsburgh and Detroit. The movie, entitled, "The Winning Season," will premiere April 4th on TNT. The book, through the characters of the 12-year-old card collector and his interaction with Wagner teaches values such as character, honesty and loyalty. Hopefully, this family movie will send the same messages.
The book is also highly recommended for all sports fans.
For more information about the movie, its content and the stars, go to this link: http://www.tnt.tv/Title/Display/0,5918,450629,00.html.