n the clubhouse, his teammates called him "The Line". That moniker was not just a play on his last name but also a commentary on his steady "tow the line" reliability.
Out on the field, his fans called him "Mr. Tiger". That moniker was not just a reference to the fact that he played in more games and hit more home runs than any other player that had ever donned a Detroit Tiger uniform, but because he personified true dedication to Detroit's Major League Baseball franchise and demonstrated his skill, leadership and determination in every inning he played.
On December 19, 1934, the day he was born in Baltimore, Maryland, his parents called him Albert William Kaline.
Born into an athletic family, in which his father and two uncles had played semi-professional baseball, little Al's passion for the game and desire to follow in their footsteps, developed at an early age. A rather shy child, who was clearly smaller than other boys his age, he was determined to overcome anything that might stand between him and the game he so loved. He did that by enrolling in various organized youth leagues and by obsessive practicing. That practicing paid off as he developed a great throwing arm, solid hitting skills and agile infield quickness.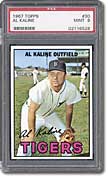 It was on the sandlots of Baltimore, that young Al was first noticed by a professional scout named Ed Katalinas who was so impressed by what he saw that he offered the 19-year old prospect a contract to play with the Detroit Tigers, sweetened by a $35,000 signing bonus.
It was a dream come true for Al – sort of. While he had always dreamed of following in the footsteps of his father and uncles, he never got to do what they did – play semi-pro ball. He also never got to play minor league ball. Instead, on June 25, 1953, Al, in a Tiger's uniform, took right field, as a major leaguer.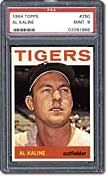 During that first season, he was used sparingly and mostly as a pinch runner by Manager Fred Hutchinson. Still, despite infrequent play, his rookie season saw him snag a single off the legendary Satchel Paige, chalk up his first homer off Cleveland Indian's pitcher Dave Hoskins, hit three more home runs (including a grand slam) and cap the season with a .276 batting average.
During the off season, Al crossed paths with the great Ted Williams who commented on his potential and suggested that he build up his wrist strength by squeezing baseballs as hard as he could. Al spent the entire winter doing just that and by his second season he was manning the Tiger's outfield along with stars such as Don Lund, Bob Nieman, Bill Tuttle and Jim Delsing.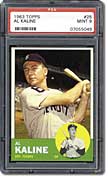 While continuing to be slight of build with questioned strength, Al finally put those concerns to rest in the Tiger's 1955 campaign. He hit in 23 of his first 24 games and sent three pitches over the fence in one game. He would ultimately finish the season with a .340 batting average, 27 home runs and 102 RBIs – a performance that would see him bypass the immortal Ty Cobb as the youngest AL batting champ, be named Player of the Year by The Sporting News, and finish second in MVP voting, just 17 points behind that year's winner, Yogi Berra.
As an established star on the Tiger's roster, Al had earned a reputation as a solid performer in both the field and at the plate and, by the beginning of the 1962 season, Al was hot. It wasn't even the end of May and he had sent the ball over the wall 13 times, had 38 RBIs and was batting .340. Just how stellar of a performance he may have been capable of during that season will never be known.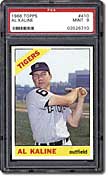 On May 26, he fractured his collarbone diving for a last out catch in a 2-1 win at New York. It would be July before he had healed enough to take the field again and in only 100 appearances, he would finish the '62 season by hitting 29 home runs and 94 RBIs. Despite his two-month recuperation, Al again turned in such an impressive performance that he again came up just short in MVP voting, finishing second behind Elston Howard, but was for the second time named The Sporting News Player of the Year.
Injuries would continue to plague Al throughout his career, many of them due to a birth deformity in the bone structure of his feet. Still, he continued to produce but missed out on making statistical milestones. From 1960 to 1963, Al, along with fielder Rocky Colavito, teamed up to form one of the most feared defensive duos in baseball, helping Detroit win 101 games in '61.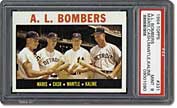 By the mid-1960s, the local press was singling out Kaline as having not done his share to help bring a title to Detroit. Al was growing disillusioned and a bit bitter by some of the negative press, and at one point openly discussed being traded.
The trade never happened and in just a few short seasons Kaline turned things around by playing a major role in paving the path to post season play and the Tigers first World Series appearance in 23 seasons. A broken arm early in the '68 campaign saw Al miss a third of the regular season but come October, Detroit Manager Mayo Smith tagged him to play centerfield as the Tigers took on the defending world champion St. Louis Cardinals in the World Series.
The Cards and their ace pitcher, Bob Gibson, were a dominating force in the National League. But the Tigers and their powerhouse pitcher, Denny McLain, were equal forces to be reckoned with from the American League side.
Gibson and McLain faced-off in Game 1 of the Series and Gibson was throwing so hard and accurately that it was apparent early on that Sandy Koufax's World Series strikeout record could be threatened. McLain was not so hot, giving up three runs in the 4th inning.
Gibson remained in control as the Cards held a 4-0 lead in the top of the 8th inning. He struck out pinch-hitter Ed Mathews and then tied Koufax's record by making Kaline his 15th victim. He then went on to strikeout Norm Cash to break the record, and Willie Horton for good measure.
The Tigers bounced back to tie the Series in Game 2 thanks to pitcher Mickey Lolich who held the Cards to just 6 singles and hit a home run.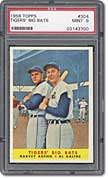 In Game 3, Tim McCarver set the pace for St. Louis when he smashed a three-run homer in the 5th inning. Orlando Cepeda followed with a two-run shot in the 7th and the birds wrapped it up with a 7-3 "go ahead" victory.
The mighty Gibson returned to the mound for Game 4 and continued to prove to be a powerful force. Along with humiliating the Tigers in a 10-1 loss, the big right-hander also hit a second Series homer.
With the Cards sitting on a 3-1 advantage going into Game 5, it was Lou Brock's base running that had been noticed by both fans and the press. It was, however, Brock's carelessness that ended up costing the Cards a win in that game. After doubling with one out in the 5th inning, Brock made an attempt to score on a Julian Javier single to left. It was an unsuccessful attempt, as Horton threw him out at the plate and thanks to Kaline's bases loaded single, the Tigers clawed their way to a 5-3 win to make it a 2-3 Series going into Game 6.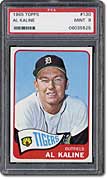 The Tigers again rallied in Game 6 and took the Series to a deciding Game 7. Gibson was the obvious choice for St. Louis in the final game, and the Tigers tapped Lolich with the monumental task of bettering him.
Both pitchers went head-to-head for the first six scoreless innings, but by the end of the pitching duel, Lolich had beaten the odds with a five hit, 4-1 victory that gave the Tigers their first championship crown since 1945 and the distinction of being only the third team in World Series history to rally from a 3-1 deficit.
Kaline had chalked up 2 World Series homers and drove in 8 runs, furthering his reputation as a tremendous clutch performer. Most amazing was the fact that Smith had juggled his defense to get Kaline in the lineup, moving outfielder Mickey Stanley to shortstop and thus, freeing up the right field.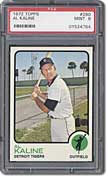 In 1972, as his career was coming to an end, Al once again proved to be a driving force in seeing the Tigers advance to post-season play. The Tigers won five straight games to clinch the Division title that year and two year later, when Al announced his retirement, he did so with a .297 batting average, 3,007 hits, 399 home runs, 1,583 RBIs, 10 Golden Gloves and 15 All-Star team selections. At the time of his retirement, Kaline and Ty Cobb were the only Tiger players to have played 20 or more seasons for Detroit and in 1980, he became just the 10th player elected to the Hall of Fame, in his first year of eligibility.
Al Kaline had proven to be a model of consistency that excelled with minimum fanfare. But despite his contributions over 22 seasons, the quiet, durable Tiger is still hard to peg. After his 1955 batting title season, he chalked up several other impressive years at the plate but was always missing games due to a run-in with the wall or some other mishap. After '55 he only played in 150 games twice. It is for that reason that it is difficult to identify a best season because he never amassed 30 homers, although he most likely would have on four occasions had he remained healthy.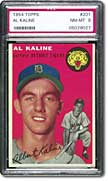 By today's standards his batting averages seem low, but those figures are far more impressive when you realize that the league he was playing in was only batting between .230 and .250 at the time. His .296 average for the 1960s is the best for players with at least 1,000 games. And while he had a few excellent seasons, it was his failure to stay healthy and play a full schedule that cost him the accolades he might otherwise have received. Still, he made playing right field an art form. He was graceful and quick with amazing glove work. He never wasted a motion and never made a bad decision.
"When I first came up to the Tigers I was scared stiff," Al once said. "But, I had desire. Desire is something you must have to make it in the majors. I was never satisfied with just average."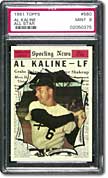 While he was never spectacular, he was as perfect as any player could be when it came to being a reliable clutch guy. He could hit well, had speed, could throw accurately and had excellent field judgment – "The Line" always towed the line.
After his playing days, he joined his former teammate George Kell in the Detroit Tigers television booth as a color commentator. He also served as a fielding coach in spring training and became a key board member under several Tiger owners. Throughout the 1990s, he was vocally critical of the team's personal decisions; in 2001 he was tapped by owner Mike Ilitch to help restructure the struggling franchise, and in 2002, he marked his 50th anniversary as an employee of the Detroit Tigers.
While never considered to be an "upper-tier" Hall of Famer, Kaline has always been a Detroit favorite and as a member of both the Hall of Fame and the 3,000 Hit Club, interest and desire for his cards are assured.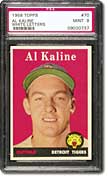 The 1954 Topps # 201 is the only recognized Al Kaline rookie card. The '54 Topps set is of course one of the most popular of all time. With its eye appealing design and star power, the Kaline card is one of the keys along with the rookie cards of Hank Aaron and Ernie Banks.
While the Kaline rookie card is not that difficult of a card to find in high grades, it is more of a challenge to find than the Aaron card. As is the case with all of the '54 Topps set, the card suffers problems with centering and print defects. The card's undefined top border makes it very difficult to judge centering, so the best thing to do is look closely at the name and make sure it does not come too close to the top. A top grade card will also have a nice cherry-red colored background, but be careful, print defects are usually lurking in that burst of red.
When it comes to print problems, remember that it is not desirable to have print marks anywhere near the player's face. That severely reduces the eye appeal of a card and is known to be a problem with the Kaline card. Also be aware of the inherent problems on this card's reverse, which is surrounded by green edges. Those edges were frequently chipped in the cutting process. Minimal chipping won't prevent it from reaching NM-MT status.