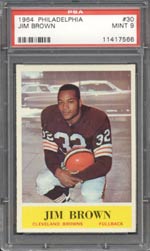 Flashback to the fall of 1964 and the start of another great football season. Now imagine the surprise of a Queens, New York youngster, opening a pack of 1964 Topps football cards, to find Pete Liske and Bill Mathis instead of Y.A.Tittle and Frank Gifford.
Back in those days, the National Football League was king. The American Football League was still an upstart and most of us preferred watching the good old NFL on Sunday afternoons. Give us the Giants, Browns and Bears, not the Bills, Chiefs or Jets. Topps officials, however, had other ideas. Mindful of the huge new TV contract signed by the AFL, they decided to only produce cards of players from the new league. Fortunately, football card collectors' disappointment ended quickly with the appearance of the new blue and yellow packs of "Official NFL Trading Cards" at the candy store. Produced by the Philadelphia Gum Company, these colorful cards became instantly popular and started a great four year NFL run for Philly.
The cards in the 1964 Philly Football set have a simple design with a large, clear, posed photo of the player above a rectangular box containing his name, team and position. There are one hundred and ninety eight cards in the set, which were all issued in one series. Each team is represented by twelve player cards in alphabetical order, as well as a team photo card. In addition, a "Play of the Year" card features a black and white chalkboard-type drawing of an actual 1963 play for each team. These play cards also contain a small photo of the team's stadium, as well as its coach. The inclusion of such legends as Vince Lombardi, Tom Landry and George Halas makes these cards very special.
The strength of this set is its players and their photos. Thirty Hall of Famers are present, including Johnny Unitas, Jim Brown, Mike Ditka, Bart Starr and Fran Tarkenton. Included among the twelve rookies in the set are Herb Adderly, Willie Davis, Merlin Olsen, John Mackey and Jimmy Johnson. The great majority of the cards in this set were taken on sunny days with a beautiful blue sky in the background. All the players are seen without their helmets except for two. Y.A. Tittle, card #124, of course kept his helmet on to cover his baldness, but why is #113 Erich Barnes, the owner of a great head of hair, wearing his helmet? Unfortunately, we'll never know.
Some of my favorite cards in this set are #1 Ray Berry, #48 Bob Lilly and #72 Willie Davis. Berry looks straight at the camera while clutching a football tightly, almost daring you to take it away. Lilly and Davis have that look of greatness about them, even at this early stage in their careers. Mike Ditka's card is also a good one. Young Ditka with his flat-top crewcut and square jaw gazing up into the sky presents a powerful image. Jim Parker, card #8, is also a favorite. Jim's fearsome pose shows clearly why the back of his card lists his nickname as "the demon pass protector." Then there is #129 Tim Brown (yes, there was one before the present Raider star). This card features a sharp photo of the halfback who would go on to appear in the movie M*A*S*H as "Spearchucker." In fact he's one of three actors in this set, the others of course being Jim Brown and Bernie Casey ("Sharky's Machine" and "Never Say Never" among others). Finally, there's #117 Frank Gifford. This is a beautiful card of the Giant Hall of Famer, and future TV announcer, as he takes a three point stance on a clear day at Yankee Stadium. This card is so good that Topps accidentally included it on the cover of "Topps Football Cards - 1955-1986." This great book is a pictorial atlas of every football card Topps made during those years and there on the upper right part of the cover is the 1964 Philly Gifford card! I wonder if they ever caught that error.
There is one group of cards however, where the 1964 Philly photographers dropped the ball. For some inexplicable reason, the twelve Cleveland Browns photos were taken on a cloudy day in the parking lot of the Cleveland Municipal Stadium! In full football gear, the players posed in front of Jim Brown's new white Cadillac. Those huge "tail fins" are so cool! Why the Philly editors printed these murky pictures is beyond me, although cost was probably a factor. Then again, Jim Browns's obvious pride as he kneels in front of his prized automobile may also have played a part in their decision.
As for the card backs, they are gray with blue and black printing. In addition to each player's name and personal stats, his awards for 1963 (Pro Bowl, UPI etc.) are included. Several of the cards contain a "traded from" line. Since these list March or May 1964 as the date of the trade, I estimate that this set was printed in June or July of 1964. Also present is an informational cartoon that asks and then answers a question about the player. Most of the questions are about the player's college accomplishments or his occupation. Many of the players were track and field stars in college and most worked as teachers or salesman in the off season. On the other hand, #164 Bob St. Clair, the league's tallest player at 6'9", was the mayor of Daly City, California, and in case you wondered, #178 Sonny Randle's real first name was Ulmo. We also learn that #74 Paul Hornung was suspended (for gambling) in 1963 and that #151 Mike Sandusky avoided a leg amputation as a youth because of his mom's prayers. The cartoon of Mike laying on a stretcher, the doctor listening to his knee with a stethoscope, while Mike's mom prays in the background is a classic!
There are a few uncorrected errors in the 1964 Philly Football set. Most obvious are the Checklists #197 and #198. These list the year as 1963, not 1964. Also, #78 Jim Ringo is incorrectly listed as being with the Packers on the front of his card, while the back notes his correct team, the Eagles. Finally, card #169 is certainly not Garland Boyette. Boyette, an African-American, was not with the 1964 Cardinal team. The portly white youngster with the crew-cut seen on this card probably was a rookie assigned Garland's #50 jersey. He likely was thrilled to get his picture onto a football card and never bothered to correct the photographer's error.
My interest in this set was re-kindled a few years ago when I saw several of the cards at a local show. I assembled a sharp set in raw condition and last year I submitted it to PSA for grading. I was pleased to get several PSA 9's from my set, as well as many PSA 8's. I was also fortunate to obtain some ten cent Philly Football cello packs, which yielded some nice PSA 8 and 9's. The rest of my set was acquired from auctions or dealers. The hardest cards to find in the set are #102 Paul Flatley and #183 Billy Barnes, each with one PSA 9 and two PSA 8's, and #68 Wayne Walker with two PSA 9's and only one PSA 8. Twenty-two 1964 Philly cards have never received a grade of PSA 9 and most of those have only four or five PSA 8's available. The last card I obtained for my set was a PSA 8 #160 Matt Hazeltine.
One measure of the continued popularity of the 1964 Philly Football set is found in a comparison of the number of cards graded for this set and the 1964 Topps Football issue. As of this writing, there are almost six thousand Philly cards graded, which is three times as many as its Topps counterpart. All things considered, the Philadelphia Gum Company did an excellent job in its first venture into sports card production. If you're looking for a mid-sized, affordable vintage football set to collect, the 1964 Philadelphia set with its great stars, top rookies and sharp player photos is an excellent choice.