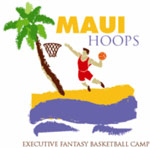 July 12th - 16th, 2004 are the dates you need to put on your calendar. Yes, you will play basketball with the pros in beautiful Maui, Hawaii! It's true! Former NBA player Lucius Allen and his phenomenal wife, Eve Allen, have teamed up with David and Robbi Kohler of SportsCards Plus, to bring you a very new and exciting "Executive Fantasy Basketball Camp."
The Maui Hoops First Annual Executive Basketball Camp
This unique adult camp will be hosted at the beautiful Kapalua Bay Hotel on Maui's finest beach. The hotel is very luxurious and is just 9 miles north of Lahaina. There will be shuttle service available to the gym at Lahaina Civic Center every day.
The coaching line-up:
Jerry West
Lucius Allen
Gail Goodrich
Jamaal Wilkes
Bill Walton
Maurice Lucas
The goal for this camp is to create a basketball experience that includes your whole family. There will be one day just for kids so the moms can do as they please. The kids will enjoy fun, food and games for all ages. Special surprises are also in store for the whole family.
A portion of the proceeds from the camp will go towards a fund to benefit the Retired Players Association for the pre-1965 professional basketball retired players who never received pensions. The camp's creators feel that the retired players of this great sport deserve some extra recognition for their pioneering efforts. They are excited to offer you a most pleasurable and rewarding experience in basketball. The program consists of four days of basketball play, clinics, and one-on-one instruction directed by Lucius Allen and his staff. Jerry West will assist Lucius along with other past and present NBA stars.
Attendance at the camp will be limited to only 40 campers, age 30 or older, and spaces will be filled on a first come basis. The camp fee is $9,000.00. To reserve your position in the camp, please see below for details about how to contact Robbi Kohler and to obtain an application. A 50%, nonrefundable deposit of $4,500.00 is required. The balance of $4,500.00 is due no later than May 1, 2004.
Included but not limited in the cost of the camp are:
Accommodations at the Kapalua Bay Hotel at Maui's finest beach,
Breakfast each day before practice and lunch and dinner credits at the hotel,
Official basketball uniform, practice gear, basketball shoes,
A videotape of the final intrasquad game with Bill Walton calling the play-by-play,
A sports bag,
Photographs with the staff and team,
A six-hour childcare activity day filled with fun and games,
An autographed basketball of the entire coaching staff,
A festive luau the night before the game will be held poolside,
A luxurious brunch banquet will be served at the closing awards ceremony after the final intrasquad game,
The camp fee includes 2 adult tickets to each of the events in listed in #'s 9 & 10 above.
Please hurry to reserve your spot today!
Should you have any questions or need additional information, please contact Robbi Kohler at 949-533-2351 or via e-mail at [email protected].