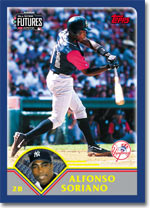 The off-season between 2003-2004 has proved to be extremely rewarding for some of baseball's brightest stars as well as for the hottest of the prospects. While some of the new contracts appear meager by comparison, the top of the heap is a lofty pinnacle, indeed.
Roy Halladay pitched last year for Toronto, reeled off an extremely impressive string of victories, and was rewarded handsomely. He worked for $3.825 million in 2003, but his new contract gets him $42 million for four years!
Roy Oswalt of Houston jumped from $500,000 a year to $3.25 million for 2004, while David Ortiz of Boston got a raise from $1.25 million to $4.587 million for a single season.
Carlos Pavano of Florida barely scraped by on $1.5 million in 2003, but his new contract gets him $3,800,000 for the upcoming season. Two other Florida players got on the pay elevator and it went up for Brad Penny from $1.875 million to $3.725 million and down for Mike Redmond from $1.05 million to $840,000.
Alfonso Soriano hit the jackpot, as expected, getting a raise from $800,000 to $5.4 million a year while Kip Wells scored a major increase from $370,000 to $2.575 million a year. Kerry Wood received a pay increase that we could all live with, going from $6.19 million to $9.75 million for one season.
Hey! I can't live on that!
If these salary increases look sweet (for the most part), wait until you see who wants it sweeter!
Last year Eric Gagne was magnificent for the Dodgers and was vastly underpaid at $550,000. In order to make it up to him, the Dodgers offered him $5,000,000 for 2004. No thank you! Eric wants $8 million for next year!
David Eckstein was paid $425,000 in 2003 and the Angels offered him $1.6 million for next year. The Ecks-factor wants $2.15 million.
Jay Gibbons of Baltimore received $375,000 in 2003 and the Orioles pumped it up to $2.4 million for 2004. Gibbons wants $2.8 million.
Are you ready for this one? The Phillies paid Kevin Millwood $9,000,000 in 2003 and they offered him $10 million for 2004. What an insult! Millwood wants $12.5 million!
Finally, Albert Pujols worked for $900,000 in 2003. Yes, he deserves MUCH more. The Cardinals offered him $7,000,000 for 2004. Albert wants $10.5 million! Our advice? Pay him NOW before he figures out what he's REALLY worth!