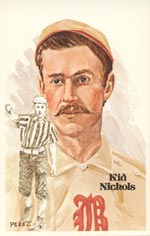 "You never heard of anyone with a sore arm in my day. When we weren't pitching, we'd either play the outfield or doubled as ticket takers. The biggest strain my arm ever underwent was at the Polo Grounds, one afternoon, when I counted 30,000 tickets." - Kid Nichols, 1948
Charles Augustus Nichols was born in Madison, Wisconsin on September 14, 1869. Twelve years later (1881), his family moved to Kansas City, Missouri, which became his adopted home for life. It was there, in those two city sandlots, that Nichols gained his early baseball experience and was considered a teenage pitching sensation in the amateur leagues.
Charles was signed to a pro contract, without any scouting representation, at 17, where he starred in both Kansas City (Western Association) and Memphis (Southern League). The major league clubs were reluctant to bring up the young prospect, but after compiling a 39-8 record under manager Frank Selee of the Omaha club, along with a 1.77 earned run average, he could not be denied passage any longer. The 5'9", 145 lb. slight right-hander, at the age of 20, made his debut with the Boston Beaneaters on April 23,1890. His new teammates gave him the nickname "Kid" because of his slender build and youthful appearance.
Nichols's windup was almost non-existent, although he threw hard and relied on control rather than breaking pitches. There was no better pitcher in baseball during the 1890s, even considering his contemporaries, the great Cy Young and fireballer Amos Rusie. His 361 wins over 208 losses for a .634 winning percentage over 15 seasons is an average of 24 victories per year. Nichols won thirty or more games seven times and had 50 shutouts. In eleven of the fifteen years, he logged 20 or more wins.
Durable and hardworking, Kid worked 5056 innings and completed 561 of the 620 games he entered. When the American League declared itself a major league in 1901, Nichols stayed with the Boston team rather than jump (like many others) for better wages to the new circuit. Despite winning 19 games that season for a notoriously frugal club, the owners released him at the end of the year to trim their overhead.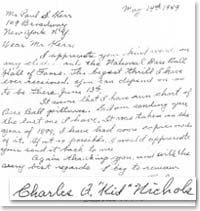 1949 Autographed Signed Letter
Kid Nichols bought a part interest in the Kansas City team of the Western League in 1902. He managed the team, as well as boasting pitching records of 27-7 and 21-12 over the next two seasons. He returned to the St. Louis club in the National League in 1904 and 1905 with the same duties. However, he experienced an attack of pleurisy, which limited his playing time. A dispute with co-owner Stanley Robison early in the 1905 season got him fired after a bad start. The Cardinals retained him on their roster as a pitcher, but when Robison attempted to humiliate Nichols by demoting him to a gate receipt counter, Kid protested and was dismissed. The combination of the insubordination, the team's poor record and his illness led to a July release. He was signed in 1906 for Hugh Duffy's Philadelphia Phillies team and went 10-6 but a bad back the following year which forced him to retire after pitching in four games. At the age of 36, Kid Nichols's major league career was over.
Retirement landed him back in Kansas City where he made his home at 721 Valentine Street. Along with Cubs shortstop Joe Tinker, Nichols purchased several bowling alleys. The "Play-Mor" facility in Kansas City featured swimming, ice skating, dancing and billiards. He became an avid, standout bowler and won a Class A Championship trophy in 1933, at the age of 64. Nichols also coached for Missouri Valley College in Marshall, Missouri and many other Kansas City amateur clubs for a number of years. Casey Stengel was a product of this system. Additionally, he sold real estate and opened a motion picture theatre. He bowled into his 70s and enjoyed the game of golf.
Nichols's Hall of Fame enshrinement (#58), by Permanent (Old-Timers) Committee voting, came on June 13, 1949. Like many great stars of the game, Nichols's inclusion into the Hall came too many years after his retirement, especially when other less deserving candidates were welcomed. Nichols and Fred Clarke attended their induction ceremony, and that was to become his only visit to Cooperstown. A severe neck ailment led to his death on April 11, 1953, at the age of 83. He was buried at Mount Moriah Cemetery in Kansas City, MO.
With the few requests for autographs Nichols would receive monthly (as is the case with most old-timers from his era), he would sign generously and often elaborate with additional writing. I am unaware of the use of any ghost signers.
Judging from the letters I have examined, Nichols was appreciative, conscientious, and fairly well-educated. Obviously, it was not until his Hall of Fame induction that most collectors from 1949 to 1953 were even aware of his accomplishments.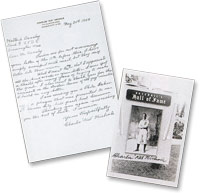 1949 ALS to HOF President
Index cards and government postcards range from $450 to $550. Handwritten letters are available and more likely to be found than a typed version (same value $850). Nichols would oblige wishes for photographs usually commemorating his Hall of Fame initiation from the town of Kansas City ($650). Black and white Albertype (only) HOF plaques ($1500-$1800) do appear from time to time, but the prices keep rising each year. He would often arc his name along the top portion of the plaque. I am aware of only three full cancelled personal checks ($4000+) in the hobby. Check cuts, presumably from the family after his death ($400), are available, and often adhered to small photographs or HOF plaques. A rare single-signed baseball is too subjective to speculate value and an 8'x10" photograph would be equally infrequent. The best chance of finding a signed baseball card is perhaps on an early 1950-56 Callahan (W576).
He would commonly sign right-handed Charles "Kid" Nichols or add his middle initial "A", occasionally. Due to his advanced age, expect to find just about every example labored but legible. The "C" was formed with the initial stroke, bending upward to form a narrow loop that would curl within before the pen lifted. From the middle of the lower portion, the "h" of similar size was completed and paused again. The conventional lower case letters "ar(l)es" with period punctuation, generally, measured about half the size of the capitalization and upper case letters. The "A" often would not close and another period would accompany it. The upward stroke of the "K" created the point of the arrow that returned to the baseline. The second of the double stroke combination were two bending arms that advanced into a simple dotted or dashed "i", that may or may not connect into the "d". Quotation marks were applied to envelope his nickname. His "N" could be mistaken for a jagged "U", that led right into a variably formed "i" with a retraced "c", replica to the first "h" and a possible pen lift. Finally, the "ols", keeping evenly spaced, as with all of the other letters, with the terminal stroke ending at the baseline or wandering upward in a curl. Viola!