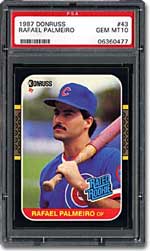 Have you been keeping up with the deals that have taken place during the baseball off-season? There have been some amazing acquisitions by some clubs while others appear to be momentarily depleted of top talent. Let's see if you know which player will be where in 2004?
Roger Clemens is now:


Retired, of course!
Back with the Yankees!
Back with the Red Sox!
Signed with the Houston Astros!



Javy Lopez will play for whom in 2004?


The Braves would never let him go!
Baltimore!
Oakland!
Kansas City!



Rafael Palmeiro will hit his homers for...?

Texas re-signed him!
Kansas City
Baltimore!
He retired!



Miguel Tejada is now ready to star for...?

Oakland kept him, thank goodness!
The Yankees!
The Cubs!
Baltimore!



Kenny Lofton went from San Fran to the Cubs to...?

Kansas City!
Atlanta!
The Yankees!
Baltimore!



Paul Quantrill took his rubber arm from LA to...?

The Anaheim Angels!
The Yankees!
The Tigers!
Atlanta!



David Wells has left the Yankees again. Where did he go?

Back to Toronto!
The Dodgers!
San Diego!
Into retirement!



Greg Maddux is a free agent prize. Who got him?

The Yankees!
Kansas City!
Back with the Cubs!
He's still unsigned!



Gary Sheffield is another star that got away from Atlanta. Where is he now?

The Yankees!
The Giants!
The Dodgers!
The Cubs!



Boston would never let Todd Walker go... would they? In 2004 he'll star for...?

The Yankees!
The Cubs!
San Diego!
Seattle!



Jeremy Burnitz looked like a perfect fit in LA but he's gone to...?

San Diego!
The Cubs!
Colorado!
The Mets!
ANSWERS: 1) d; 2) b; 3) c; 4) d; 5) c; 6) b; 7) c; 8) d; 9) a; 10) b; 11) c.