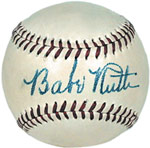 (Newport Beach, CA) -- PSA, the world's largest third-party authentication and grading service for sports autographs and collectibles, is expanding its PSA/DNA division to include the grading of autographed baseballs. One major dealer predicts it will "inject new life" into the autograph market.
"We will use a ten-point grading scale similar to the current PSA card and ticket grading scale. We will soon announce the details of the grading standards and a grading guide," said Joe Orlando, PSA President.
"The value of an autographed ball, whether it's signed by Mickey Mantle or Mickey Lolich, is based primarily on the condition of the autograph and the ball itself. This is an effort to standardize the descriptions of the grades, improve communications between buyers and sellers, and provide unbiased third-party opinion about the grade."
Major auction houses, dealers and collectors have requested for some time that PSA create this new service.
"This will be a huge plus for the industry," said David Kohler, President of Sportscards Plus.
"This PSA service will revolutionize the market prices for both vintage and modern autographs. PSA's brand name and expertise have created a new market for both sportscards and tickets over the years. With PSA's involvement, new life will be injected into the autograph market. What will an autograph be worth that grades PSA 8, 9 or 10? One thing's for sure, autographs will sell for a premium with any PSA grade," Kohler predicted.
Autographed baseballs submitted for grading must first be authenticated by PSA/DNA. Authenticated and graded items will be marked with an invisible-to-the-naked eye synthetic DNA strand and be accompanied by a letter of authenticity that will contain images of the item.
The program will begin with submissions of single-autograph signed baseballs, and eventually expand to also include grading of multi-signature baseballs, footballs and basketballs. Details of the new autographed baseball service will be announced in approximately 30 days, according to Orlando.
PSA is a division of Collectors Universe, Inc. (NASDAQ: CLCT).
For additional information, contact PSA, PO Box 6180, Newport Beach, CA 92658. Phone: (800) 325-1121 or (949) 833-8824. Fax: (949) 833-7955. E-mail: [email protected].