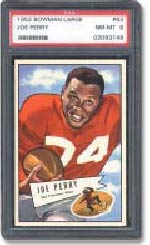 The 1952 Bowman "Large" football card set was printed and issued by the Bowman Gum Company of Philadelphia, Pennsylvania. Bowman had previously issued sets in 1948, 1950, and 1951. In 1952 Bowman issued two separate football sets, a "Small" (2-1/16" x 3-1/8") and a "Large" (2-1/2" x 3-1/8"). Bowman continued to produce and issue sets in 1953, 1954, and 1955.
Interestingly, the 1952 Bowman "Large" football set was actually a test issue. Bowman's primary football set in 1952 featured the same identical 144 cards as the "Large" issue, only the size was the then standard 2-1/16" x 3-1/8". Apparently, in response to Topps' "Large" baseball card set issued during the spring and summer of 1952, Bowman decided to try its own "Large" set in the fall and winter of that year. Both sizes of football sets were released at the same time. Obviously, the larger cards were a hit with collectors since Bowman adopted the new size for not only all of their subsequent football card sets, but also for all of their future baseball sets.
The 1952 Bowman "Large" football card set is truly a classic. It's the postwar football set. The 1952 Bowman "Large" set is to football what the 1952 Topps set is to baseball. This set consists of 144 different cards. The fronts of the cards feature a beautiful, full-color drawing of the player, along with the player's name in a white pennant and a full-color team logo. The backs feature a text write-up on each player. Notable rookie cards in the set include Hall-of-Famers: Frank Gifford, Hugh McElhenny, Andy Robustelli, Ollie Matson, and Gino Marchetti. Also, the set features the last Bowman cards issued of all-time greats Steve Van Buren, Bob Waterfield, and Sammy Baugh.
Today's collectors cherish bowman's football card sets. They are all very attractive and very popular. Also, since football was not nearly as popular as baseball in the 1940s and 1950s, these cards were produced in much smaller quantities than their baseball counterparts. Today, Bowman football cards are extremely difficult to find in any significant quantity. Since Topps didn't start issuing football cards until 1955, Bowman had the market to themselves from 1950-1954. Therefore, the Bowman issues make up the heart of the "Golden Age" of football cards.
BY THE NUMBERS
According to the research I've conducted, the 1952 Bowman "Large" set was printed on a total of four different 36-card sheets and issued in two, consecutively-numbered series. Each sheet contained nine cards across and four cards down, all arranged in numerical order. Here are diagrams of each sheet.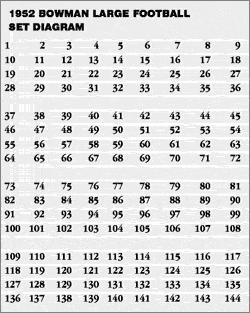 There are two groups of acknowledged rarities within the 1952 Bowman "Large" set. First off are the high-number cards. These cards, numbered 73-144, were issued late in the football season in much smaller quantities than cards numbered 1-72. Today, the high-numbers are much more difficult to find than their low-number counterparts.
Second are the so-called "single-prints." These are cards whose number is divisible by nine and the card immediately following that number. Ex: #l, 9, 10, 18, 19, 27, 28, etc. This group is extremely rare and these cards are almost nonexistent with 60/40 or better centering.
Over the years, there have been many different theories as to why these cards are so rare and why they almost always come off-center. After talking extensively with an "old-time" football card dealer, who once owned a group of uncut 1952 Bowman "Large" sheets, I think the following is the most plausible theory.
During 1951 and into 1952 Bowman had been producing 36-card sheets, with each card measuring 2-1/16" x 3-1/8". All of their cutting machinery was geared for this size card. Since the 1952 Bowman "Large" football set was only a test issue, they didn't want to have to re-gear all of their machinery. So they used the same cutters for the "Large" set as they did for the "Small" set. Since the "Large" card sheet was several inches wider than the "Small," they had to cut short cards on the first and last row. They probably alternated on production runs between cutting off, and then of course throwing away, all of the cards on the left hand column and then cards on the right hand column.
Therefore, in theory, all of the cards divisible by nine, plus the card immediately following that number, are twice as rare as the other cards in the set. Additionally, even when they cut the sheets in this alternating fashion, the eight "surviving" columns were slightly too large for the machinery. Therefore, almost always, even when the cards on the far right or far left columns made it into packs, they were way off-center.
MOST IMPORTANT CARDS IN THE SET
The following is a listing of the most important cards in the 1952 Bowman "Large" football set. The cards are listed in numerical order. For reference purposes, I've included the Sports Market Report value for PSA graded, unqualified NMMT 8 examples.
#1 Norm Van Brocklin ($2,400). The "Dutchman's" second football card. Extremely rare in high-grade and a condition rarity as both a #1 card and as a single-print.
#16 Frank Gifford ($975). Gifford's rookie card. This is very popular with collectors and quite difficult to find wellcentered.
#30 Sammy Baugh ($850). A rare single-print and Baugh's last Bowman card. Extremely rare in high-grade.
#63 Charlie Conerly ($1,300). A rare single-print. It's virtually impossible to find a well-centered example of this popular Giant quarterback's card.
#72 John Schweder ($1,650). An ultrarare, single-print.
#99 Joe Stydahar ($850). An ultra-rarity as both a single-print and a high-number.
#108 Hubert Johnston ($1,000). An ultra-rarity as both a single-print and a highnumber.
#135 Gene Ronzani ($1,250). An ultra-rarity as both a single-print and a high-number.
#142 Tom Landry ($1,100). The second card of the famous Cowboys coach. A tough high-number.
#144 Jim Lansford ($4,500). The ultimate post-war football rarity. Not only is this a rare high-number, but it's also a single-print and the last card in the set. In high-grade, this is of comparable rarity to the 1952 Topps baseball #1 Andy Pafko. Easily the most valuable post-war football card.