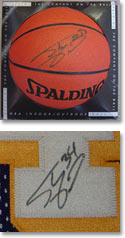 (Newport Beach, CA) - There's a less than 50/50 chance that autographs of Lou Gehrig, Jackie Robinson, Michael Jordan and Shaquille O'Neal are genuine in the billion dollar sports collectibles marketplace, according to a study by PSA (Professional Sports Authenticator), the world's largest third-party authentication service for autographs and collectibles.
PSA has issued its first annual Authenticity Probability Index (API) to track the percentage of authentic autographs submitted to PSA experts for examination and authentication in 2003. The results underscore the need for collectors and even dealers to take proper precautions to avoid forgeries.
"Only 37 percent of the Lou Gehrig signatures sent to us this year were judged genuine. The results were similar for Jackie Robinson at 39 percent, and Michael Jordan and Shaquille O'Neal at 40 percent each. And actually, the situation is certainly worse because collectors and dealers generally do not send us obvious forgeries," said Joe Orlando, PSA President and Editor of the monthly Sports Market Report magazine.
The Authenticity Probability Index figures for the athletes listed as PSA's "Ten Most Dangerous Autographs" in 2003 are:
Lou Gehrig, 37 percent
Jackie Robinson, 39 percent
Michael Jordan, 40 percent
Shaquille O'Neal, 40 percent
Mel Ott, 42 percent
Babe Ruth, 48 percent
Cy Young, 50 percent
Satchel Paige, 50 percent
Joe DiMaggio, 54 percent
Ted Williams, 56 percent
The most frequently submitted signature to PSA for authentication in 2003 was Mickey Mantle's. According to PSA's index, more than 40 percent of the Mantle autographs submitted the past year were deemed fraudulent.
"This number needs to be taken in context as the actual percentage of Mantle forgeries in the marketplace is much higher than that because obvious forgeries are rarely sent to PSA for analysis," Orlando explained.
"Autograph sales are responsible for a significant portion of the billion dollar sports collectibles business. With all the money being spent by collectors, it is imperative that they are informed about the dangers of forgeries in the marketplace and they insist on third-party credibility and authentication," he said.
"With the proper precautions, collectors can participate in a safe hobby environment and avoid the pitfalls. There are many companies and individuals who claim they are both credible and reputable, but collectors need to distinguish between those who are and those who only claim to be. As collectors continue to educate themselves, they often become more confident about buying and more satisfied with their hobby experiences."
Since its founding in 1991, PSA experts have examined over 6 million autographs, sports cards and other sports memorabilia. PSA certified Mark McGwire's 70th home run baseball; Hank Aaron's 715th home run bat and ball; and the bat used by Babe Ruth to hit the first home run in Yankee Stadium in 1923. In addition, PSA services are used by the NFL to authenticate game-used Super Bowl footballs and Pro Bowl equipment.
Newport Beach, California-based PSA is a division of Collectors Universe, Inc. (NASDAQ: CLCT).
For additional information, contact PSA, PO Box 6180, Newport Beach, CA 92658. Phone: (800) 325-1121 or (949) 833-8824. Fax: (949) 833-7955. Web: www.PSAcard.com. E-mail: info@psacard.com.