How much do you feel like running out and getting Maurice Clarett's autograph?
The former Ohio State footballer has gone from hyped Heisman hopeful and top draft choice hopeful to litigant against the National Football League. Clarett may be getting nothing from the classroom this fall, but one can't help but be impressed with the hands-on lesson in American jurisprudence that he and other young professional athletes are getting and giving the rest of us.
We need a scorecard for this stuff. Let's see, the short list shows Chris Webber on the list for recruiting violations; LeBron James for receiving free gear, and now Clarett, who wants to redefine his status in the athletic job market. How long will it take for their fans to forgive their heroes, and clamor again for their autographs? Right, not long at all.
When it comes to heroes, memories are short. Consider Ray Lewis, the guy exonerated in a murder case. Lewis went from off-the-field nightlifer to tour guide on a celebrity cribs TV show. He resumes his stellar career as a Baltimore Ravens linebacker. Fans can't get enough of him. He sells out private signings. If Kobe Bryant's career continues with little interruption, and he performs at airness heights, fans will forget his adulterous behavior and beg for his signature. Athletes are demigods in our sports-crazed society and marketplace. Many sports fans will forever want a piece of their heroes.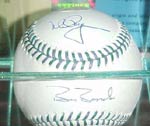 Autograph collectors wishing to build on their 500 Home Run Club items will pay almost anything to keep adding signatures. Mark McGwire, who is a tough autograph, has commanded $1,500; Barry Bonds signs more frequently, and his price is in the hundreds of dollars.
Speaking of the marketplace, autograph collectors engaged in the secondary market are finding what we've known for a couple of years now -- it's a buyer's market. Oh, impulsive shoppers are still writing fat checks for Barry Bonds's and Cal Ripken's autographs. They're even paying $1,500 to add Mark McGwire's autograph to 500 Home Run Club baseballs. One New Jersey collector, speaking for countless collectors of legitimate 500 Home Run Club-signed items, figures he has to keep it as current and complete as possible, no matter the cost. Of course, in the next three years there's a good chance membership could swell by a half dozen sluggers, so the bigger issue may soon become physical space on the ball.
A Texas collector, feeling the effects of the economy, sold a significant amount of his very large collection, which was mainly composed of Yankee items. When the Yanks were in the midst of their latest World Series run, beginning in 1996, he stepped up to the plate and paid roughly $1,200 for the team-signed World Series balls with Torre, Jeter and the rest of the champs. At a recent auction, some of those baseballs sold for $800 or so each.
Sure, he absorbed years of enjoyment out of his collectibles, but in the end he acknowledged that the items he sold went for about 30 percent less than what he paid for them. The executive said he learned an "expensive lesson." He added that, with the memorabilia market, as with the battered stock market, there are some excellent buys out there. "Autograph collectors should not assume that seemingly much-desired items will sell for more than what you pay for it," he said.
Producers and marketers of high-end signed items are building years of appreciation into their products. These folks, in turn, have an answer that some might call an excuse -- that many of today's most celebrated players are charging outrageous fees. Of course, a piece of memorabilia featuring both greedy players and producers only yields a collectible that's very overpriced. Like a good leadoff hitter, be patient; you don't have to swing at the first pitch.
From the Autograph-Shows-We'd-Like-to-See Department: Babe Ruth wouldn't be invited. Nor would Hank Aaron, Barry Bonds or Mark McGwire. They couldn't sign at a milestone show featuring players who hit four home runs in a game. Of the 14 players in the history of the game who've accomplished this power surge, Robert Lowe and Ed Delahanty played in the 19th Century, but more than half of the sluggers are living.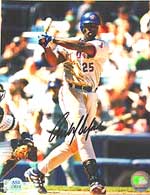 One tough club: Carlos Delgado joined 13 other players in baseball history who have hit four home runs in a single game.
Of course, Carlos Delgado of Toronto is the most recent member of this exclusive club, accomplishing the feat, including his 300th career homer, against Tampa Bay. Other players in the 4-homers-in-one-game Club are Mike Cameron, Rocky Colavito, Patrick Seerey, Lou Gehrig, Shawn Green, Mark Whiten, Bob Horner, Mike Schmidt, Willie Mays, Gil Hodges and Joe Adcock. Folks for the National Sports Collectors Convention, who are looking for an extraordinary product to introduce to collectors, should consider this and other milestones. Among the living players in this club, Mays would be the most expensive signature.
Show promoters also might consider a few other league leaders from this past season, but we caution that they should keep prices very reasonable. This is not a time to test the market, push the envelope or whatever other cliche you want to add that means charging too much money. The media tend to turn these guys into future hall of famers. Take a deep breath. Settle down. Chill. Consider Erig Gagne of the Dodgers and Oakland's Keith Foulke who led the National and American leagues, respectively, and for the first time, in saves, with 55 and 43. Keeping with the It-Doesn't-Have-to-be-Expensive theme, consider Toronto's Roy Halladay (22-7) and Atlanta's Russ Ortiz (21-7), as each league's winningest pitchers.
Meanwhile, the post-season created many memories and many heroes, new and old. One player whose status has grown outside a regional flavor is Ivan Rodriguez. Long considered the best catcher of his era, maybe the best defensive catcher ever, Pudge got lost on the lowly Texas Rangers. The biggest stage he played on, until the 2003 season, was that of the All-Star Game, which gave him attention but delivered no heroics. His handling of a young pitching staff and run-producing bat confirmed his place in the history books, much less in Cooperstown. Secure his autograph now.
A number of football players have seen their autograph-collecting stock rise with the fortunes of their teams. Dante Hall's streak of four punt returns for touchdowns in four games has prompted his stock to rise... Peyton Manning, perhaps, is replacing Brett Favre as the league's next great quarterback... and Broncos runner Clinton Portis and the Ravens' Jamaal Lewis are new power backs, joining Ricky Williams, Priest Holmes and LeDainian Tomlinson as the game's big names. Quarterbacks and running backs tend to outpace punt returners in the collectibles market. Look for lots of items with horse shoes primed for felt-tip pens. These fellows will be testing the memorabilia marketplace as opposed to the legal system a la Mr. Clarett.