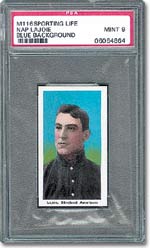 Parker, CO. - Mile High Card Company's November 13th auction closed with a bang! When the gavel fell the final sales had grossed $556,784.00. The auction was fierce and hard fought for many of the high-grade cards and key rarities contained within the sale. Company principal Brian Drent was unabashedly upbeat regarding the levels at which many items topped out, summarizing the sale by stating, "As a company we are extremely pleased with the overall performance of the material within this auction, and continue to see an upward trend in prices for ultra-high-grade examples of rare sportscards and memorabilia."
A stupendous array of high-grade singles commanded extensive bidding and realized the following prices: 1911 Sporting Life (Blue Background) Nap Lajoie PSA 9 $7,416.00, 1911 Sporting Life Walter Johnson PSA 8 $4,033.00, 1934 Goudey #37 Lou Gehrig PSA 8 $10,189.00, 1964 Topps #200 Sandy Koufax PSA 10 $5,768.00, 1961 Topps #575 Ernie Banks AS PSA 10 $4,660.00, and a 1915 Cracker Jack #17, Roger Bresnahan PSA 8 found a new home at $3,487.00.
As amazing as some of those prices are, the following cards performed to equally strong levels: 1955 Topps #194 Willie Mays PSA 9 $5,227.00, 1965 Topps #510 Ernie Banks PSA 10 $8,763.00, 1969 Topps #50 Roberto Clemente PSA 10 $6,271.00, 1980 Topps Bird/Magic PSA 10 $6,495.00, 1933 Goudey #1 Benny Bengough PSA 7 $6,726.00, 1033 Goudey Bill Terry PSA 8 $4,164.00, 1935 Goudey Dizzy Dean (etc.) $2,737.00, 1950 Bowman #14 Alex Kellner PSA 9 $3,043.00, 1952 Topps #88 Bob Feller $4,878.00, 1953 Bowman #59 Mickey Mantle PSA 8 $4,180.00, 1956 Topps #135 Mickey Mantle PSA 8 $3,376, and a 1959 Topps #450 Ed Mathews PSA 9 $3,891.00.
The select pieces of memorabilia featured within the 281 lot auction realized outstanding prices led by a mid-1920s H&B game used Babe Ruth bat selling at $24,653.00. Other leaders included a 1971-79 game used Mike Schmidt Adirondack bat $2,195.00 and a pair of 2003 game used Air Jordan Michael Jordan shoes for $4,485.00, as well a double figural stadium seat from the Polo Grounds for $5,822.00.
Mile High Card Company is planning an October auction as a follow up to this tremendously successful sale. The company is actively seeking quality consignments for the spring 2004 auction. For more information regarding Mile High Card Company and their auctions visit their web site at www.milehighcardco.com or call (303) 840-2784.