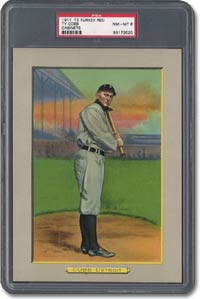 It took some time to put the finishing touches on the super-sized PSA holders but they are finally done! These holders are constructed much like the PSA holders collectors are accustomed to; they are merely bigger -- much bigger. The very first card to, in essence, inaugurate this service is considered by many experts to be the finest T3 in the hobby.
This card just happens to feature Ty Cobb! The response has been tremendous to the larger holder -- the larger cabinet-style cards, which include more than just T3's, just look awesome housed in the new PSA holder.
In fact, in addition to the incredible Cobb, PSA has already graded some T3's for Mastronet's upcoming mega-auction in December. Keep your eye on some of those beauties. This particular issue has long been considered one of the most, if not the most, difficult and beautiful issues ever produced. Now that PSA is grading this issue with a high-quality holder, unlike other grading services, collectors are sure to take notice.
In the future, PSA will release a list of other issues that can be submitted for grading with this holder. In the meantime, T3's and any super-sized cards that measure very close to them (ones that do not currently fit in any of our existing Tall Boy holders), can be submitted for grading.
Before you submit non-T3's that fall into this category, please call to check with our staff to confirm sizing requirements.