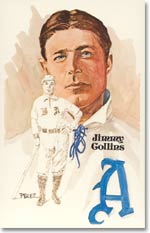 Before there was Mike Schmidt, Brooks Robinson or even Pie Traynor, the man universally considered the best ever to play the hot corner was Jimmy Collins. He virtually defined the third base position to what is considered its routine today, with barehanded pickups, charging the plate for bunts and throwing underhand on the run or even airborne. His defensive innovations also included the subtle change of not standing with one foot touching the bag, thus lessening the gap between him and the shortstop. The short game of base stealing, bunting and the hit-and-run style of the nineteenth century differed greatly from the long-ball emphasis of today's power hitting lineups.
James Joseph Collins was born in Niagara Falls, NY on January 16, 1870. He studied at St. Joseph's College in Buffalo, NY but, foregoing his degree, he signed a contract in 1893 with the city's Eastern League Bison team. Although originally a shortstop, Collins's future was in question after committing 65 errors in just 76 games during his first season. The following season, the five-foot-nine, 178-pound ball hawk moved to the outfield, reducing his error count to 21 and led the league, hitting .352 with 198 hits. Providence coach Billy Murray was so impressed that he convinced manager Frank Sellee of the National League Boston Red Stockings to purchase him in 1895.
A month later on May 17th, after playing just eleven games into the season, Collins was loaned to the cellar-dwelling Louisville Colonels (player lending was a common practice of the day). He was shifted to third base via Fred Clarke's suggestion after Walter Preston committed four errors in one game against the bunting Baltimore Orioles. Instantly, he gained a reputation with his brilliant performance and was permanently repositioned on June 13th.
Boston retrieved their promising prospect in 1896 but an ankle injury limited his playing time to 84 games; nevertheless, he hit .296. Collins joined what was regarded as the finest infield of the nineteenth century, playing alongside acrobatic shortstop Herman Long, reliable second baseman Bobby Lowe and slick-fielding Fred Tenney at first. They developed new ways of covering each other's bases and concocted unusual pickoff plays. The Beaneaters also boasted future Hall of Famers with pitcher Kid Nichols and outfielders Hugh Duffy, Tommy McCarthy and Sliding Billy Hamilton.
In 1897, Collins enjoyed his finest season average of .346, leading his team to the Temple Cup series, losing in five games to Baltimore of the American Association. The next year, also a championship season, was an equally impressive year for Collins, clutch hitting at .328 and walloping a 15 home runs, an unusually high number for the era.
Two decent years (1899 and 1900) followed, producing respectable statistics before the popular yet underpaid Collins made a surprising move to the cross-town Invaders (which eventual became the Red Sox) team of the newly formed American League. Owner Charlie Somers lured him with a lucrative contract and a percentage of the gate then assigned him to the post of player/manager to guide his club. Somers's higher salaries also attracted the formidable battery of Cy Young and Lou Criger from their National League roots to play for the newly-formed club. He finished second to Clark Griffith's White Sox, batting .329 in 1901 and .325 the next year.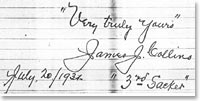 Jimmy's .296 batting average led the Boston "Pilgrims" to the American League pennant in 1903, winning five games to three in the first World Series match up against Fred Clarke's intimidating Pittsburg Pirate squad. Though winning the pennant again in 1904, New York Giant manager John McGraw refused to participate with what he considered an inferior league.
The Red Sox team dipped to fourth place in 1905 and Collins's hitting also showed signs of regression. For five straight seasons until his retirement in 1908, he never batted better than .279. A knee injury limited his playing time to 37 games and the pressure of piloting the team triggered his demotion as manager late in the 1906 season.
The new outfielder/manager and Collins's old teammate Chick Stahl reported to spring training for the 1907 campaign. Collins returned to his Indiana hotel after practice to find his roommate dead by way of suicide. Although the papers reported that he had a poor day in the field, with little hope of his team fairing well for the upcoming season, Stahl's despondency actually came about after being served with a paternity suit. Collins started the season well at the plate but was traded to Connie Mack's Philadelphia Athletic team on June 7. Boston fans ranked the well-liked Collins second only to heavyweight boxing champion John L. Sullivan and gave him a rousing farewell at Huntington Avenue Baseball Grounds. The 1907 season went well for Collins with a .279 batting average but the 1908 campaign slid considerably. Collins batted only .217, prompting his retirement from a fourteen year major league career.
Like many of his peers, the declining star turned to the minor leagues and managed Minneapolis of the American Association in 1909. Providence of the Eastern League became his next appointment for 1910 and 1911. Collins stopped playing third base on a regular basis in 1910, realizing he was clearly past his prime.
Collins, with his wife and two daughters, returned to their hometown of Buffalo after the 1911 season and resided at 257 Richmond Avenue. By 1935, they had moved to 300 Crestwood Avenue and then by 1941, 75 Wilbury Place -- both in the same city. They lived well until the Depression exhausted their life savings, most of which was invested in real estate. He then sought employment with the Buffalo City Parks Department. The sport remained ingrained in his persona, causing Jimmy to serve the final 22 years of his life as president of the Buffalo Municipal League. He died of pneumonia on the morning of March 6, 1943, at the age of 73, at Millard Fillmore Hospital in his hometown. He had been a patient there since February 24.
Collins was buried at Holy Cross Cemetery in nearby Lackawanna, NY. He left behind his widow, the former Sarah Murphy of Boston; a daughter, Mrs. George McCall of Williamsville, MA; and a brother, Anthony, also of Buffalo. Another surviving daughter, Mrs. Frank N. Walsh, said, "He was game to the last and never complained." Two years later, on April 25, 1945, James Joseph Collins was selected (#32) the first third baseman by The Permanent (Old Timer's) Committee to the National Baseball Hall of Fame. With the country still embroiled in World War II, no induction ceremonies were held for the ten inductees in Cooperstown. Collins had often expressed his desire to be named to the Hall of Fame, noting that he fell three ballots shy in a 1935 (pre-HOF) voting. A campaign to have him elected had been spearheaded by his admirers. As the years passed and a new generation of stars became popular, Collins's contribution to the game remained appreciated by baseball historians. As late as 1961, he was polled by The Sporting News as the greatest third baseman of all-time.
Commonly signing with the salutations "Sincerely Yours" or "Very Truly yours," Jimmy Collins signed in different fashions. He may employ "Jimmy," "Jim" or "James" and use his entire middle name or just the initial "J" followed by his surname. The first "J" was a pretzel-like concoction, somewhat reminiscent of the capital letter "J" Honus Wagner used in earlier days. His initial stroke curled downward into an open loop before creating the larger top loop and then completing the letter with the largest acutely-slanted descender-loop. This letter stands alone and is the largest character by 20%.

When using his nicknames, Jimmy or Jim, the conventional "i" usually connected followed by arcade style humps of two successive "m"s and a diminutive descender "y" that barely hooked upward and inward. When using his birth name, the "a" came after the letter-break followed by his conforming "m" but the "e" often was a printed "e" version that gave way to a cursive style towards the end of his life. The lower-case "s" would finish with a terminal stroke inward, but when utilizing his middle initial, he would use it to lead into the intersect of the capital "J" that resembled the larger previously written capitalization.
A period was placed to the right of the crisscross for punctuation. His capital "C" would rotate between an enlarged lower case version with an oval loop at the top or a similar size double loop formation that was identical to "C"onnie Mack's. A letter break may or may not occur before the "o" with a dipping connector stroke preceding two downsized similar "l"s. The nondescript "i-n-s" completed his script with the terminal stroke, once again turning inward. The slant of his last name tended to tail downward, thus violating the plane created by the prior.
In searching for a valid signature of Jimmy Collins, one should heed the warning that forgeries are prolific. Keep in mind that despite his popularity and willingness to sign, Collins was not sought out for his autograph by many. He was never able to enjoy Hall of Fame status and was generally forgotten as new generations of fans followed the players of their eras. An occasional index card or album page ($2500) may be found with a premium imposed for a desirable postmarked U.S. Government postcard ($3000). One should scrutinize if not stay clear altogether of one that has not been cancelled, especially if it is one of those gem mint 3" x 5" library versions that pollute our hobby. Better items include handwritten letters ($4000 and up depending on the content) on Buffalo Municipal letterhead bearing his printed name as an officer.
It was common for him to date these items within his well-written compositions. Signatures from his playing days are scarce. Likewise, Hall of Fame black and white plaque postcards are impossible to have been signed by Collins. No personal canceled checks have ever made their way into the hobby although they truly would be well received. A copy of his will dated April 5, 1917 has been a treasure sunk deep into an established collection.