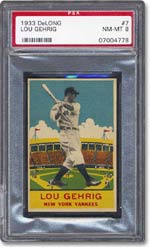 Parker, CO. - Mile High Card Company's November 13th Auction is underway and is highlighted by an extensive array of exceptional sportscards and memorabilia. The highlights of this tremendous offering include but are not limited to: a mid 1920s Hillerich & Bradsby Babe Ruth game used bat, 1909-11 American Caramel E90-1 Joe Jackson GAI 4.5, 1911 Sporting Life Nap Lajoie PSA 9, 1911 T201 Johnson/Street SGC 96, 1934 Lou Gehrig PSA 8, 1951 Bowman #305 Willie Mays PSA 8, 1955 Topps #194 Willie Mays PSA 9.
The pinnacle of cardboard condition is the title of PSA 10 GEM MINT; to advance that theory Mile High's November Auction is headlined by: 1959 Topps #435 Frank Robinson PSA 10, 1961 Topps #575 Ernie Banks AS PSA 10, 1964 Topps #200 Sandy Koufax PSA 10, 1065 Topps #510 Ernie Banks PSA 10, 1969 Topps #50 Roberto Clemente PSA 10, and a 1980 Topps Bird/Magic PSA 10.
With well over 100 lots representing cards graded PSA 9 or better, MHCC principal Brian Drent raved that this sale will offer collectors a tremendous opportunity to acquire cards that are rarely offered in such stupendously high grade.
The above mentioned material, as well as nearly 300 lots of quality sportscards and memorabilia, is featured within Mile High Card Co.'s full color catalog as well as on the firm's web site at www.milehighcardco.com. The auction is currently open to registered bidders and will conclude Thursday, November 13th, 2003. Bids may be placed online by using the firm's advanced Internet auction program or by calling (303) 840-2784.