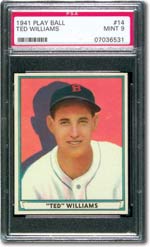 "We need a man who can get on base!"
That is the oft-heard lament in baseball, especially in the ninth inning when your team is down by a run or two. Who was the best of all time at getting on base? Ty Cobb? Rogers Hornsby? The answer probably won't come as a big surprise, even though it's neither of the two players mentioned above or Babe Ruth, either.
Ted Williams reached base almost 50% of the time that he strolled to the plate. He combined 2,654 hits with 2,019 walks for a lifetime OBP of .481!
Babe Ruth is second on the all-time OBP list at .469. The Babe cracked out 2,873 hits to go with his 2,062 walks. About 25% of those hits (714) sailed out of the park.
Lou Gehrig reached base 44.2% of the time, so he's number three on the career list. He combined 2,721 hits with 1,508 free passes.
Barry Bonds leads all active players with a .433 OBP and that makes him number four on the all-time list. He has 2,595 hits (so far) to go with 2,070 bases on balls.
Frank Thomas is number five all time with his .428 OBP. Yes, that's the so-called "diminished skills" Frank Thomas who had an MVP-type year in 2003. This great player already has 2,048 hits and 1,386 walks and he's just getting started.
Jimmie Foxx (old Double-X himself) is sixth at .425 as he smacked 2,646 safeties while walking 1,452 times.
There's a tie for seventh and eighth place at .424. Who shares that number? None other than Ty Cobb (4,191 hits plus 1,249 walks) and Rogers Hornsby (2,930 hits plus 1,038 walks).
Ninth on the all-time list is (surprise!) Edgar Martinez. The hitting machine for the Seattle Mariners has 2,119 hits so far in his career to go with 1,225 walks for an OBP of .423.
The Mick ranks #10 all time in on-base percentage. The Yankees centerfielder pounded out 2,415 hits and took a free stroll 1,733 times for an OBP of .420.
The next ten in all-time OBP are also among the greats of the game. Jesse Burkett and Tris Speaker are tied for eleventh, followed by Stan Musial at 13th, Wade Boggs, Manny Ramirez, Jeff Bagwell, Jim Thome, Mel Ott (the last three tied for 16th) Mickey Cochrane and Hank Greenberg.
Where have you gone, Joe DiMaggio? He's tied for 29th with four other players.