very June, in the wake of the National Basketball Association Draft, the hopes, dreams and buzz begin anew. Throughout this past summer, and as the 2003-04 NBA season geared up, the loudest buzz was that surrounding the Cleveland Cavaliers first round draft pick, an 18-year old forward by the name of LeBron James out of Akron, Ohio's St. Vincent – St. Mary High School.
Along with the buzz, LeBron James is also facing the inevitable hype and hyperbole that comes with being being snagged out of high school in the first round. It is the kind of hype and hyperbole that virtually no player can live up to, especially in their rookie season. And while James has apparently maneuvered through the pre-season with ease, how do you handle seeing your picture in the sports section of the Cleveland Plain Dealer alongside a headline that reads: "The Second Coming of Sir Michael." That is not only just cause for major pressure, but is also like having a sword of expectation, with the sharpest of blades, held over your head.
So, just who is this great hoop hope?
LeBron James is a 6-foot, 8-inch, 240-pound natural shooter who, even in high school, rebounded, defended, blocked shots and passed like a pro. In his freshman year, James led his team to a 27-0 record and a Division III State Title. The following season, with a 26-1 record, St. Vincent-St. Mary earned their second straight Division III State Title and defeated Miami East in the championship game. The team finished fifth in USA Today's Top 25, and James was the first sophomore player ever named to the USA Today All-USA First Team.
In James' junior year, he and his teammates finished with a 23-4 record. Despite the fact that he broke the index finger on his left hand while helping SVSM's football team get to the state semifinals, James was still able to perform impressively on the hardwood, averaging 29.0 points, 8.3 rebounds and 5.7 assists per game.
During the 2002-2003 season, James and crew chalked up a season that would have been recorded as being perfect had it not been for a technicality. With a 25-1 record, SVSM's only loss was the forfeit of a game that the team actually won.
When it was all said and done, James' high school basketball career, in which he scored 2,657 points, was highlighted by three State Championship seasons; his being named Mr. Basketball for the state of Ohio by the Associated Press for three straight seasons, and his three-peat title as a member of USA Today's All-USA First Team.
On July 8, 2003, James debuted as a professional in an NBA Summer League game against Orlando. Chalking up 14 points, which included stealing a pass that resulted in a one-handed dunk, landing a few reverse lay-ups, and taking a no-look feed that he converted into a jump hook.
"There are a lot of doubters out there that I have to prove wrong," James said before that game. "But that just comes from me working hard and playing the games the way I've been doing my whole high school career and carrying it on to the next level."
As a part of raising it up to the next level, Cavaliers Coach Paul Silas has been playing his young player as point guard on offense. He believes that James has the skills to thrive in that position thanks to what he calls "James's uncanny court vision."
Another area of taking it to the next level is the financial aspect – and what a lofty level it is! Shortly after James made his Orlando debut, the Coca-Cola Company signed him to an undisclosed six-year endorsement deal that will reportedly earn the baby-faced top draft pick over $2 million a year. Not a bad chunk of change, especially when you consider that it simply sweetens his contractual deal with the Cavaliers and the seven-year $90 million dollar endorsement deal he inked with Nike that is the richest deal ever paid to a rookie player.
In response to repeated calls to Coca-Cola from Sports Market Report for a comment, a statement was finally released by Jeff Dunn, the president of Coca-Cola North America that read: "LeBron James has brought more excitement and anticipation to the game of basketball than any player in recent history, and we think he's just getting started."
The statement went on to say that James would perform in various promotional roles for the company's Sprite and PowerAde brands and would become a spokesperson for Sprite's "Obey Your Thirst" campaign. The statement did not address a submitted question as to if the deal with James had anything to do with the soft drink company dropping ads that featured the legally encumbered Kobe Bryant, but a Coca-Cola spokesperson, speaking under the terms that their name not be used, said that their belief was that the deal with James was totally unrelated to the sexual assault accusations made against Bryant and his subsequent legal situation.
As this 2003-04 NBA season winds on and then down, it will be interesting to see if James is in fact the wunderkind that the buzz says he is. For most, the bet is good that as his eighteenth year on the planet dwindles down, his reign as an NBA superstar is just beginning.
For card collectors, a hot new addition to the NBA, like LeBron James means making sure rookie cards are secured NOW. His cards are already very much in demand and a few are already commanding well over $100.
Here's what's out there to date:
2003/04 Topps #221
2003 Sports Illustrated for Kids #264
2002/03 Topps Finest LeBron James #1 Redemption Card
2003/04 Upper Deck Top Prospects Base Card Set #1-60 in an Ultra Pro Portfolio
2003/04 Upper Deck Top Prospects 3 Card Set
2003/04 Upper Deck Victory #206, A.K.A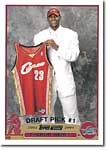 Of these initial offerings, it only makes sense to secure and stash away as many of the first regular issue Upper Deck and Topps cards as possible, but the other three cards that you should do all you can to find are the 2003/04 Topps Finest LeBron James #1 Redemption Card, the 2003/04 Upper Deck Top Prospects Base Card Set #1-60 in an Ultra Pro Portfolio, and the 2003/04 Upper Deck Top Prospects 3 Card Set.
The 2003/04 Upper Deck Top Prospects 3 Card Set includes card numbers 3, 55 and 60, all of which capture James in action. The 2003/04 Upper Deck Top Prospects Base Card Set #1-60 in an Ultra Pro Portfolio include James' rookie cards along with other rookies from the '03/'04 class. The 2003/04 Topps Finest LeBron James #1 Redemption Card is the one you really want. This is the first official LeBron James rookie card. The process for redeeming the card involves filling in the details on the back of the redemption card and sending it back to Topps. These cards usually arrive well protected and in very good shape, so even though these will probably set you back over $200, both the buzz and conventional wisdom would agree that you are probably making a good investment.
The LeBron Buzz
When a guy like LeBron James appears on the scene, the buzz, the hopes, the opinions and the prognostications run rampant. Here's a sampling of what is being said:
"For all the attention that's lavished upon him, you might think no one can talk to him. You might think it's a situation where he's a quote-unquote prima donna, but he's not like that at all. He's an amazingly normal 17-year old. It's really weird – nobody gets the impression that he's strutting around saying: 'I'm LeBron James and you're not'."
Grant Innocenzi, St. Vincent-St. Mary athletic director
"There's no question in my mind with his ability at this point in time, he's the best I've ever seen. The only thing he needs to work on is his own mind. And I think he wants to be the greatest."
Sonny Vaccaro, Adidas Company spokesman
"He's really, really, really, really, really good. He's got everything – size, quickness. Obviously, you'd like him to work on his shooting a little more, which I'm sure he is."
An NBA scout who asked to remain anonymous
"If I were a general manager, there are only four or five NBA players that I would not trade to get him right now."
Danny Ainge, former NBA player and coach turned broadcaster
"In Major League Baseball we have seen kids called up to the majors with great fanfare only to be flashes in the pan. In the National Football League we have seen college superstars, and even Heisman Trophy winners fizzle when they went pro. The NBA is different. When a player like LeBron James shows up, it's reminiscent of Chamberlain, or Kareem, or Jordan – as long as they stay healthy, they just get better and better. All indicators are that this kid is going to achieve true greatness and electrify the NBA."
Marc Blaine, NBC sports producer
"Because of his size and skill and instinctive understanding of the game, he's one of the best high school players I've ever seen. But whenever one of these guys comes along, (other) people act like he invented the game of basketball. There's a long tradition of players on whose shoulders he stands, but he's the next great player, not the first. He's got to shoot the ball more consistently and he's got to pay more attention to the defensive end of the court."
Tom Konchalski, recruiting analyst
"Ability-wise, he was a Randy Moss-type player. As a person, he's even better. He has great hands and peripheral vision, it was unreal, and he's such a student of the game (of football). Could he play in the NFL? No doubt about it."
Jay Brophy, St. Vincent-St. Mary football coach