avid James Bancroft was born on April 20, 1891 in Sioux City, Iowa. He was of English decent and son of Frank and Ella. The cross-handed/switch hitter played shortstop for Sioux City High School and sandlot baseball teams before signing his first professional contract at the age of 17 for the Duluth club of the Minnesota-Wisconsin League. In 1908, he actually tried out for the Winona team but was cut a day before the season's start.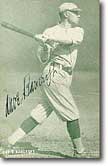 1927 Exhibit Card (vintage signature)
From the start, "Banny" excelled as a natural shortstop, possessing quick reflexes, great range from either his right or left side and was known for his strong throwing arm. At 5' 9" and 150 pounds, Bancroft improved on his batting average with minor league stops in Superior (1910-11) and then with the Portland teams of the Pacific Coast and Northwest Leagues until 1914. When a called third strike would sail passed him, he would verbally express "Beauty", which earned him his nickname.

Curtiechcolor Hall of Fame Plaque Postcard
Coming off a sixth place finish, the Philadelphia Phillies hired Pat Moran to manage the club for their 1915 season. Immediately, Moran sought out the fiery, tough and intelligent Bancroft to anchor his infield and purchased his contract from Portland. The rookie responded by playing all 153 games and hitting .254. Along with the likes of Grover Cleveland Alexander, home run king Gavvy Cravath, and future Hall of Fame pitcher Eppa Rixey, Bancroft helped Philadelphia to their first pennant. Dave batted .294 in the World Series despite the Phillies losing in five games to the Miracle Braves.
The leadoff-hitting Bancroft was not a power hitter, punching only 32 homers in his career. He compiled a respectable .279 lifetime average and collected 2,004 hits. The blue-eyed "Beauty" was certainly not flawless as a fielder, leading the league in errors three times, although, he still was considered one of the finest infielders in the league. After the Phillies slid back into the cellar, owner William Baker sold Bancroft to the New York Giants where he enjoyed his best three-plus seasons as team captain and helped them win three straight National League Championships. As a "favor" to his friend Christy Mathewson, Bancroft was traded to the Braves late in 1923 to become their player/manager. The fact of the matter is that McGraw knew that the 32 year old Bancroft's best years were behind him and his 20 year old hotshot Travis Jackson needed some playing time.


Typed Letter Signed- circa 1960's
Bancroft toiled for four years in Boston, never adapting well to his managerial duties. In July of 1924, a pitch hit him in the stomach which required the removal of his appendix, thus, abbreviating his playing time to 79 games. He was traded to Brooklyn, serving also as Wilbert Robinson's unofficial assistant manager, where he had two mediocre seasons and was released at the end of 1929. The Giants brought him back as a player/coach but he retired from playing after just 10 games. He remained on as coach through the 1932 season, often filling in for the ailing John McGraw. Bancroft seemed like the obvious choice to replace McGraw as manager, but player/manager Bill Terry got the nod instead.
Now, the crafty skipper had his first managerial opportunity with the second place Minneapolis Millers in the American Association in 1933. By 1936, he dropped down to pilot the Sioux City club of the Western League to a fifth place finish. His next stop came eleven years later, in 1947, where he managed the St. Cloud team of the Class C Northern League and he finally won a pennant. Bancroft finished his career by briefly posting managerial stints with the Battle Creek Belles and the South Bend Blue Sox of the All-American Girls Professional Baseball League. After baseball, he worked for the Lakehead Pipe Company in Superior, WI.
Bancroft married Edna H. Gisin on November 22, 1910 and they resided at 2302 Tower Avenue in Superior, WI. Bancroft retired with his wife of 62 years and was selected (#119) by the Veterans Committee to the Hall of Fame on August 9, 1971. His humble response: "I was more surprised by my election than anything that ever happened to me". After a lengthy illness and too frail to attend his induction ceremony, Bancroft died at a Superior, WI hospital, just one year later on October 9, 1972. His heart failed at the age of 81. He was buried in Greenwood Cemetery in Superior, WI.
Commonly signing "Dave Bancroft" or "Dave J. Bancroft", his legible signature always leaned into an acute, tight slant that evenly spaced his letters. His capital letters were uniformly twice the size of the lower case and typically,only the "J" and the "f" dipped below the imaginary baseline. The single stroke conventional "D" initiated from the top, constructing a loop that formed the balance by curling upward and then inward with a pen lift. His "av" launched from the baseline, carefully shaping the two narrow letters only to abruptly stop to allow a double looped rounded "e" to complete his abbreviated given name.
On occasion, he would provide the "J.", it resembled more of an elongated "F", that reached upward without hesitation to form the initial downstroke of the "B" that bellies upward or in earlier times retraced the first stroke. To complete the letter formation, a 3-like with single center loop curled upward and paused. His "an" followed along the lines of his first name, substituting an "n" that resulted in yet another pen lift. The "c" looped high from the start into a slanted "r" although it varied in formation. The conventional "o" swayed into Spencerian style "f" but utilized a vintage classic Palmer style "t". During his playing career, like many of his peers, it was completed with a period.
Always an obliging signer in the mail and in person, the majority of autograph examples came after his Hall of Fame selection. A rubber black ink stamp was employed when it became impossible for him to respond due to severe illness. Index cards are found for approximately $125 and on U.S. Government postcards ($175) he would often inscribe, date and include perhaps a line or two for the collector. Curtiechcolor gold Hall of Fame Plaque postcards are a rarity and should sell for a minimum of $2200 because of the small window of time he had to sign them. Single signed baseballs are far more infrequent and their value is highly subjective. I do see his autograph on several team signed baseballs from the 1920s. Old timers game and testimonial dinner programs are other mediums that one might find his inscription. Even handwritten or typewritten letters are unusual and should start at $750. Occasionally, Burke ($400) or Rowe ($275) postcards surface and are quickly gobbled up by the hobby. One item that is impossible to have been signed is a Perez-Steele Art postcard. I have yet to see a full personal cancelled check offered, however, family members must have cut his signatures from a few to accommodate post-mortem signature pleas.